From Novice to Expert: Tips on Wood Pellet Production
Are you ready to elevate your wood pellet production skills? Whether you're a beginner or an experienced wood pellet producer, we've got some valuable tips to help you excel in this field. Today, we'll share key insights on maximizing the efficiency and quality of your wood pellet production process using our cutting-edge wood pellet making machine.
Brief Summary of Wood Pellet Production Process
Wood pellets have become a popular and environmentally friendly fuel source in recent years. They are a type of biomass fuel made from compressed wood particles and are used in pellet stoves, boilers, and other heating systems. The general wood pellet production process includes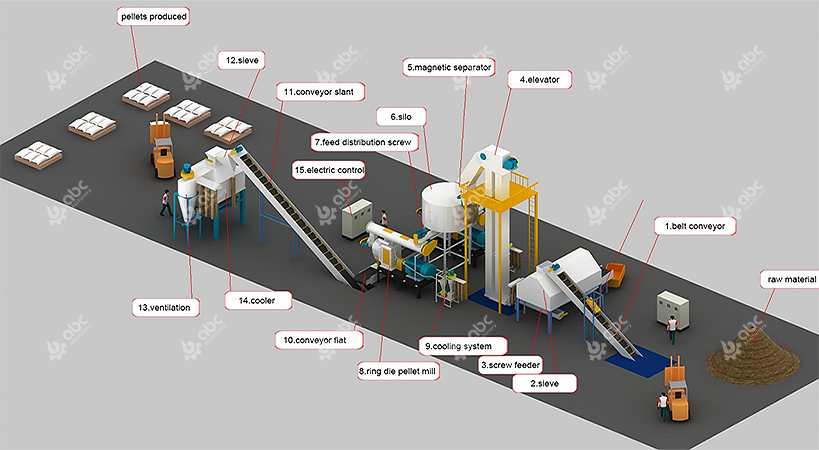 3D Flow Chart for Wood Pellet Production Plant
We offer the cusmization service for your wood pellet production business, if you have any questions or plans, you can contact us for more details about wood pellet making equipment.
Tips to Maximum Wood Pellet Processing Efficiency
Choose the raw materials that are clean, dry, and free of contaminants.

Choosing a suitable wood pellet making machine, and the factors to consider when choosing a machine include production capacity, energy efficiency, and ease of use.

Regular testing for wood pellets can help identify any issues early on and prevent problems with the final product.

Researching the market and understanding the needs of potential customers can help you identify the best opportunities for selling your product.
Producing wood pellets can be a profitable and rewarding venture. By following these guidelines and investing in the right equipment, you can produce high-quality pellets that meet the needs of customers and contribute to a more sustainable future. When you start to process wood pellets, you can tell us your requirements, we will customize you for your wood pellet production business.