When you talk of small biomass pellet making machine, then there is no doubt that you would be referring to a small capacity pellet machine ranges from 50 to 800kg/h. If you raw material is sawdust or other kinds of biomass powder or dust, a small pellet making machine is enought. But if your raw materials is in large pieces such as wood blocks or wood chips, a single pellet machine may not be effective. What you need is to come up with a complete small pellet plant for effectiveness and efficiency.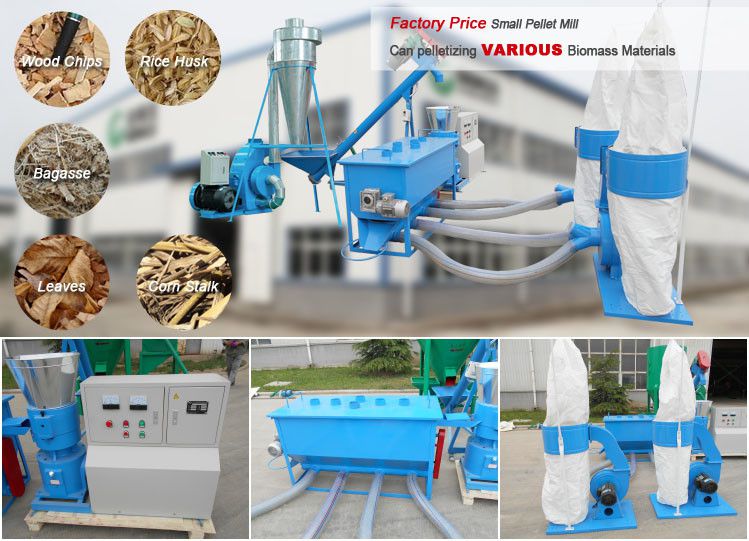 If your are interested in this mini wood pellet plant for individual pellet making or small scale biomass pellet production, you are welcome to inquire for detialed information and latest promotion price. Just feel free to contact us, we are always at your services!
Set Up a Small Biomass Pellet Plant
A small biomass pellet production line or pellet plant mays comprise of specific items for it to be complete. The composition of this plant may include the following;
This is one of the most effective and basic component that a small biomass pellet plant unit for it to be complete.

If your plant lacks it, then working might be extremely impossible. If the raw material you have for the pellet making machines is larger than 5mm diameter sawdust, then there is no doubt that you need a crusher. The benefit of having a crusher / hammer mill is that you will be able to pulverize or crush the raw material or inputs into smaller diameters. There is no specific diameter to crush your material into, because there is a great variation which is brought about by the raw material status.
A dryer is another component that plays a very important role in the complete biomass pellet plant. It is evident that a majority of the biomass raw material may contain higher levels of moisture which range from 12% to 50%. This moisture percentage is very unsuitable for pelletizing and hence needs to be reduced to a lower level. For this reason, the pulverized material shall be subiected to high temperatures before feeding into the pellet machines.

For economic efficiency, an airflow dryer is used with small pellet making equipment instead of rotary drum dryer which is usually used with ring die pellet machines in large pellet plants. It is also efficient as it dries the material to a required moisture content within the shortest time possible.
Movement of this pellets in small wood pellet production is always necessary because of the different stages involved. Therefore, the services of a screw conveyor and feeder are necessary to convey and feed the biomass into the small pellet machine.

Small Biomass Pellet Making Machine
A small pellet making machine is used to produce final solid biomass pellets. This starts with feeding the raw material powder into the machine, then the roller and flat die will press it and extrude it through the die holes to form solid pellets. Small pellet machines are of different types which include; electric machine, diesel, PTO or gasoline types.
When the pellets come out of the pellet machine, they always are of very high temperatures, usually 80-100 degrees Celsius. Therefore, they will need to be cooled down before they are packed or used. To save time and labor, a pellet cooler will be of great help to you. But if your pellet production is at a smaller capacity, then you might not need the services of a cooler.

If the biomass or wood pellets you produce are for sale, then it will be important that you get a pellets packing machine.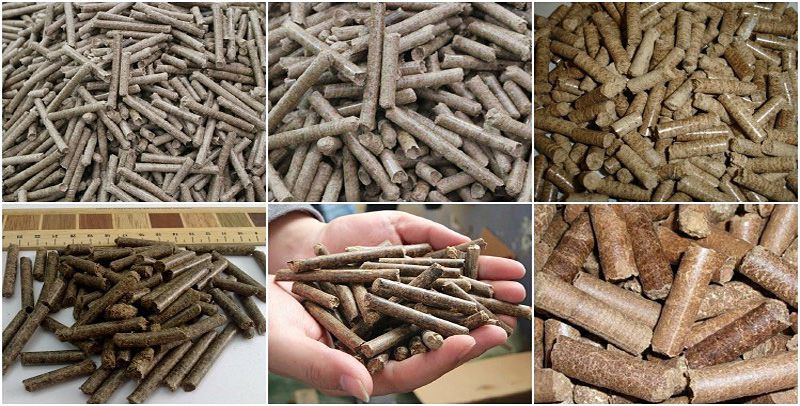 I´m from Chile and I'm looking for a pellet mill can produce 300 Kg/hr of pine´s sawdust. May be you can also send me a price for Complete Wood Pellet Lines for 300 kg/hr. Please, Can you give me information, price, and characterisitics? What is the cost put the machine on Valparaiso - Chile?
We are glad to know you are interested in our Pellet Mill Machines. Further to your output requested as 300kg/hour and your raw material as pine & sawdust,we would like to recommend you our model of ZLSP300B D-Type Pellet Mill. Kindly check our competitive quotation for you as email attachment.

Regarding the size of pellet,our machine could make from 2.5mm to 10mm pellets depend on different Dies. Please inform us which size do you need? So as to offer you the Pellet Mill with suitable Die accordingly.

Regarding the Electricity,in China we use is E If you have special requirements please advise us and we could design them for you.
Dears,
we are big carpentry, and we have so much wooden wastage, wooden wastage are dry. wood types are: ash, meranti,Teak & Oak.
need pellets machine about 60 to 80 KG/H, to use pallets in fire places and outside fire places.
The pellet machine requests the material size is about 3-5mm with about 10-18% moisture content for make pellets. So,besides the Pellet Mill,do you need a Hammer Mill(Crusher)? Please check and advise.

For the Pellet Mill,we have two types,the D-Type(Rotating Die) and R-Type(Rotating Roller). Our D-Type Pellet Mills are special for make pellets from soft raw materials,such as soft wood,grass,straw etc. And,our R-Type Pellet Mills are special for make pellets from hard raw materials,such as hard wood,rice husk,coffee husk etc. We found your wood raw material have oak,which is belong to hard wood. So,we need to recommend our R-Type Small Pellet Mill to you. In view of your requested capacity,our the smallest model of ZLSP200B R-Type Pellet Mill is suitable for you.