A small set of movable biomass pellet mills was produced and delivered to one of our Canadian clients not long ago. Based on the actual condition and requirements of our client, we designed the capacity is 350~450kg/h. Before delivery, the equipment was inspected seriously and well packaged. The photos below are taken during the inspection and loading process.
Movable Biomass Pellet Making Machines Delivering Display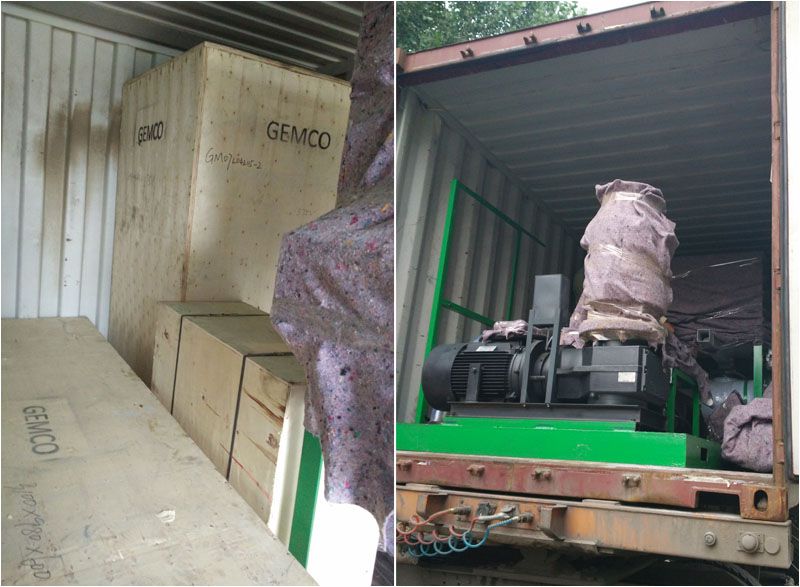 GEMCO is now the biomass machinery division belongs to ABC Machinery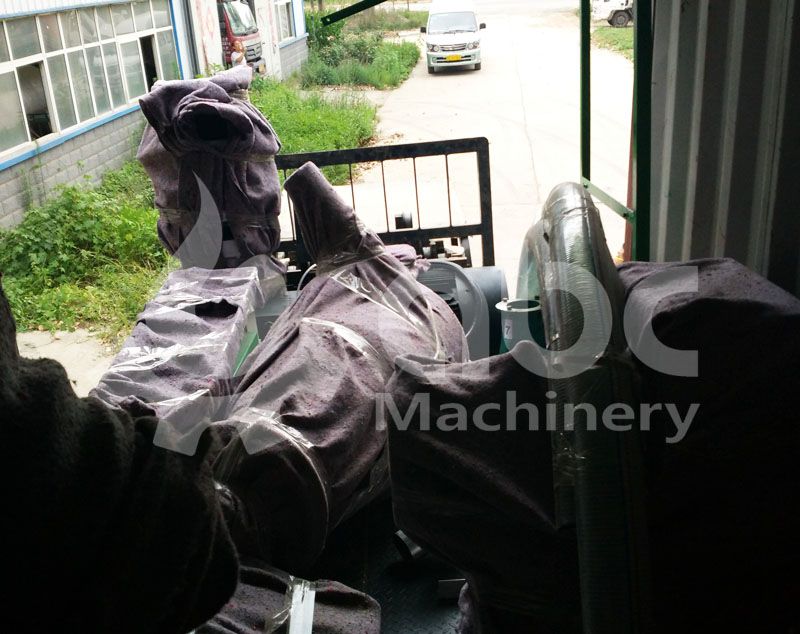 Equipments in Container
Making wood pellets for profit with biomass pellet mills projects in The Czech Republic, Guatemala, South Korea, Japan, Thailand, Indonesia, etc. at low cost by biomass wood pellet machines manufacturer or supplier at factory price. Welcome to contact us for the latest price list!

Movable Biomass Pellet Mill Plant or Sale
Ever wanted to manufacture your own pellets be it made of straw, crop stalks, twigs, wood shavings, wood chips or any type of farm remains and wood wastes better use? Well the movable biomass pellet mill plant makes this possible in a one step to technological system. (Related article: how to make wood pellets>>)
How Does the Biomass Pellet Mill Work?
After decades of having specialized systems for manufacturing pellets, this set of biomass wood pellet mill for sale has interpreted functions of crushing, pelletizing, cooling and transporting pellets in one go. This system ideally combines a pelletizing system such as a separation system, hammer mill, pneumatic handling system and tempering system in one go.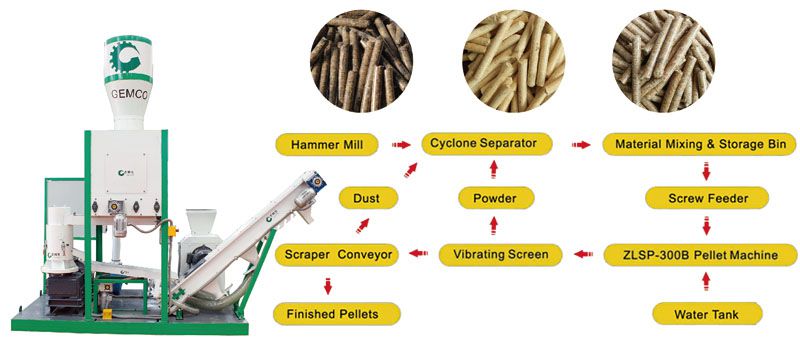 The advanced technology used allows an improved work efficiency that greatly lowers operational costs. The system allows the use of raw materials such as from furniture factories, sawmill, tree branches and wood shavings / chips, crips stalks to be put to use. The electric motor system together with the whole combined pelletizing system allows you easy production at just the touch of a button that can be transported anywhere you want at your own convenience. (Learn more: pellet machine manufacturers>>)
| Model | Capacity(kg/h) | Pellet Diameter(mm) | Power(kw) | Size(mm) |
| --- | --- | --- | --- | --- |
| MPL300 | 250-350 | 6-12 | 41.25 | 3500*1960*3500 |
| MPL400 | 350-450 | 6-12 | 49.25 | 3500*1960*3500 |
Technological advancement and Uses
Most commonly produced final products include the wood pellets, rice husk pellets. bagasse pellets, grass pellets, cotton stalk pellets, maize straw pellets, etc. As expected this biomass pellet plant allows for a number of uses, especially so way production.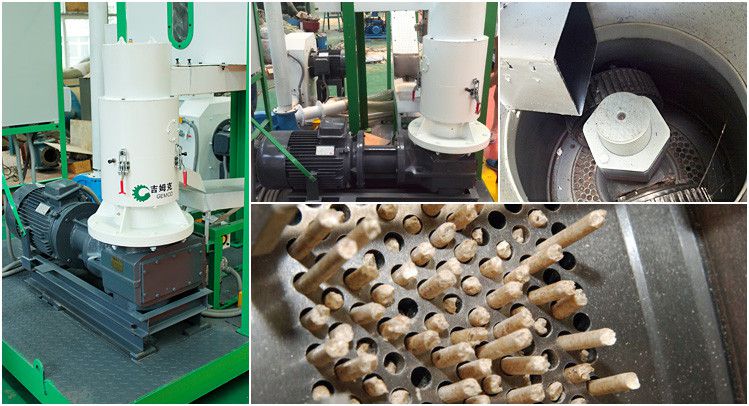 Main part of BPL300 biomass pellet mill( ZLSP300B R-type, 22kw / ZLSP400B R-Type, 30kw )
As the pellet mill has a unique design, operation is made much more easier than other traditional methods. To aid in operation, a small educational video is purchased with the equipment to get you from zero to a professional operator in one goWith the investment of movable small pellet plant, you also get prospect of specialization in making of wood and feed pellets. This is made possible by the purchase of whole or part of the machinery that allows you to focus on one aspect when and if need be. (Read more: biomass pellet machine price>>)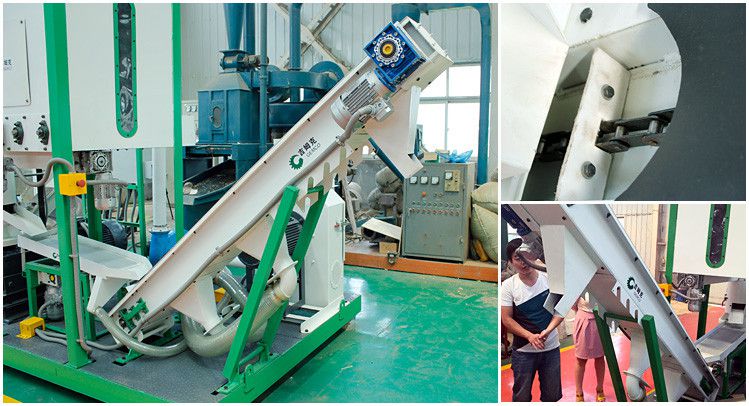 Scraper conveyor of Pellet Plant ( CSGB145D, 0.75kw )
The movable pellet making assembly unit also allows you a convenient production system that allows you to make use of farm refuse and at the same time minimize on wastage. This is made plausible by the effective dust control system that uses the integrated pneumatic conveying system. With the investment of biomass pellet production you get to be a step ahead in the production of biofuel pellets on a small scale and this mini pellet plant is the best choice.

Market Analysis of Canada Biomass Pellet Mill
The increase in Canadian wood pellet production and consumption has been driven primarily by international demand and potential new domestic policies. The Canadian federal government has planned to phase out the use of coal by 2030 as part of its overall clean energy strategy and the goal is to increase Canada's share of sustainable electricity generation from 80% today to 90%.It is expected that export markets would continue to dominate Canada's demand mix for wood pellets. (Read more: wood pellet calorific value>>)
The domestic residential heating market is expected to remain relatively stable unless crude oil and heating prices increase significantly, and therefore wood pellet biofuel production remains the ideal future pathway for future heating in Canada. Moreover, the benefits of wood pellet used as fuels including uniform quality, storability and flowability have been receiving more and more attention from industry over the months.
For the export market, the demand for wood pellets in Europe and Asia will continue to be an important outlet for Canadian wood pellet manufacturing producers. Across Asia, South Korea is expected to continue to be an active market, with a number of independent power producers and industrial sectors (e.g. steel mills) beginning to utilize wood pellets. Japan will likely have the largest future growth depending on how many coal plants are identified for conversion. Rising market demand in Japan is expected to be about 10-12 Mt per year.
To conclude, biomass wood pellets production has a bright future in Canada, whether you start to make pellets for self-use, or processing pellet fuel for sale, or you have a wood pellet business, you can always get a good return.

We are an expert manufacturer in the biomass wood pellet making equipment industry, if you have any question about wood pellet production, you can always ask us for more information!