We are fish feed pellet machine manufacturer that help small, medium and large-scale fish pellet production clients set-up a fish pellet plant that is designed to meet your customers' specific demands at different capacities. We offer all kinds of fish feed pellet machines including floating fish feed pellet machine and sinking feed pellet machine.

Small Pet Food & Aquatic Feed Pellet Plant (100~150kg/h)
1. Crushing Machine 2. baghouse system 3. Mixing Machine 4. Feed Extruder 5. Air Conveyor 6. Belt Dryer 7. Coating Machine


Medium Scale Pet and Fish Pellet Plant (200~300kg/h)
1. Crusher 2. Dedusting System 3. Screw Elevater 4. Mixer 5. Screw Elevater 6. Pellet-fodder Expander 7. Air Conveyor 8. Belt Dryer 9. Conveyor 10. Spray Coater 11. Conveyor 12. Pellets Cooling Machine 13. Conveyor 14. Automatic Bagging Equipment

Industrial Complete Fish & Pet Feed Pellet Plant (1~1.2 Ton/hour)
1. Elevator 2. Feed Bin 3. Crushing Equipment 4. Horizontal Screw Conveyer 5. Pulse Dust Collector 6. Elevator 7. Storage Bin 8. Pneumatic Gate 9. Mixing Equipment 10. Screw Elevator 11. Bucket Elevator 12. Vertical Feed Mixer 13. Pet and Fish Feed Extruding Machine 14. Air Conveyer 15. Dryer 16. Air Conveyer 17. Feed Sprayer 18. Spreader 19. Air Conveyer 20. Counterflow Cooler 21. Air Conveyer 22. Automatic Weighing & Packaging Machine
Pet & Fish Pellet Machine Application
Our fish pellet production line is perfect for the production of pellets from grains, grass, protein and molasses for commercial purposes. Our end product feed pellets have fine textures, are nutrient-rich, have a unique taste, and are of various shapes. They are perfect for aquatic animals like shrimps, gold-fish, cat-fish, tropical fish etc.


Extruded Fish Feed Pellets (floating & sinking feed)


Extruded Pet Food Pellets

If you own a breeding farm, and you have medium or big-size feed mills, our line of fish feed pellet machine is your best choice because they use super automation controls and are highly efficient. Please feel free to contact us if you have any questions about floating fish feed pellet making or interested in getting more details of your fish feed pellet machines!
Pet & Fish Feed Pellet Production Line
A complete pet food or fish feed pellet production line generally includes the following process:
Material crushing—>material mixing—>extruding process—>pellets drying—>oil spraying process—>pellets cooling—>pellet packing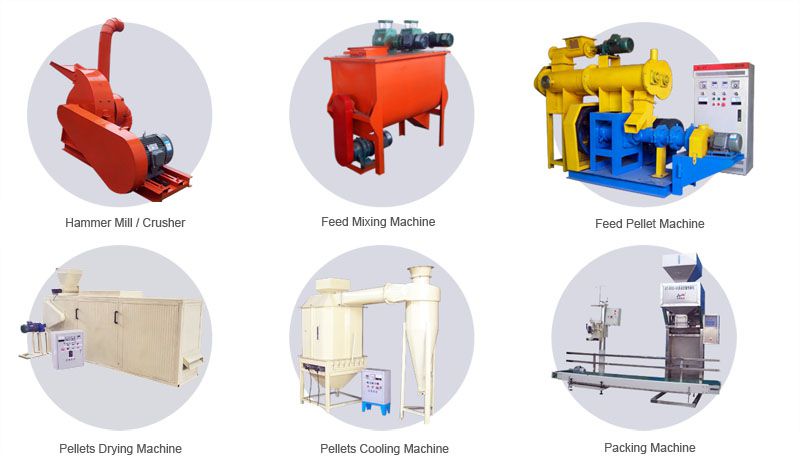 Main Equipment for Mini and Small Aquatic Feed Production Line (100~200kg/h)
The above is equipments for small production, if you are interested to get more details about fish feed pellet plant with larger output, feel free to contact us and we will offer customized project plan with detailed quotation.
Crushing With our fish feed crusher, we firstly break the raw materials into smaller pieces, for an efficient pellet making. This is done by fast-moving rotating hammers within the crushing chamber. To further reduce the size, the materials are run through a rapid airflow of very high pressure, breaking the materials into much smaller pieces. A fish hammer mill is therefore necessary for fish pellet grinding in a fish pellet plant.
Mixing The crushed materials which are now in powdered form should be thoroughly mixed to get a fish feed that is nutritional and of high quality. One crucial part of the mixing process is shearing and convection, and this mixing effect is achieved with our feed mixer which has a twin ribbon and a single shaft.
Extruding (fish feed pelletizing)
Extruding The mixed feed materials are compressed into desired shapes and pellet sizes with the feed pellet extruder. For a cheap, easy-to-operate, yet reliable pellet making machine for a small-scale or medium-scale fish pellet plant, the dry type fish feed extruder is highly recommended. For large factories however, the wet type feed extruder that has a conditioner will be able to produce in large quantity, a high quality fish feed pellet.


Dry Type Fish Feed Pellet Machine


Wet Type Fish Feed Pellet Machine
How Fish Feed Pellet Machine / Extruder Works?
Drying When the feed material run through the pellet making machine, it becomes hot and has moisture in it, hence the need to lower its temperature and dry it off. An ideal fish pellet drying can be achieved with a mesh belt dryer which is simple structured, not difficult to install and easy to maintain. This important equipment that must be included in the production line of a fish pellet plant.
Oil spraying process The good taste and nice smell of the end product is owed to the Oil Spraying Machine. This equipment rotates with high speed, spraying atomized oil on both surfaces of the fish feed pellets. Excess oil during this process is then recycled through a special filter.
Pellet cooling When the temperature of the oil-sprayed pellets increases, they become soft, and can easily break. To avoid loss in this regard, the feed pellets must be cooled, and are consequently hardened. The cooling type adopted by most fish pellet plants is the counter flow cooler where the fish feed pellets are in opposite direction to the air cooling them.
Pellet packaging There are several packaging machines perfect for weighing and bagging finished fish feed pellets. Such machines can help you reduce labor intensity, increase your production, meet hygiene requirements and satisfy large scale needs of your fish pellet plant. This packaged fish pellets would be in sealed bags and ready for storage or further transportation.
---
Our fish feed pelletizing solutions are so flexible and allows you to customize your output configuration according to different feed types. If you are intending or will be starting your feed pellet making business soon be it in small-scale, medium or large scale, please contact us for more details as we are ready to help you with the best pelletizing solutions and give you a great after-service!
I'm interested small pellet plant for fish.
In order to offer your the ideal fish pellet manufacturing solution, we need to know what kind of fish feed do you need? Floating feed or normal feed?
Also, ________kg pellets do you want to get per hour? What kind of raw mateirals will you use to make pellets?
Related Equipments