In the past days, the workers from our biomass pellet making machine manufacturing factory have successfully shipped one 2TPH biomass pelletizing plant to Malaysia. Here are the details.
| | |
| --- | --- |
| Plant Name | biomass pelletizing plant |
| Plant Capacity | 2 ton per hour |
| Raw Materials | Waste from biomass vaporizer, the raw material for vaporizer is palm pellets |
| Main Equipment | Crushing machine, ring die biomass pellet making machine etc. |
2TPH Biomass Pelletizing Plant Delivering Display
Best/latest Designed biomass pelletizing plant for biomass pellet production with factory price biomass pelletizing machinery manufacturer or supplier, to setup biomass pellet production line with low cost in Malaysia. If you have any ideas of starting a business of biomass pellet production, please contact us now!

Start Biomass Pelletizing Plant in Malaysia
Malaysian agricultural products are mainly cash crops, mainly oil palm, rubber, cocoa, rice, pepper, tobacco, pineapple, tea, etc.. At the same time, Malaysia is also a major oil palm plantation country, and its palm oil production, second only to Indonesia, is the world's second largest producer and exporter. Both palm oil production and the production of other cash crops produce a large amount of waste, which is scattered and time-consuming to handle. Making them into biomass pellets by a biomass pelletizing plant is not only a good way to dispose of the waste, but the pellets are also a worthwhile investment to meet daily fuel needs.
Biomass Pellet Production Process Design
The complete biomass pelletizing process includes drying, crushing, mixing, pelletizing, cooling and packing, and the responding machines are dryer, crusher, mixer, biomass pelletizing machine, cooler and packer and conveyors. All these processes and equipment can be customized according to your requirements and actual conditions.
Raw Materials Preparation
This process is the first step in the biomass pelletizing plant, mainly including drying, crushing, mixing, so as to make the raw materials into a compliant moisture content(14%-16%) and size (less than 3mm).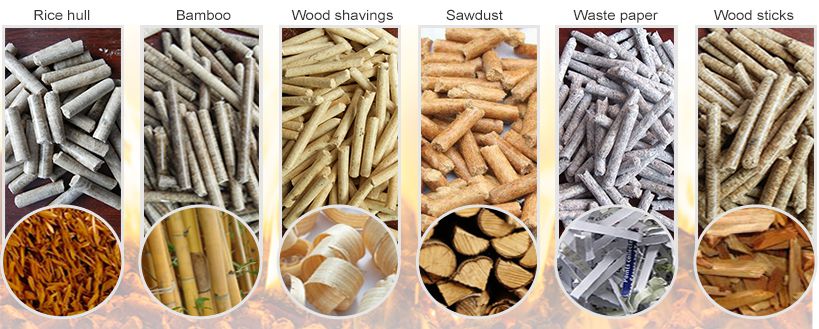 Raw Materials for Biomass Pelletizing Plant
There are many kinds of raw materials that can be processed in biomass pellet production, in malaysia, they are palm shell, coconut shell, rice husk, stalks, etc. You can combine two or two more raw materials together to produce biomass pellets.
Note: if you are not sure if your raw material can be processed into pellets or not, you can contact us for sending us your raw materials for testing.
Biomass Pelletizing Process
When the raw materials are ready, they are conveyed into the biomass pellet machine, under the high pressure inside the biomass pelletizing chamber, the loose raw materials will be pressed into high density pellets with the same shape and size.
Biomass Pellets Cooling and Packing
The fresh biomass pellet has high temperature, needing to be cooled in the cooler that is to reduce the time cost. And the packer can help to weigh and sew the biomass pellets into the bags with the same weight.
Just like this Malaysian customer-ordered biomass pelletizing plant mentioned earlier, the biomass pellet production process and equipment are available for special order according to your requirements and circumstances. We are offering you the factory price equipment and complete solution of biomass pellet production with low cost for you!