Many of the small pellet machines offered by ABC Machinery are separated into their own unique classification, depending on how they're powered. You'll find a wide variety of different types, like the motor-driven pellet machine, diesel-driven pellet machine or the PTO pellet machine.
D Type Small Pellet Machine for Sale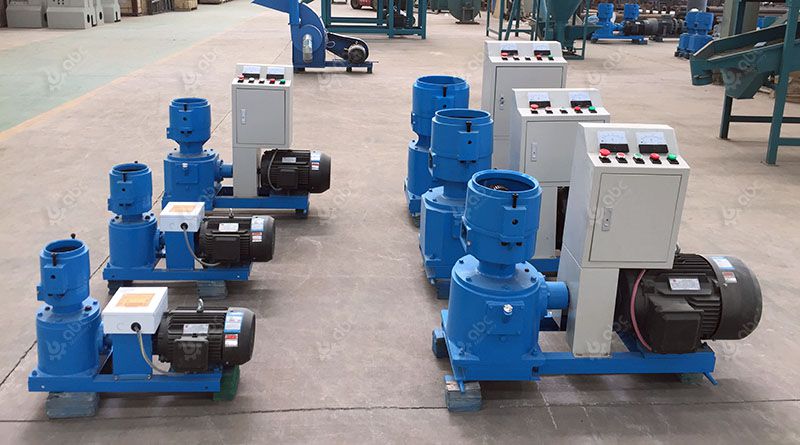 D Type Flat Die Pellet Machine driven by Electric Engine
MODEL
POWER
CAPACITY (kg/h)
WEIGHT (nw/gw)
PACKING SIZE (mm)
ZLSP150B
5.5kW
50-100
95/110
800x450x700
ZLSP200B
7.5 kW
80-120
200/230
1050x480x930
ZLSP230B
11 kW
120-200
290/320
1180x540x1000
ZLSP260B
15 kW
160-250
320/360
1240x540x950
ZLSP300B
22 kW
250-400
350/380
1300x560x1100

The following series is designed with Electric motor with enclosure.

ZLSP150C
5.5kW
60-110
105/125
1000x480x780
ZLSP200C
7.5 kW
80-120
210x230
1050x550x830
ZLSP230C
11 kW
120-200
290/320
1200x560x950
ZLSP260C
15 kW
160-250
340/370
1240x560x1000
ZLSP300C
22 kW
250-400
425/465
1300X620X1100


D Type Flat Die Pellet Machine driven by Diesel, Gas and PTO
DRIVEN BY
MODEL
POWER
CAPACITY (kg/h)
WEIGHT (nw/gw)
PACKING SIZE (mm)
Diesel engine
ZLSP150A
8HP
50-100
180/220
100x500x750
ZLSP200A
15 HP
80-120
210/240
1460x750x900
ZLSP230A
22 HP
120-200
280/310
1560x850x1100
ZLSP260A
30 HP
160-250
330/360
1200x500x1070
ZLSP300A
55 HP
250-400
410-450
1220x600x1000
Gasoline engine
ZLSP150Q
10kW
90-120
180-220
1000x500x750
PTO (power take of)
ZLSP150P
≥8 HP
50-100
90-110
900x540x1020
ZLSP200P
≥15 HP
80-120
130/150
1000x540x1020
ZLSP230P
≥22 HP
120-200
175/200
1000x540x1020
ZLSP260P
33 HP
160-250
235/255
1050x540x900
ZLSP300P
41 HP
250-400
305/325
1100x540x1000
R Type Small Pellet Machine for Sale
R Type Sawdust Pellet Machine driven by Electric & Diesel Engine
DRIVEN BY
MODEL
POWER
CAPACITY (kg/h)
WEIGHT (nw/gw)
PACKING SIZE (mm)
Electric Motor
ZLSP R200B
7.5kW
80-120
215/245
950x450x1050
ZLSP R300B
22 kW
250-350
540/575
1350x750x1400
ZLSP R400B
30 kW
350-450
770/810
1400x800x1450
ZLSP R550B
55 kW
500-800
1770
2300x750x1850
Diesel Engine
ZLSP R200A
15HP
80-120
320/350
1460x950x1100
ZLSP R300A
41 HP
250-350
850/890
1100x700x2480
ZLSP R400A
55 HP
350-450
1010/1050
1300x800x2600
Characteristics of Our Flat Die Pellet Machine
Durable structure and scientifically efficient design, able to output high production values with a low energy consumption.
Able to use a wide variety of raw materials in order to produce finished pellets which have high resistance and a smooth surface.
Easy to use and maintain, as well as safe from many risks so long as basic guidelines are followed.
Built to last with a strong interior and tough exterior. Guaranteed to have a long service life for all users.
Facts of Small Wood Pellet Machine
A small pellet mill, or pellet machine, is a special type of equipment which makes pellets from a wide variety of different biomass materials. For example, flat die pellet machines are able to make pellets from biomass waste like sawdust, straw, dry leaves, waste papers, peanut shells and so on. Small sawdust pellet machines are an increasingly important part of combating global warming, and the value of these machines and the biofuel pellets which they produce are expected to rise in value as their demand increases. The type of wood pellets produced by high-quality small pellet machine typically feature a large density, high heat value, and combustion resistance. Because of its small size and ease-of-use, our homemade pellet machines can be operated by simple homeowners and famers alike.


Final Pellets Manufactured by Our Wood Pellet Machines
Development of Sawdust Pellet Machine
Because of industry developments in the animal feeding industry, and global efforts by large nations in order to combat global warming, small pellet mills have risen in popularity. This is because it's able to process animal feed for various types of livestock in addition to the traditional waste biomass materials for wood pellets. This wasn't always the case. Initially, small pellet machines were only used to process pellets as feed for animals. But recent advancements in technology and changes in the quality of the materials used in the construction of the machine has made it able to utilise a wider range of materials like biomass waste and sawdust. The final result, the wood pellet, can be burned as efficient green fuel in a wide variety of heat sources, like boilers.
We've gotten in touch with our happy customers and have received feedback from them about using homemade wood pellet machine. We hope that these tips will prove helpful to you when you'rejust getting started with these machines:
For all materials, the recommended moisture level to use is 15%.

Since the temperature is constantly around 90-95'C, you have to take special precautions and cover the pellet when it's fresh out from the pellet press. Before touching it directly, make sure to take the time to cool it down first.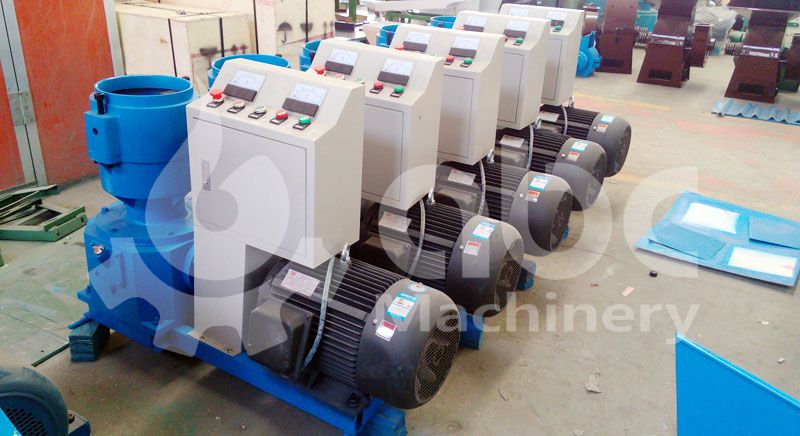 Our Pellet Machine Factory
We've also taken the time and effort to listen to our customers and make all the necessary adjustments to our machines to ensure a better experience. Here are some of the changes;
Utilising better, high-quality raw materials on key parts of the machine like the roller, template, and matrix. This should further prolong the life and durability of the product when processing wood pellets.
Special modifications to the matrix in general in order to improve the overall performance of the machines. It's now easier than ever to make pellets efficiently.
In order to meet the requirements of our EU clients, our machines have gone through the trouble to obtain a CE certificate.
---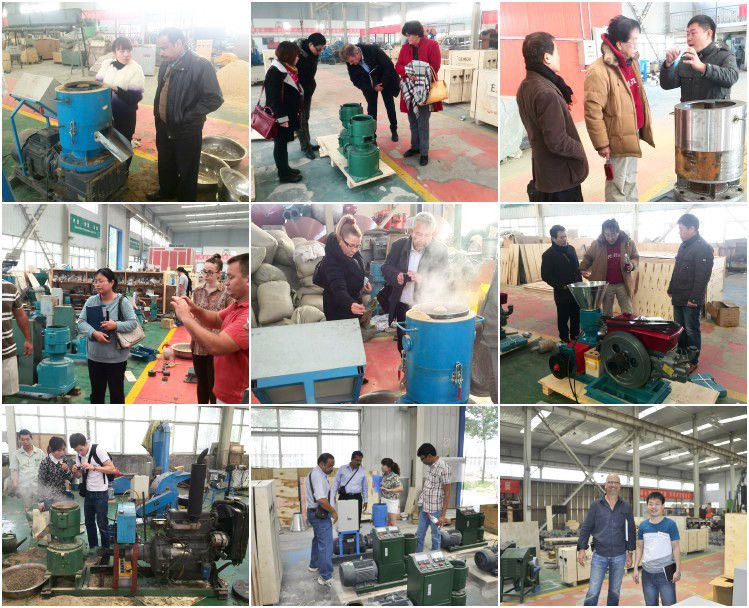 Our Clients Came Visiting Our Factory
ABC Machinery is a qualified pellet machine manufacturer and supplier with a ton of experience in the pellet production industry, owning 8 patents, a CE, and an lSO9000 certification. More importantly, ABC Machinery owns it's very own factory. Our products are sold to happy customers in more than 50 countries over Europe, Asia, America, Africa, etc. And our products constantly receive great reviews and feedback.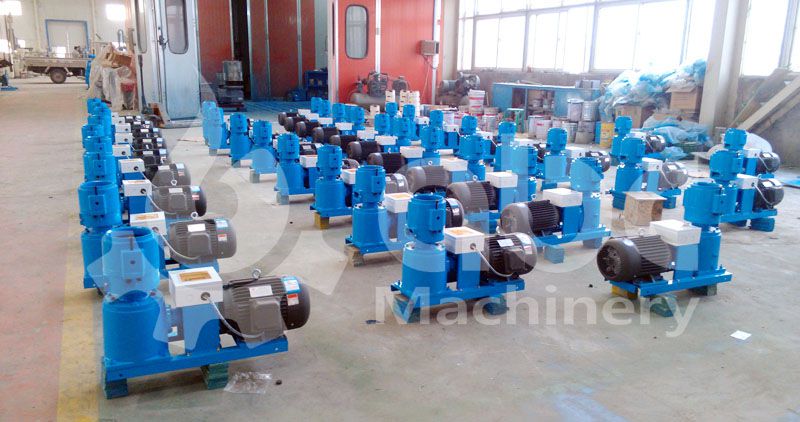 Pellet Mills Ordered by Our Clients
Just feel free to contact us if you need detailed information about our mini pellet machines, or if you want to buy a sawdust pellet machine for making your own wood pellets, we are always glad to provide coaching or counseling for free!
Can you send me photos and videos machine working (ZLSP300B D-Type)?
I'm looking for Final Diameter Pellets 6-8 mm.
Thanks
As per your requested we are enclosing you the Pictures and Vedio of our machine. Kindly find in the email attachment.

OK,we could offer you the Pellet Mill with 6mm Die or 8mm Die. If you want to make different size of pellets you could buy additional Dies. And we could put the additonal Dies together with the Pellet Mill,so you needn't bear the additional freight. The price of die set is also included in attachment.

BTW,what is your local electricity? Whether our 380V,50HZ,3Phases are suitable for you? Please advise !
How long a die and roller working? or after how many kilograms, they will be out (throw out to trash)?
Our Roller and Die life is Min 800 hours.
What kind material die and roller are made ?
The material of our Roller and Die is Alloy Steel.
Do you have sawdust dryer and hammer mill? Regarding the Electricity, 380V,50HZ,3Phases. It's fine for us.
Yes,we have Hammer Mill and Dryer. So,if you need them,please inform us the capacity you need,so as to offer you the suitable models of machines.
I have made biomass gasification stoves which are planned to be run on biomass pellets,these will be marketed on commercial basis.I have conducted trials on hard wood due to non availability of pellets/pellet machines in Pakistan. I need to buy :
- PTO driven pellet machine for making biomass pellets for final trials and so on...
- Subsequently, I need to purchase Small Wood Pellet Plant,initially, for setting up my business.
Kindly give me quotations of PTO driven machine and small wood pellet plant.May be FOB or CIF.
Our pellet mill can deal with the wood raw materials , wheat / rice straw , sawdust , husk , bamboo powder, grass, alfalfa , peanut shell, sunflower shell , coconut shell , rice bran , plastic , alfalfa, corn, soya etc .

Quotation sheet of PTO type is send to your email, please check it .
For the small pellet plant , we need confirm the following information .
1. The wood material original size ?
2. The wood moisture content ?
3. How many kilos per hour you want to produce ?

For the transport cost , after we confirm the model , please confirm the sea port in Pakistan.