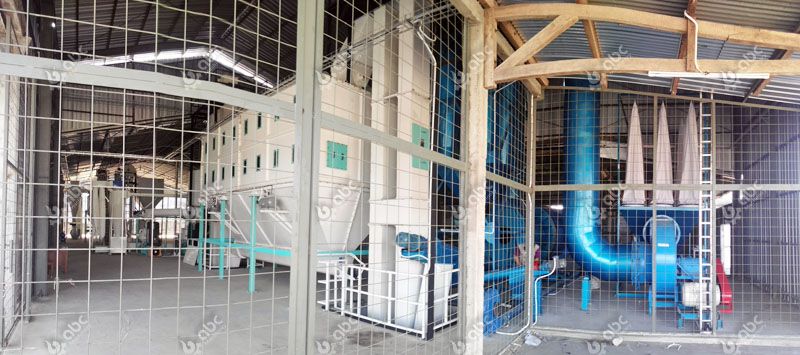 Panorama of the Industrial Factory for Processing Wood Pellets
Project Name: Wood Pellet Processing Plant
Production Output: 6 ton per hour
Factory Location: Mid Java city Wonosobo, Indonesia
Raw Materials: Sawdust and other wood residues from saw mill.
This industrial scale wood pellet processing plant is established and running in Indonesia. It is designed and built for making wood pellets from wood residues from local lumber-mill, sawmill or timber mill. The produced wood pellets are mainly sold to local coffee processing plants, tobacco factory, to be burned in boilers. Moreover, the investor of this complete set of wood pellet processing equipment is also actively contacting pellet buyers in Japan and looking forward to expand the Japanese market. (Read more about small pellet mill for making your own wood pellets at home or on farm >>)
6TPH Wood Pellet Processing Plant Layout Design
Wood Pellets Manufacturing Process: Crushing, Sieving, Pelletizing, Cooling and Packing.
View the photos below to see more equipment details and the layout of this 6ton/day wood pellet processing line. (You maybe also interested in small wood pellet tmill plant)
This project utilizes the latest Mode (VPM630) Vertical Wood Pellet Machine. It is featured of auto lubrication system, auto cooling system, minimum energy consumption and can add grease without stopping. Besides, it is less sensitive for moisture of biomass material to be pelletized. Two types of wood pellets packing machines are equipped. One is for paking 15-50kg small bags and the other one can pack 600-1000kg big jumbo bags.
Welcome to contact us to get more details of this wood pellet mill plant. Our service team can offer customized business plan and project report based on your specific situation and needs, send you price list of each equipment, and help check the exact cost of starting wood pellets business!

Other Wood Pellets Projects for your References:
Main Factors Affect the Capacity of Wood Pellet Machine
Raw materials and operating factors are what relate to the capacity of wood pellet machines. Consequently, the quality of the raw materials is a great deal directly determines the pellets quality. Also, the determining factors are also vital to the production capacity of the biomass pellet mill. The big question, however, is how to keep the best of the biomass pellet making machine.

To keep the best of the of wood pellet processing equipment, the following measures can apply to woody or biomass materials:
Ensure you give essential attention and concern to the raw material size. (Related Equipment: Wood Chipping Machine)
Cleanliness of Raw Materials
The cleaner the raw material, the higher the effectiveness of the wood pellet mill.
1
Moisture of Raw Materials
Ensure that the moisture is between 8-15 %. Too high or too low can both affect the pellet quality and result in more energy consumption and importantly wear out of equipment.
Hardness of Raw Materials
Ensure that they are not too hard to ensure easy pelleting process and also avoid damaging the spare parts.
The lignin content and cellulose content are also the key factors that can affect the wood pellet production output. Adopting of pellets cooling system is also an essential factor. This prevents the wood pellets from loosening. After cooling the proper temperature should be +3-5 higher than the room temperature.
Operation Tips of Wood Pellet Processing Equipment
The adjustment of pellet roller and ring die is vital for the pellet density.
Ensure to replace the wear-out ring die and pellet roller on time.
Feed the wood or biomass materials evenly to wood pellet machines to maintain the required friction factor among raw materials, rollers and the ring die.
The most fundamental step is the strict use of pellet machine manual. Well maintenance and cleaning of the equipment if necessary. Lastly, uniformed raw materials is also a factor for the efficient functioning and durability of
equipment for manufacturing biomass pellets
.