Recently, the R&D team from ABC Machinery has successfully developed a newly upgraded mini poultry feed plant, specially designed for using on small animal farms. ABC Machinery is dedicated to the development of feed pellet mills combining recent technologies from home and abroad, developing the animal feed pellet production plant based on the requirements and actual conditions of the customers. (Related article: cattle feed plant layout>>)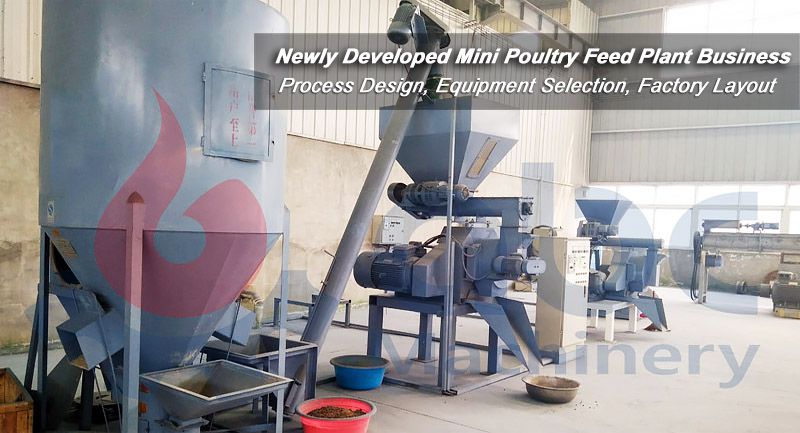 Mini Feed Plant Equipment (making small scale feed pellets for poultry and cattle)
Newly Designed Small Feed Pellet Plant Overview
Output Range: 600~1000kg per hour
Processing Range of Raw Ingredients: soybean, wheat bran, corn, meal, corn straw, peanut shell, rice husk, straw, as well as some other raw materials associated with the feeding formula.
Main Machinery: feeding machine, crusher, mixer and storage silo, pellet mill and automatic electric cabinet. It is possible to customize it depending on the fulfillment of the customers' demands by different types of livestock, poultry, and cattle.
Applicable Area: Our Company has designed this particular set of feed pellet mills mainly for the small-scale poultry farms, livestock animal farms, as well as the animal farmers.
Common Feed Pellets Diameter for Different Animals
| Common Animal types | Suitable pellet diameter (mm) |
| --- | --- |
| Chicken, rabbit | 2-3 |
| Horse, cattle, sheep goat, pig | 4-8 |

Small Scale Poultry Feed Pellets Making Plant Procedure

Process Flow of Small Poultry Feed Production
The first step of a small poultry feed pellet plant requires processing the raw material to meet the requirements for feed pellet production, including size and moisture. Raw materials of different sizes are ground by the crusher to an appropriate size so that they can be pelletized. And for the formulated feeds and compound feeds, these raw materials also need to be completely mixed to produce a feed that better matches the nutrient content of the animal stage. Then the crushed materials will be collected and mixed well in the storage silo.

Following this, these crushed raw materials are going to be delivered to the feed pellet mill machine. The production capacity of the feed pellet mill decides the output of the production line. You can change the quantity of pellet mills to meet your requirements and conditions.

When the feed pellets are produced they are hot and need to be cooled to room temperature for better storage. In this small-scale feed pellet production line, equipped with a cooling machine, those pellets can be cooled down very quickly. Then, the baler weighs and packs the cooled pellets into bale bags. Next you can use them on your own farm and also for sale. (Learn more: chicken food factory>>)
The above is the general process of a small poultry pellet production line, we can also customize a special production line according to your requirements. If you need, please contact us now.

Test-Running of Mini Poultry Feed Plant
You can get an idea of the working condition of the brand-new mini animal feed pellet manufacturing line by watching the following video. In case you want to get some more information, do not hesitate to get in touch with us.
Building A Small Poultry Feed Plant for Livestock Animal Fodder
Small poultry feed plant, specially designed and manufactured for making small-scale animal farms, but equipped with complete necessary machinery, the produced feed pellet has its own highlights, when compared with the traditional mash feed. (Learn more: how to start a feed mill business>>)

Mash Feed or Pellets Feed
These feed pellets which have been manufactured by our feed pellet plant are beneficial for the digestion of the animals as well as the absorption of nutrients.

This pelletizing procedure, with an appropriate design, is capable of causing the pancreatic enzyme boycott factor's degeneration effect by destroying all types of parasitic ovum plus other pathogenic microorganisms and thus minimizing the detrimental effects on the digestive system as well as its ailments. These feed pellets, in contrast to the mixed feed powder (mash feed), are more beneficial economically.

Full-bodied fragrance is produced by the animal feed materials during the pelletizing procedure under high pressure and high temperature. These are the ideal choices for livestock as well as poultry animals like cattle, pig, chicken, sheep and rabbit with an increase in nutrition absorption by as much as 300%.

Choosing Reliable Feed Pellet Machinery Manufacturer
ABC Machinery Co., Ltd. has advanced machinery manufacturing equipment, strong development strength and perfect after-sales service. GEMCO is a professional manufacturer of granulator and oil machines in China, which is engaged in R&D, manufacturing, installation and commissioning. (See more: chicken feed making machine for sale>>)


ABC Machinery Manufacturing Factory
The small feed pellet production line produced by ABC is widely sold at home and abroad, and has been well received by many customers and agents. In addition, you might feel the need of a turnkey project solution in case you happen to be a manufacturer of large animal feed and require a large scale or a medium scale commercial animal feed processing project.


Large Scale Poultry Feed Production Plant For Sale
Let us know regarding your capacity requirements and the information you need regarding raw materials as well as what type of animal you would like to feed and you are going to receive a customized equipment list, business plan along with project cost from our engineers. Do not give any second thoughts to get in touch with us in case any question is lurking in your mind!