When starting a cattle feed manufacturing business or setting up a cattle feed processing plant, you have to make a complete business plan, make customized feed mill layout design. You should also study your customers - the animal varieties they keep and the market trend. We are a professional manufacturer and supplier of cattle feed pellet mills, you can contact us for more information.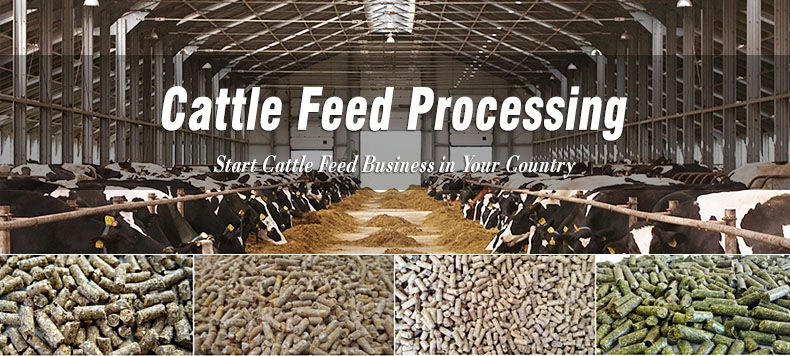 How much does it cost to start a cattle feed pellet manufacturing business?
Statistics show that the market of feed additives is expanding at a 7% rate. This is due to the rise in demand for safe and high quality meat. Consumers want their meat and milk to be free from antibiotics and bacteria. Farmers therefore are striving to keep their animals properly fed and healthy, which provides great opportunities for the animal feed production industry. (Related Post: Animal Feed Production Line>>)

Setup a Cattle Feed Processing Plant [Business Plan]
Setting up a livestock feed production mill can take advantage of this trend to make money easily. It doesn't require a huge budget. There are two most important things one should take into consideration when setting up a livestock feed production mill or starting livestock feed manufacturing, one is the ingredients, you best have the unique formula, the other is the advanced feed processing technology and equipment. (Project Report: 1 ton/h Cheap Cattle Feed Making Machine Set )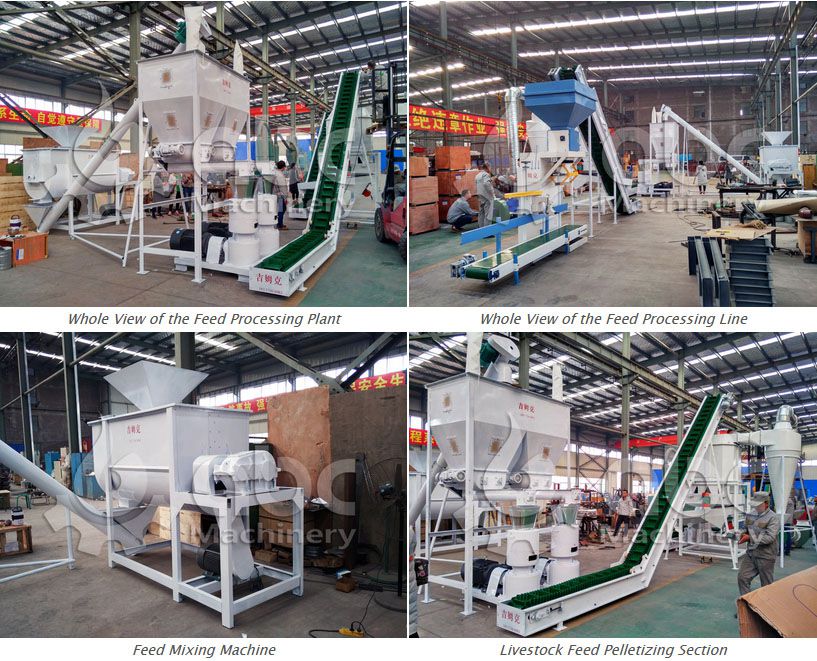 If you are interested in opening a cattle feed processing factory but don't know where to start, please send us an inquiry to get a customized feed processing project plan with detailed cost analysis for FREE!

Get the Good Cattle Feed Formula for Your Feed Mill
It is very important to come up with a good feed formula to mix ingredients by doing market research. Obviously, the cattle feed formula is different from the poultry and fish feed. Determine what nutrients a specific animal the farmers keep needs so as to grow, gain weight and stay healthy. Come up with a breakdown of livestock feed formulation based on livestock variety and additives, such as vitamins, amino acids, enzymes, minerals, then decide what to produce, for instance, if it is cattle feed, will it be beef cattle feed or dairy feed?
Purchase the Ingredients for Feed Processing
Based on the feed formula you have decided to use, go ahead and get the ingredients. Here is the breakdown, most of which are readily available in Africa, Asia, America and more.
(图片:与下面相符合的原料图片 描述:raw materials for making cattle feed)
Maize, cassava grits and corn are popular for energy
Get wheat or noodle wastes for proteins and some carbohydrates
Bone meals, fish, oyster shells, dagaa, palm kernel for oils, salts and minerals
Buy Cattle Feed Processing Equipment for Your Business


Small Feed Pellet Line
| 001 | 002 | 003 | 004 | 005 | 006 | 007 | 008 | 009 |
| --- | --- | --- | --- | --- | --- | --- | --- | --- |
| mixer | loader | stock bin | feeder | pelleting machine | belt conveyor | cooler | belt conveyor | packing machine |
The machinery you need is determined by the feed you want to produce. Grinder, mixer, pelleting machine, freezer, sifter, weight scale, packaging bags and more are some of the necessary feed processing equipment for starting a complete cattle feed production factory. Here you can see a 3-5 ton/h cattle feed manufacturing process flow chart. This process and layout was designed for one of our clients in Mali, West Africa. Just feel free to contact us to get more information about this feed milling factory in Africa.
Marketing of Your Cattle Feed Pellets
This is the challenging part, especially for beginners. How do you get your pelleted feed product out there? There are many ways you can adopt.
(图片:不同原料的牛饲料颗粒 描述:different kidns of cattle feed pellet for different growing stage)
Supply stores: introduce your feed to livestock supply stores and let them act as middleman
Direct sales representatives: search for the sale representatives for your feed product
Establish your own distribution outlet
Sell Online
Establishing a cattle feed processing plant and starting your own feed making business can be a huge potential to get profits. For example, in many African families, animals are the most valuable property, from which they get dairy products, plough power among others. This traditional way of life offers a big opportunity for livestock feed processing mills since there are increasing demands for the high quality feeds for farmers and farms.
Cattle Feed Production Layout Design for Business
Generally speaking, due to the difference in the feed formula of different customers, the needed equipment is different. In the end, the layout designs of every cattle feed plant is specially made. Thus, we will design the cattle feed making machine plant based on the actual situation and requirements of the customer.
(图片:完整的牛饲料加工厂图纸 描述:general factory layout design for cattle feed production business)
And we have customized many animal feed production lines for our clients, and when they had received the equipment, they expressed their satisfaction with our design. Here are some successful animal feed production lines we have designed for our customers, you can take them for reference.
As one professional manufacturer and supplier of animal feed making equipment, we are offering you the high quality and factory price equipment, best services. We are always here for you!
Video Display: 1ton/h Animal Feed Production Line
This video shows our custom-made cattle feed production equipment for our customers and some preparation before shipment. If you have any questions about cattle feed or other animal feed production, you can contact us quickly and we will be happy to help you!
If you are going to enter into the cattle feed business, you should take immediate actions to seize this opportunity. ABC Machinery can be your BEST partner, we can not only provide high quality and efficient cattle feed processing machines, but also customized cattle feed business plan, cattle feed plant layout and cattle feed business project report.

Global Cattle Feed Market - Increasing and Profitable
More and more people see more opportunities to invest profitably in setting up an animal feed manufacturing company or starting livestock feed manufacturing business.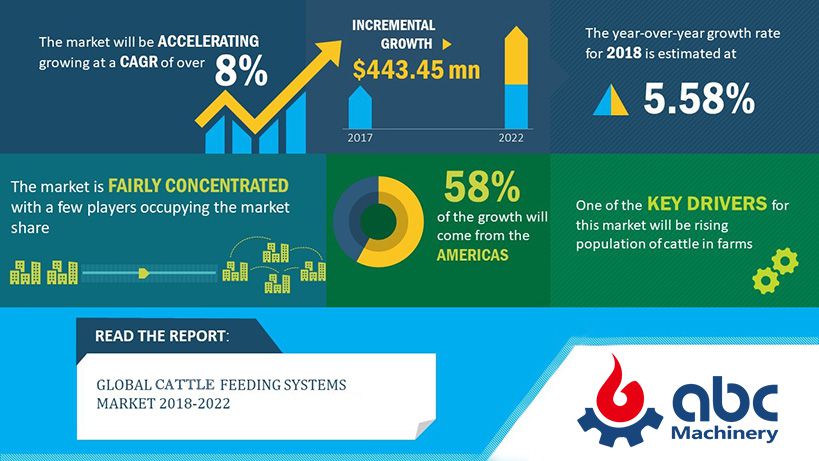 Global Cattle Feeding Systems Market
The global cattle feed market is growing due to a high demand for beef and dairy products these days. Care for the cattle is important and people want to see the process improved if possible. The global cattle feed market is expected to undergo some changes.
Europe has long been the center for the projects that take place. But new markets are starting to develop in response to the rising demand. And emerging economies all across the world are increasing demand in many ways.

Brazil

is the fastest growing market, followed by

Mexico

and

Canada

in that regard. These new markets could change the way that people view the beef industry today. (Exporting News: 1TPH Cattle Feed Making Machine to Kuwait >>

)

China

and

Vietnam

are becoming more affluent, increasing demand for beef in those regions.

India

and

Japan

are rising fast, further increasing demand in Asia these days.
In a word, the developing world is pushing up demand in a lot of ways. Asia and Latin America are two regions where development has taken place. Renewed demand for beef has amazed the farmers. They want to stay ahead of the curve if possible.
At the same time, the cattle feed manufacturers and suppliers are working to meet demand rates and set a new standard for the feed industry. Feeding millions of cattle can be a challenge for any country. But there are resources to help the new markets that are emerging. The global cattle feed market can be expected to grow soon. That is in response to many changes all over the world.
Farmers face many challenges when caring for cattle, including providing more feed to them. They have to order bulk supplies and distribute feed evenly among many cattle. The global cattle feed market is intended to supplant the older model. That will ensure that global demand is met and farmers have a chance to keep their cattle healthy.

Which machine is used to coarse crush before the crushing process of cattle feed production line?
General coarse crushing is also used hammer blade, but the raw materials used to make cattle feed is always the grain which are not particularly hard, generally do not need to carry out coarse crushing.
For one set of feed pellet making lines, can two 350 pellet milling machines produce the cattle feed and pig feed at the same time?
No, but if there are two pellet mills, you can separate them to do different types of feed with different formulas, while they can not be used to make cattle feed while making pig feed, which will cause the pollution of the inner part of the feed milling machine, and the pollution will cause shorten the life of feed machines.