Project Name: Poultry Feed Mill Plant
Factory Capacity: Produce 20 tons feed pellets per hour (equal to 120,000 ton/year)
Application: This feed milling project can process a wide range of livestock and poultry feed (chicken, duck, cattle, sheep, etc).
Main Equipment: crushing machine, hammer mill, mixing machine, ring die pellet milling machine, cooling machine, packing machine and other conveyors.
Poultry Animal Feed Mill Plant Setup Details
Planning the run a poultry feed mill, but don't know how to start? We are here to help you! The followings are some photos of this 20 ton/hour feed processing plant. View the pictures to take a look at this factory and see if it is what you want. For detailed project report, please send us an inquiry! (Other Project: 5TPH Complete Set of Animal Feed Machine )
Poultry Feed Mill Factory Building and Construction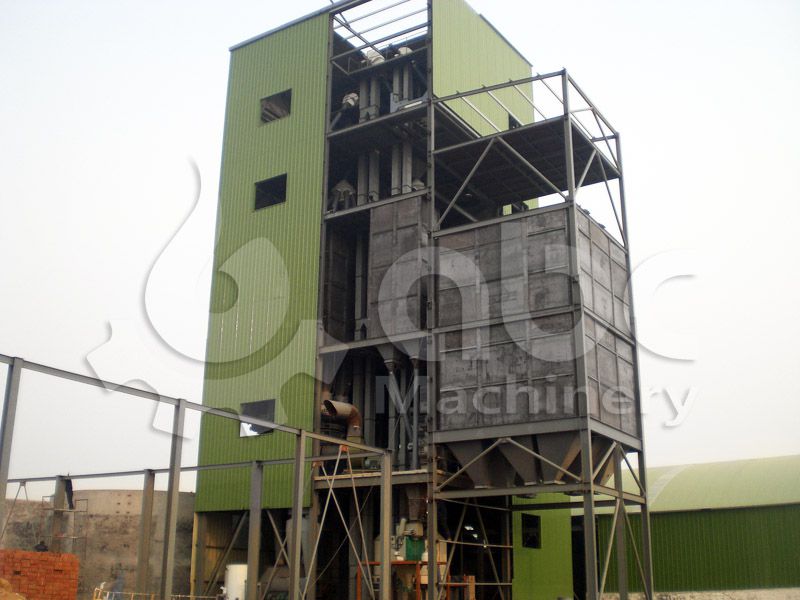 Details of the Feed Pellet Plant
Poultry Feed Making Machinery Display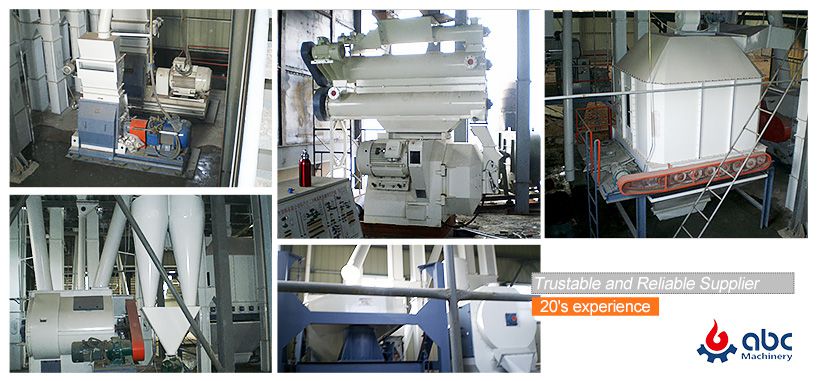 20TPH Feed Pellet Making Plant
Buy factory price 20TPH poultry feed mill plant from reliable manufacturer or supplier--- ABC Machinery, learn to process nutritional poultry feed for your animals, get FREE guidance to set up poultry feed mill plant projects as business in Uganda, Fiji, Zambia, Uzbekistan, Nigeria, etc., at low cost.

Main Process of 20 TPH Compound Feed Production Plant
The process of making feed pellets for your poultry animal by this 20 TPH poultry feed plant is relatively simple and includes several steps: crushing, mixing, pelletizing, cooling and packing. (Learn more: poultry feed manufacturing process>>)


Poultry Feed Mill Plant Process Flow Chart
To make the complete compound poultry feed, the first step is to crush the several raw materials into small size, to make it easy to mix completely in the later process.
This step is to mix the crushed raw materials uniformly and evenly. Different ingredients that make the poultry feed such as corn flour, wheat bran, fish meal, bone meal, soybean meal and all the other ingredients and minerals are included. Through mixing, the poultry meal that has all the ingredients are mixed uniformly and evenly.
The mixture can now be delivered into a ring die pellet mill machine feeder, where it will go to a roller and die. The extruded pellets will have an average moisture content of around 16-17%. Pellet mill machine is used to convert the powdered feeds into pellets that further enhance feed efficiency in poultry farming and increase production in terms of egg production or meat production, while at the same time reducing the costs incurred. (Related article: chicken feed making machine for sale>>)
The final step of the 20 TPH poultry feed plant is to cool the produced feed pellet from the feed pellet making machine, to decrease the temperature for later better storage. And then the cooled animal feed pellets will enter the packing machine to be packed into bags.
Note: We also can custmize the process of poultry feed machine plant based on your actual condition and your requirements. If you have any idea of starting aniaml feed production line, don't heisitate to contact us !

What is Complete Formula Feed?
The complete formula feed is formulated according to the prescribed feeding standards. It contains protein, energy, minerals, trace elements, vitamins, etc. It can meet all the nutrition needed by livestock and poultry. It is of the best quality and balanced nutrition. It can feed animals directly without adding any other feed. This kind of feed is suitable for mechanization, semi-mechanization production. It is not only good choice for free-range farming but also for special households raising chickens, pigs, cattle, fish and precious animals. Its general composition is as follows. ( New Product: Portable Animal Feed Line in Container)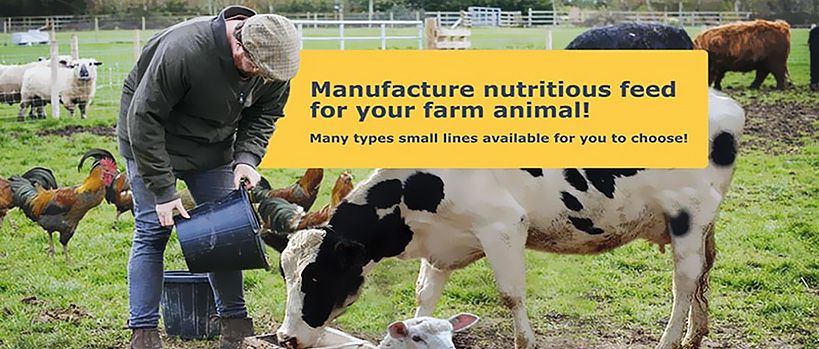 Livestock Poultry Feed Milling Plant
Proportion of Complete Feed with Meat and Without Meat (For Reference)
| Formula Type | Complete Feed with Meat | Complete Feed without Meat |
| --- | --- | --- |
| Energy Feed | 60%-70% | 55%-65% |
| Plant Protein Feed | 15%-20% | 25%-30% |
| Meat Diet | 2%-8% | 5%-8% |
| Mineral Feed | 3%-8% | 3%-5% |
| Feed Additive (premix) | 1%-2% | 1%-3% |
The table above tells the proportion of the complete feed with meat and the feed without meat. Whether you plan to process which kind of feed, our poultry feed plant can help you to realize it. If you have any questions about processing animal feed pellets by poultry animal feed making machinery, please contact us for more information!

Processing Compound Feed Pellet by Poultry Feed Mill Plant
Pellet feed is compressed from powdered compound feed by using feed pellet mill. Compared to powdery feed or mash feed, pelletized feed has high density and it is more convenient for transportation and storage. It can also help avoiding fussy animals, reducing feed waste, shortening the feed intake time, stimulating secretion of digestive juices, and improving feed utilization efficiency. The feeding effect is better than mash feed. ( Maybe you are also interested in our Small Complete Set of Animal Feed Pellet)

Advantages of Complete Compound Feed through Poultry Feed Mill
Improve production performance and shorten the breeding period of commercial livestock and poultry: Compound feed is produced according to the nutritional needs of livestock and poultry, adopting scientific formula. Therefore, complete feed can ensure all kinds of nutrients and improve the production performance of livestock and poultry. (Read more: fish feed manufacturing plant project report>>)
Save grain, make rational use of need resources. Compound feed can not only maximize the use of grain and oil processing, food processing by-products, such as oil cakes, rice bran, blood meal, bone meal, fish meal, distilled grain and so on. Some non-nutritional additives can also be used according to the needs of livestock and poultry to reduce feed production cost and increase economic benefit.
Easy to use: The compound feed can be fed directly. Therefore the labor and batching equipment can be saved.
Convenient for industrialized feeding production and can be widely applied for large-scale animal farm.
More health, more safety.
Poultry feed pellet machine granule video

Setup Your Own Poultry Feed Production Line
ABC Machinery is one of the professional poultry feed making machinery manufacturers and suppliers, and has been engaging in this industry for several decades. In addition to possessing the independent R&D team with experienced engineers. We are focusing on helping our customers to set up a highly efficient poultry feed mill plant as a business at limited cost. (Related article: cattle feed business plan>>)
We can not only offer the equipment manufacturing, but also provide the service of factory building and design, machinery installation and debugging and other technical support services. If you have plans to start the poultry feed mill plant as a business, you are welcome to contact us for more information, and you can't go wrong when you choose us !