The MPL multifunctional mini pellet mill plant is based on European design, built upon the foundations of many years of manufacturing experience and product R & D. It combines the advanced technology of European countries with a solid understanding of the needs and requirements of our clients.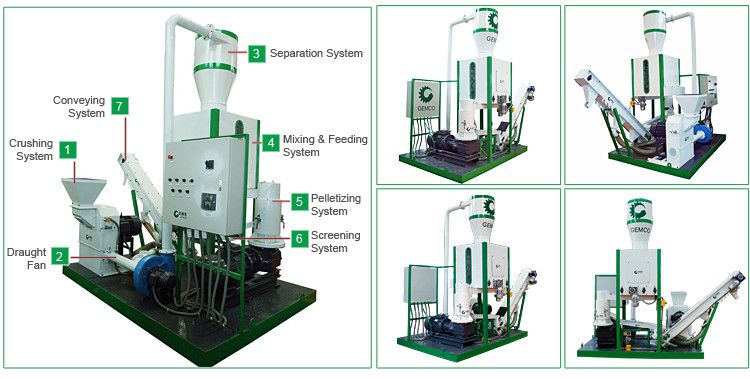 Type
Power (Hp)
Output (kg/h)
Weight (kg)
Package Size (mm)

Feed Pellet Processing (2.5mm~8mm)

MPL300D
41.44
500~700
2300
3500*1960*3500

Wood Pellet Processing (6mm~10mm)

MPL300R
41.44
250~350
2300
3500*1960*3500
MPL400R
49.44
350~450
2400
3500*1960*3500
MPL420R
56.81
400~600
2500
3500*1960*3500
Mini Pellet Mill Plant Structure Design
The Integrated Wood Pellet Mill Plant can be used to crush, mix and cool a wide variety of biomass waste, resulting in the production of pellets which can be used as animal feed or biomass fuel. All the pellets made in this machine feature a high resistance, smooth surface and a durable, high-density exterior. And the plant is made to be extremely compact in nature, with an ergonomically designed small volume size which guarantees efficient production using as little space as possible. This makes it suitable for regions where you may wish to transport the pellet mill across a variety of locations.

Hammer Mill( FSCP450D, 15kw )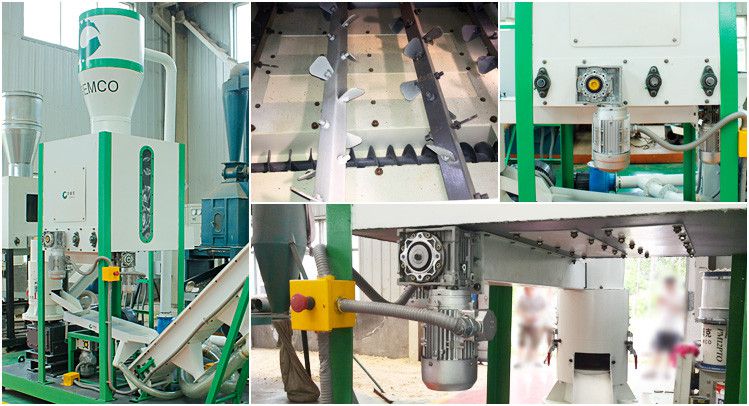 Adjustable raw material storage bin of biomass pellet machine ( 0.75kw )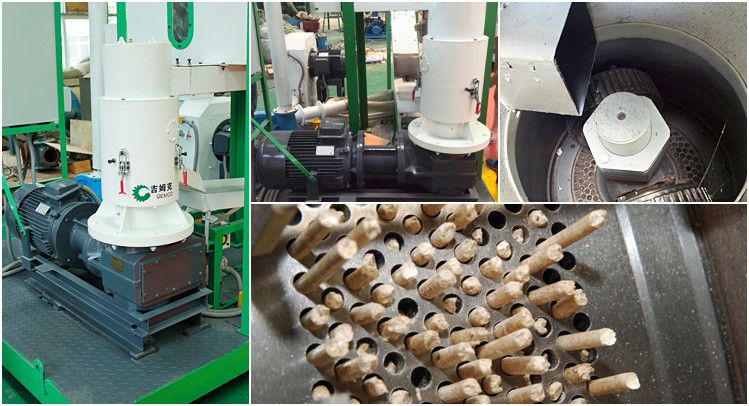 Main part of BPL300 sawdust pellet machine ( ZLSP300B R-type, 22kw / ZLSP400B R-Type, 30kw )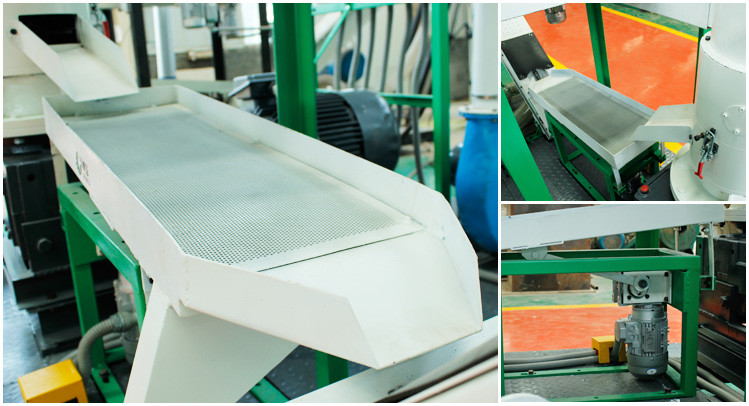 Vibrating sieve of the Small Plant ( SFZD300D, 0.37kw )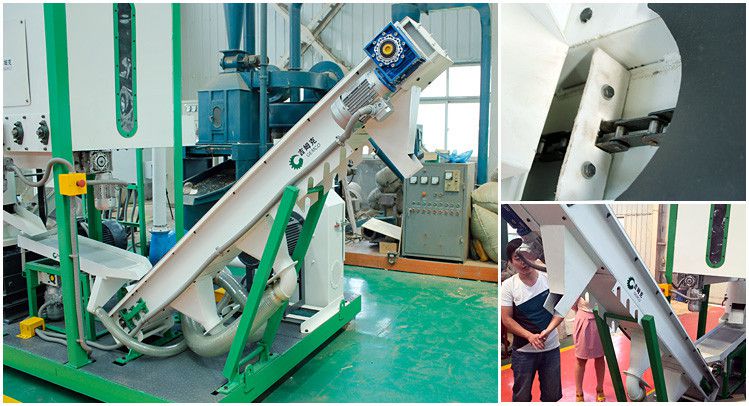 Scraper conveyor of Pellet Plant ( CSGB145D, 0.75kw )
The mini biomass pellet mill plant is able to process a diverse range of agricultural waste as well as leftover forest remains, from rice husks and corn stalks to all sorts of wood like beech. ABC Machinery has all the tools at hand to provide different ranges of pellet plant models with specific compression ratios to match your needs and requirements. The pellet mill (also called pellet press) located inside the portable pellet plant utilises a state-of-the-art gear drive system to provide an optimal transmission ratio. It also has a large driving torque and a bunch of quality-of-life features, like smooth transmission, ease-of-use, low maintenance costs and safeguards in place to ensure maximum environmental protection.
How The Movable Pellet Mill Plant Works?
Any raw materials sent into the pellet mill plant is first broken down in the hammer mill. The remains are then sent into a screw conveyor via a cyclone system in order to keep the material stable. After some time, the material will be moved to the pellet mill which has a ring die installed. All pellets produced in the pellet mill are automatically sent to a cooler and a sieve which separates the poor quality, broken pieces from the rest. Any pellet pieces not fit for use will be collected by a dust filter system.
Newly Developed Small Pellet Plant on Trailer Car
If you are looking for a compact small pellet plant which can make pellets anytime any where. Our new movable pellet plant on flat-bed trailer should be your best choice! Below are some photos of the equipment, feel free to contact us for more details and latest price!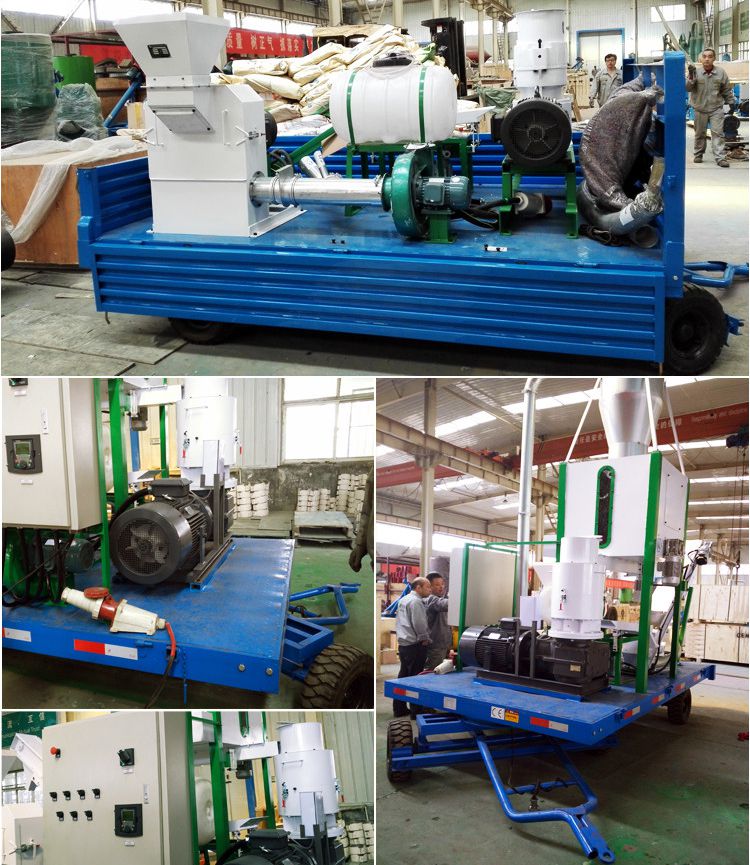 Dear Sir, we would be interested to get a quotation on GEMCO MPL300 mobile pellet plant. The purpose for the plant is training and education. Raw material is sawdust and woodworking scrap of mainly softwood (pine), but also some hardwoods. Pellet diam. for example 6 mm. Other information as per your request. Thanks.
For our small monile pellet plant MPL300:
It's very suitable to deal with sawdust and woodworking scrap of both softwood and hardwood, and also mixture of softwood and hardwood. Diameter 6mm or 8mm or 10mm is available for choice.



If you need we deliver the goods to your country, kindly advise us which port you need it to reach? So as to check the best shipping cost accordingly. Please feel free to contact us if you have any questions.