| Model | Capacity (kg/h) | Power (kw) | Dimension (mm) | Weight (kg) |
| --- | --- | --- | --- | --- |
| BPM350 | 500~800kg/h | 30*2+0.75+0.75kw | 2150*1950*1900mm | 2200kg |
| BPM420 | 1000~1500kg/h | 90+1.5+2.5kw | 2500*1100*1900 | 3000kg |
| BPM508 | 1500~2000kg/h | 110+1.5+2.2kw | 2800*1100*1900 | 3700kg |
| BPM510 | 1500~3000kg/h | 90+1.5+2.2kw | 1200*2900*2000 | 3200kg |
Featured Product - BPM510 Wood Pellet Machine
Level flour reduction gear unit, capacity Increases by 28%.
Suitable raw material moisture range increases from 12%~16% to 22%.
Gold Motor - High effecient and energy saving motor. Saving about 10% electricity cost every year.
Automatic spindle lubrication device.
German technology of piston type press roller assembly, more fuel-efficient, more wearproof.
German FAG bearings.
Advanced cooling system - the utilization rate of press roller butter improved by 15%.
Due to unique ring de assembling and independent drive on all parts from feeding to pelletizing and lubricating, our ring die pellet machines are featured of elegant structure design, high output, low power consumption and easy operation.
Available Biomass Pellet Materials
Without any scintilla of doubt, it is important to know that biomass pellets can made from varous different kinds of agricultural and forest materials.

Wood: Wood wastes may include branches, several spices of trees, twigs, lumber, saw shavings, sawdust, shrubs and timber. And wood residues from furniture factories, logging camps, building materials, gardens and mountains.
Bamboo: Wastes from bamboo handicraft, such as toothpicks wasts and chopsticks.
Straw: straw of cotton, corn; stem of soybean, rape flower, wheat, rice; rod herbaceous plants such as tobacco rod etc.
Energy Grass: grassiness, the giant king grass, alfalfa (mainly used as fodder) etc.
Others: urban sludge or wasts, palm shavings (fuits), PKS (palm kernel shell), coconut shell, chaff (rice husk, wheat husk, coffee husk), waste plastics, cow dung, cat litter, pumace.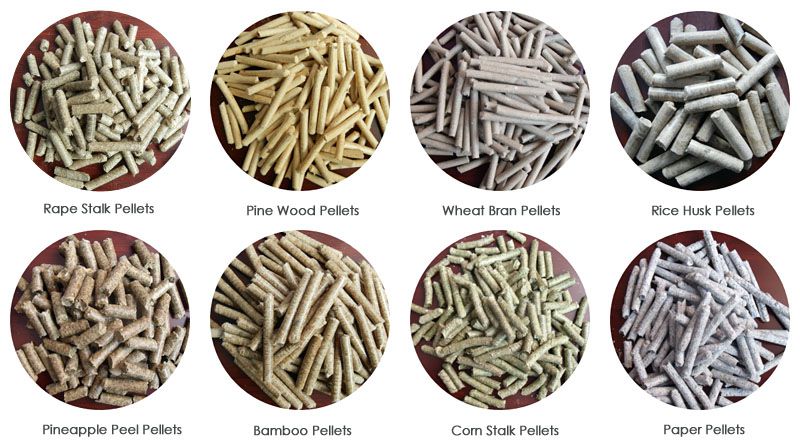 Small Pellet machines with flat die design are mostly applicable in households and normal life due to their low price, easy operation, small size and output. However, for industrial or commercial wood pellet production, a ring die pellet machine is needed.
Main Structure and Working Principles
Ring die pellet mill machine fro industrial pellet production line generally consists of the following systems: feeding, driving, pelleting, lubrication, safety device, ring die assembling and disassembling.
It is a small front door on the machine mounted with hydraulic cylinder. It is designed to discharge the inside materials in case of emergency, for example when the pelletizing chamber is choked.
The key components of pelleting system in a industrial biomass pellet machine is ring die and rollers. The ring die is a honeycomb zone which contains a plethora of aligned pores. The ring die is fabricated by using high-chromium stainless steel alloy alongside with good heat treatment. The ring die unleashes good wear-resistant quality, strength and super high hardness property. It can be used to produce pellets within the range of 2.5mm to 12mm as the clients' requirements. The universally approved standard for a ring die is 8mm or 6mm.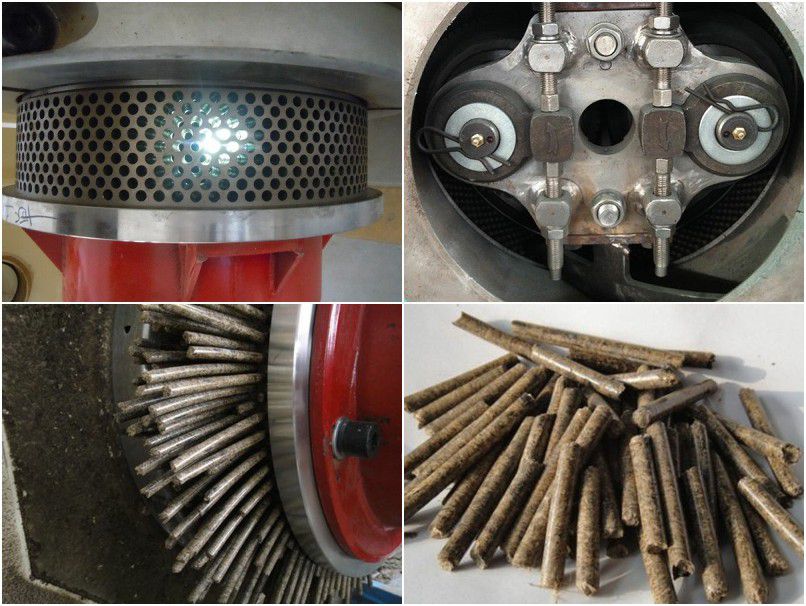 The rollers are sitting on the eccentric shaft. With the help of a bearing, you will be able to assemble the rollers. The bearing can be lubricated via the middle oil duct linked directly with the backside grease pump. This will help for constant lubrication while the pelletizing process is on. At every end of the eccentric shaft, bearings are protected. With advanced heat treatment and top-notch alloy steel, you will be able to also forge the housing of the shaft. This will help to increase performance of the press rollers.

A grease pump is located behind the biomass pellet machine. In the pelletizing chamber, the function of the grease pump is to help in lubricating the two press rollers. Pelletizing is a normal condition requires a consistent and steady lubricating system. It helps the roller bearings to work in both high temperature and pressure conditions. If this condition is not satisfied, you'll discover that the longevity of roller bearings become limited because they may be prone to a quick damage. This feature makes ABC Machinery a outstanding pellet mill suppliers in the entire industry.
This box is basically designed with two system systems. Driving torque is moved to the primary shaft through the coupling technique when the main motor starts operating. This will help to lessen vibration and reduce noise as well. The hold hoop is used to tighten the ring die to one corner of the primary shaft. Which this occurs, you will quickly experience a gyration on the shaft. (Our BPM250 & BPM350 Pellet Presses are directly operated by V-belt, while BPM420 & BPM508 Pellet Presses are driven by gear box. )
The ring die pellet machine is designed to provide a gamut of pelletizing solutions. In most cases, you can use this well-designed wood pellet machine for the processing of biomass wastes, sawdust, wood chips, sun flower stalk, forestry wastes, hulls, paddy straw, solid power items and other wastes. The key parts of industrial wood pellet machine is ring die and press rollers. After pelletizing, the bulk density of biomass raw materials can be increased from 130kg/m3 to 1100kg/m3. The final density is comfortable for storage & transportation at a high fuel value.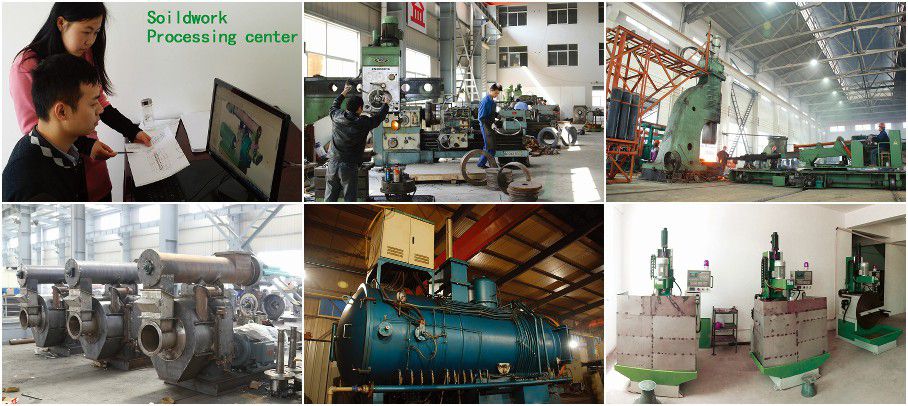 Across the national and global landscape, ABC MACHINERY is known as a specialized producer and supplier of biomass pellet machine. In recent years, we have been able to export our pellet mill across the globe such as Africa, Asia and European nations. Our well-trained experts are always ready to render a professional service to customers in a time of need. Feel freee to contact us anytime when your want more information!
I would like to qoute BPM 35, 42 and 508. My raw material is walnut shell. Have your ever use your machine for walnuts shell?
To be frank, we donot test our pellet mill using walnut shell. It is hard. We have one Malaysia customer, his raw material is very hard wood and he say it is difficult for the nails to put inside. But our pellet machine is no problem to process it and capacity of BPM508 can reach 1.7t/h. Differently, the wall nut needs to be hotter than sawdust to realest lignin. The related files were send to your email for your reference.
Can i get price for a complete wood pellet mill plant.
I have pine wood chips with 40-45% moisture and i need a plant that will do 1T/H
-- from United States
Thanks for your inquiry in our 1ton wood pellet production line. We receive another inquiry from you today, to inquiry the 250~500kg/h movable small pellet line. Please confirm what capacity you want.