Wood pellets are important commodity in the world for industrial or household use. The pellets are a common type of biomass. It has become profitable to build wood pellet plant.
With the continuous use of biomass pellet fuel, pellet mill machines are widely used in wood pellet production line. And, setting up a complete wood pellet production line can produce cost-effective pellets, which will continue to expand the market field of biomass pellet machine. There are also good prospects for starting a wood pellet manufacturing business. (Read more: Guidance of Starting Wood Pellet Business >>)

Reliable Wood Pellet Manufacturing Plant Supplier – ABC Machinery
Anyone who is interested in getting into wood pellet manufacturing industry would have many questions about the setup of wood pellet plant and wood pellet making business, like
What's the developing trends of global biomass pellet fuel market? Is it truly profitable?
What raw materials can be used for biomass pellet production? Is only wood sawdust suitable?
How much will it cost to build a complete pellet plant? How does the financial feasibility for a pellet plant go?
ABC Machinery been in biomass industry for at least 20 years and is specialized in designing and manufacturing of biomass pellet making machine. In these years, we have undertaken many turn-key project wood pellet production lines around the world, such as Japan, Italy, Peru, Indonesia, Malaysia, Australia, Latvia, Vietnam, United States, etc.. Welcome to contact us to get detailed project report.

We have witnessed the vigorous development of global wood pellet industry and we also grow up along with its development. We guarantee it is definitely profitable and has great potential to starting wood pellet manufacturing business. (Read more: Mobile Pellet Plant for Sale >>)
Here, we would offer some of the information for your reference!
The Global Market Development Trend for Wood Pellet

Huge Wood Pellets Market
Commonly known that for each country the pellet market can be divided to two markets which are the local market and the overseas market, they include:
Residential customers use the biomass or wood pellets for heating their houses or workplaces, such as apartments, offices, schools, and other public or business buildings. They will have a yearly regular demand for pellet fuel and will stock their needs before winter season. The need for the residential customers will reach to hundreds of tons per year. This number would be likely to increase due to the residents are usually increase from time to time. The residents find wood pellets would be comfortable and environmentally friendly. (Related post: Homemade Pellet Mill >>)
Industrial customers would use the pellets for their industrial need such as machine fuel. As the environment problem has been a serious concern of many governments, industrial players has to come up with forest renewal or alternative source to manufacture the pellet from. So nowadays industrial purposes for using pellets are increasing due it is more economical than using mineral oil or natural gas that saves the industry more than half the heating cost. This economical value could be also applied to the residential customers. (Related post: Industrial Wood Pellet Machine >>)
It has been indicated previously that business related with wood pellet production would be likely to increase. As the industrial demands are growing for heating related materials such as this wood pellets, manufacturer and exporter business has increase in numbers. Main targets of wood pellet would the countries with winter season, such as Europe, America and Canada.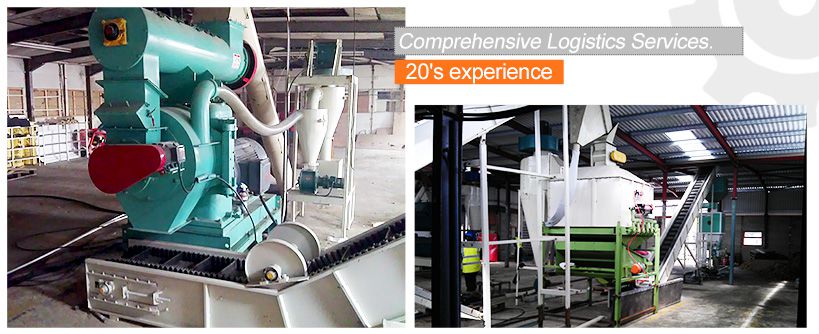 1TPH Wood Pellet Plant in UK
Raw Materials to Make Biomass Pellets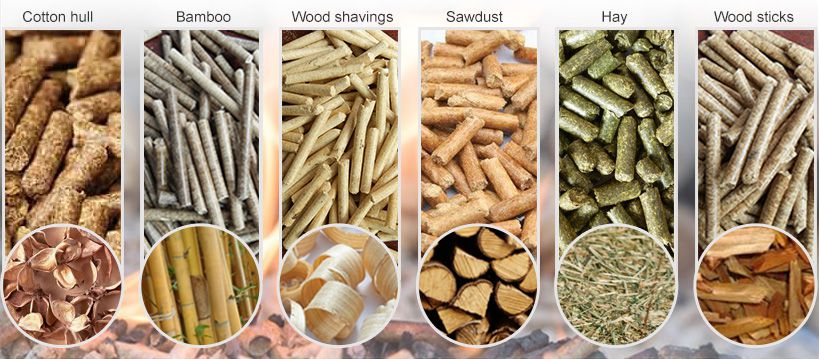 Raw Materials for Wood Pellet Manufacturing
Main raw material sources for the wood pellet feedstock would be: Wood remains from wood manufacturing process such as sawdust and wood chips; Harvested but low quality wood; Wood wastes or trashes; Grass; Corn; Biogas and other agriculture and forestry residues, etc. If you don't whether your raw material can make pellets or not, you can choose to send us for pelletizing tests. Feel free to contact us directly!
| Growth | Softwood | Hardwood | Total |
| --- | --- | --- | --- |
| All | 124,998 | 106,581 | 231,579 |
| Sawtimber | 86,564 | 21,230 | 107,793 |
| Non-sawlog | 38,434 | 85,352 | 123,786 |

In Canada, wood pellets were made from wood logger or sawmill waste. This includes residues from sawmills such as wooden dust, wood shavings remains, little tree barks, dead trees that are infected by disease and insect and log wastes that have been left behind by sawmills in the woods after finished logging process. This also includes tree body parts that are not suited for any other applications. The wood pellet industries would turn this waste into economically profitable, environmentally friendly, future friendly, solid bio fuel. (Latest news: Small Pellet Mill Spare Parts to Canada >>)
In other countries like Austria it would not be so hard to find feedstock or raw materials to produce wood pellets. As Austria has one of the most richly forested country in Europe source of raw material would be very easy to find. The raw materials are renewable with government supervision. (Related project: 2TPH Complete Wood Pellet Equipment Installed in Australia >>)
Setup Your Own Commercial Wood Pellet Plant at Low Cost
Cost of setting up wood pellet manufacturing plant – buy high quality pellet mill machine for biomass pellet making: HOT sale wood pellet plant offered by biomass pellet mill machine manufacturer or supplier, guide on process of wood pellet production and how to start wood pellet manufacturing business with limited cost in Tanzania, Egypt, Morocco, Ghana, South Korea, etc.
Main Cost of Industrial Wood Pellet Manufacturing Project
The capital costs of complete wood pellet plant would be various in different regions around the globe. Deloitte research has a study resulting of capital costs for pellet plant in EU, are placed as follow:
Daily Operating Cost: $125 for each ton
Labour cost: $10 for each ton (the price is subject to change depending on the capacity)
Energy cost: $10 for each ton
Maintenance cost: $5 for each ton
Repairs and lifecycle maintenance cost: $5 for each ton
Transportation for bulk shipments cost: $2.5 for each ton
Basic Project Setup Cost:
Cost of pelletizing equipment: $3-4 million (Complete wood pellet plant machinery includes crushing machine, drying machine, pellet mill machine, pellet cooling and packaging machine, etc).
Pellet warehousing, rail car loading facility cost: $2 million
ABC Machinery can also provide you turnkey solutions with other kinds of approach if the above capitals does not suit your requirements. And our customized biomass machinery would greatly reduce the cost to set up a wood pellet production line. If you are interested in opening a small scale wood pellet manufacturing factory, we are also happy to offer your the customized quotation!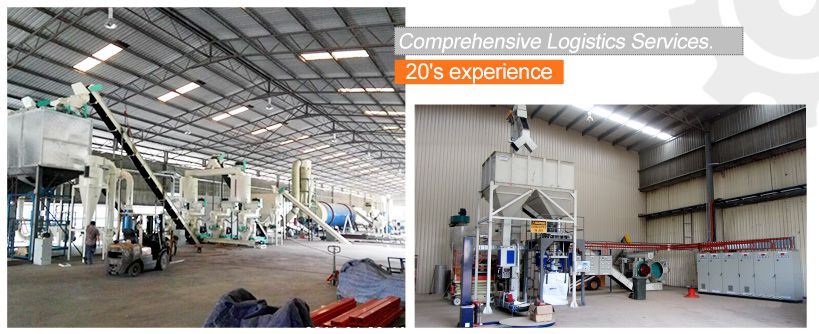 Large Small Scale Wood Pellet Mill Project

It has come to a conclusion that to overcome the consistently increasing demand for wood pellets would be a profitable business if you pay attention to details. If you want to start a wood pellet plant or factory and manufacture high grade pellets fuel that would compete well in global market by reducing the variable costs, capital input and cost of production, we are here to give you 3 additional tips that might as well assist your business swiftly;
No.1 Obtain the government and industry grant and permits
No.2 Build a team with experienced recruit and well managed them
No.3 Update your knowledge about the latest wood pellet technologies
As for lastly friendly advice, do take care of our natural resources by maintaining the safety of manufacturing process, raw material harvesting and waste control.
Price Tag for Pellet
As an example, in the United Europe countries that is the main target for wood pellet market and has the widest pellet consumption experience in the world. A bulk cargo price for pellet in United Europe will be about more than $ 300 per ton. The logistic cost that includes storage and transport costs must be taken to consideration if one would like to be an exporter in wood pellet industry. For a United States exporter, the storage costs may add $ 10 per ton, and the transport costs may have additional cost of $ 35-45 per ton. The price survey done by proPellets Austria resulted in an average price of € 23.54 €-Cent per kg of wood pellets or 4.80 Cent per kWh.

You also would like to consider the delivery distance from supplier of raw materials, the bulk market, and the source of material to determine the price of your wood pellet.
When will you ship the wood pellet machine plant?
It is generally 30-40 workdays. But it is actually decided by your wood pellet process design and machinery distribution.
What should I do to buy this wood pellet mill line?
First, you should talk to our salesperson about the details of your requirements and actual condition of building wood pellet production line. Make sure of the price, choose the payment terms like cried card, TT, LC (Sight Letter of Credit) etc. and sign the contract;

Then, you arrange the payment, after we received the payment, we arrange the manufacturing of your machinery;

Finally, when the machinery is finished manufacturing, pack and ship the machine to you.

Is it OK with the voltage in a single-phase 220V speed control motor?
Normal three-phase 220V60HZ power supply, single-phase is 110V, 60HZ, which is the industrial AC point, DC motors are equipped according to domestic standards, as long as the control circuit over the voltage matching the motor requirements. It is not necessary to make a single-phase 110V, 60HZ motor and power supply.