A full-size pelleting machine can occupy a lot of space and is used for large-scale wood pellet production. However, you may require a smaller pellet machine which can do the same work and can be set up in a small space. A small wood pelleting plant is used by millers for small-scale pellet production. It can be used to manufacture animal feed pellets and green fuel from biomass materials. The advantage of this type of wood pelleting plant is that it can be operated by a single person and thus, saving you cash.

Mini Wood Pellet Mill (Customized Business Plan is Available)
Small wood pelleting plant is a combination of drying, conveying, biomass crushing, pelletizing and cooling components. All the equipments consists of the crusherlhammer milllcrusher, conveyor, dryer, pellet cooler, tiny pellet mill etc. It uses the majority forms of biomass like straw, straw, stalk, wood, peanut shell,grass, bamboo shaving, manure,alfafa,rice husk, etc.
Components of Small Automatic Wood Pelleting Plant
Small scale wood pellet plant
or pelletizing factory has a capacity of between 200kgi'h to 800kgi'h. lt generally consists of the following components:
Hammer mill or wood crusher: It is designed to decrease the dimensions! size of raw materials. The raw materials such as alfalfa, straw, wood, etc. are crushed until their diameter is decreased to 3-5mm. This is because they can reduce the pellet forming rate and block the small pellet mill if there size is too big.
Conveyor: It conveys the materials between a pair of process equipments. They guarantee that materials are transmitted evenly and saves labour.
Dryer: It is effective in decreasing the moisture content , hence, increases the pellet forming rate as well as improving the pellet quality.
Small pellet machine: It is the main component of wood pellet plant. It is used to create pellets.
Pellet cooler: It cools the pellets, and increases the pellets hardness.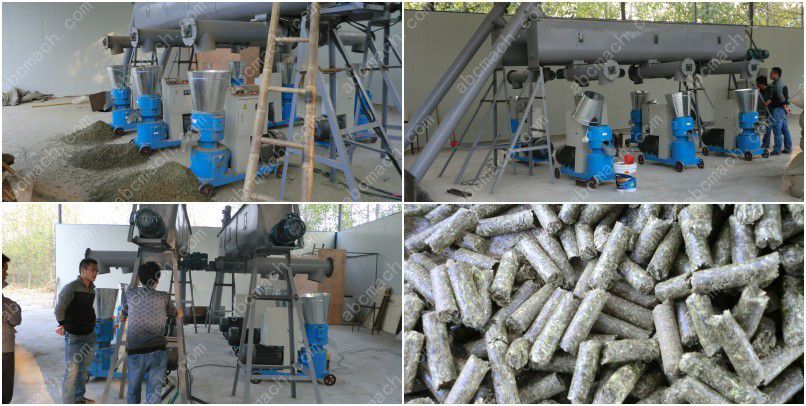 Precautions of the Pellet Plant
The raw materials that can be used include

corn husks, wood shavings, leaves, peanut shells, grass and paper.

You should feed the raw material into small pellet mill production line from the top of the machine and press the variable speed button placed at the bottom to begin the process of manufacturing your pellets.
You should make sure that the raw materials you place into the small size wood pelleting mmachine is less than (6)mm and between (8 to 15)% of moisture content to ensure high quality pellets. The small mill should have two containers for adding oil or water to the raw product.
The diameter of the die hole should determine the dimensionslsize of the pellets you manufacture. You should use (6—12)mm for creating wood pellets and (5 — 10)mm for feed pellets.
The wood pellets may be used for making animal bedding or additionally, for making quandary boilers and home heating stoves.
Advantages of Small Wood Pelleting Plant
It helps reduce the cost of labor. A minimum of one person is required to run the machine. You therefore, can use it without employing a worker.
There are different types of small wood pelleting plant. You can opt to choose either the

diesel pellet mill, PTO pellet mill or diesel pellet mill.

The hammer milll crusher can be an driven by internal-combustion engine or electric motor.
There are several electrical pellet mills that are eco-friendly as well as energy saving. They are usually fitted with a 3kw motor which operates on a 3phase electric supply and standardised for use with international voltages.
If you opt for an electric mill you will be able to reduce noise because most of them have gear transmission which can scale back noise.
If you have a good ammount of biomass and would like to make good use of it or make animal feeds, then the small wood pelleting unit is convenient for your needs.
Choose the BEST Wood Pellet Mill Manufacturer!
There are many different types of small scale wood pellet plant that you can find and the each plan for the pellet production maybe different one from another. However, before purchasing one unit, you should look at various factors. You should check if the pelleting equipment have a one year guarantee and that the company you choose to buy the automatic small wood pelletizing plant has a good reputation. ln addition, it is important to make sure that the pellet machine you buy is CE certified and comes with the necessary instructions and tutorials. Lastly, you should also research to make sure that you choose the right machine that suits your needs.


Pellet Mill Factory

Small Scale Pelleting Machine for Sale with Competitive Price
Don't hesitate to contact us and tell us your requirements on capacity, raw materials and cost, and we will give you the best suggestions and help you make your customized business plan.