Nowadays, society is all about environmental protection, so naturally many people and even companies have started to use wood pellet fuel, which has many advantages, including high purity, cleanliness and hygiene, and extremely low content of harmful gas components etc., so more and more people see the advantage of starting wood chip processing, have started to join the wood pellets production business. (Read more about wood pellet production cost >>)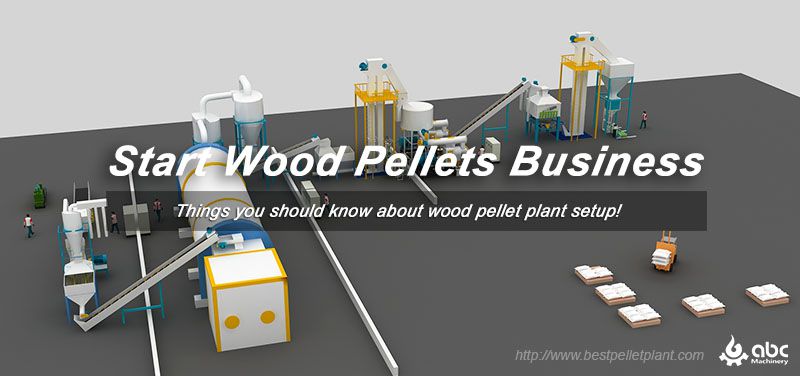 Start Wood Pellets Business Plan (Factory Layout Design and Cost)
A business plan only works if it is done properly. Make a wood pellet business plan according to your budget, location and raw materials. Otherwise, it would be of no use. ABC Machinery is one professional wood pellet machinery manufacturer and supplier, offering you the complete solution of starting wood pellets business and high quality wood pellets making equipment.
Pellets are bio-fuels made by the compression of certain raw materials. Wood pellets are the most used type of pellets. Wood pellets are obtained by sawdust, wastes from lumber, wood products and furniture etc. Starting wood pellets business can be tricky. But it is profitable by considering a few things in your mind.
Pellet Making Machines for Starting Wood Pellets Business
Using the right type of machine is necessary for producing the best kind of wood pellets. Knowing which machine is used for which purpose is vital for starting a wood pellet business. Small Scale or Industrial Use? (Read more about wood pellet production cost >>)

Hot Sale Pellet Machiens For Biomass Pellet Business
Flat die type wood pellet machine: It is ideal for home use or small scale pellets manufacturing business. They can be used to process various biomass materials such as wheat straw, sunflower straw, wood chips and forestry wastes. Flat die pellet machine can be driven by not only an electric engine, but also a diesel engine which makes it suitable to be used in areas where there is a shortage of electricity. (HOT Product: Mobile Pellet Mill for small scale wood pellet production)
Ring die type wood pellet machine: It is generally used for medium to large scale wood pellet plants. Ring die wood pellet mill is recommended for big industries which produce a large amount of wood pellets. It is quite expensive but has high production output, production efficiency and works for a long time. Therefore, it is best for industrial use.
Video of Wood Pellets Making Plant for Business
Here is the video of one wood pellet manufacturing plant customized for the business plan for our client. Welcome to contact us for starting your wood pellet business plan.

How to Start Profitable Wood Pellets Business?
To setup a high efficient wood pellet mill or start profitable wood pellets business, it is necessary to know about many things which includes the local market of wood pellets, local or peripheral raw material resources, recent wood pelletizing technology, the wood pellet plant setup cost and how to make a customized business plan based on your own needs and situation. (Recent Post: Wood Pellets Production in Indonesia)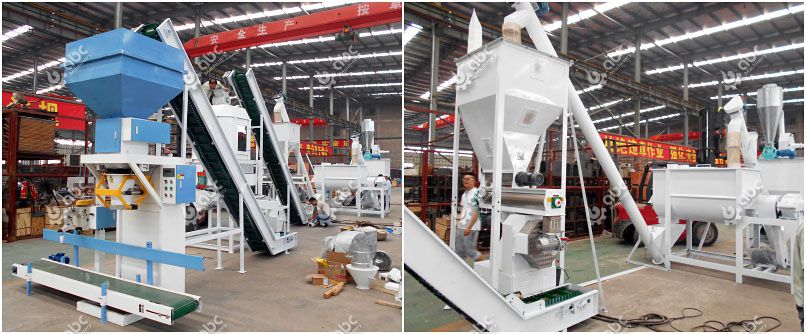 Starting Small Wood Pellets Business Plan
Here we give some tips for those who plan to start wood pellets making business. Any questions or problems on establishing a complete wood pellet plant or biomass pellet production, feel free to contact us for help!
Get Sufficient Raw Materials for Making Wood Pellets
If you are starting a wood pellets business make sure your biomass or woody materials are in abundance. Wood pellets business is usually run by people who have a large amount of wood waste such as sawdust, wood shavings, or biomass wastes such as peanut shells, cotton stalks or other kinds of agricultural residues. (Read more: how to make coco peat pellets>>)
| Biomass materials type | Description |
| --- | --- |
| Wood residues | Wood chips, sawdust, wood shavings, leaves, branches, waste from wood production factory |
| Crop waste | Crops straws, crop stalks, crop shells etc. |
| Living waste | Waste papers, old furniture |
If you want to produce a large amount of wood pellets, you will need to buy the raw materials to keep the quality intact. But if you have decided to keep this business as a side business, then waste materials of wood products and furniture are good to be used. The raw materials should have the least amount of moisture i.e. less than 15%. The quality of raw materials determines the quality of the wood pellets. Therefore, if you don't have good raw materials, starting a wood pellets business is useless. (Related article:how to make straw pellets>>)

Understand the Wood Pellets Production Process
Wood pellets are made in a plant, where all the wood pelleting machines are organized together. It is necessary to know what steps are included in the wood pellet production so that you can hire the labor accordingly. Following are the wood pellets manufacturing process. (Read more: wood pellet calorific value>>)

Biomass Raw Materials for Pellet Business
The raw materials are cut by a hammer equipment into small sizes.
Then these small pieces are passed by a large dryer.
Then they are grounded in the wood pellet plant.
Lastly, they are cooled down and packed to be sold.
Choose Suitable Location to Build the Wood Pellet Factory
The location where you put the plant should be clean. If you have a small space, choose a small plant. Don't put large pellet plants in small spaces and make everything suffocated. Make sure that your location is near to the raw materials so that you can be saved from the cost of transportation.
Choosing Reliable Wood Pellet Making Equipment
Wood pellets are made in a plant, where all the wood pelleting machines are organized together. It is necessary to understand the process of producing wood pellets. Buying the best type of wood pelleting machinery is important. Don't buy wood pelleting equipment only because it is cheap.

Wood Pellet Manufacturing Business for Sale
Buy a plant which is effective, produces tons of wood pellets in least amount of time and has a good working efficiency. It should have less fuel consumption as well. Good wood pellet is made with clean and bark free sawdust and it has low moisture content. So, buy the wood pellet plant machinery which can provide you with all of these qualities. If you want know more information about the wood pellet production line price, please contact us now!

Best Pellet Mill Manufacturer--- ABC Machinery
ABC Machinery has advanced machinery manufacturing equipment, strong development strength and perfect after-sales service, and is a professional manufacturer in China for researching, developing, manufacturing, installing and debugging pellet machinery. The products from ABC Machinery are sold well at home and abroad, and directly exported to Europe, Southeast Asia and Africa, etc. more than a hundred countries and regions, widely praised by new and old customers. (Related article: wood pellet mill for sale canada>>)
What We Offer For You to Start Wood Pellets Business
To provide you with project design, process design, suitable for your machine and equipment selection program development, according to your special needs, design and manufacture of products, for you to train technical operators.
Accompany you to complete the acceptance of the equipment, to assist in the development of construction plans and detailed processes.
The company sends technical personnel to the site to guide the installation of equipment, debugging site and training of operators.
Except for wear and tear parts, quality assurance within one year.
Buy a factory price wood pellet making machine from ABC Machinery, learn to process wood pellets at low cost, get FREE guidance to start your wood pellets business and set up factory price wood pellets business projects in Thailand, United Kingdom, Chile, Russia, New Zealand, and Canada etc. Don't hesitate to contact us for more information!

How can bagasse be crushed into a size that can be used by a biomass wood pellet mill?
Since bagasse has long fibers, large capriciousness and large moisture, it is recommended to first use a shredder for shredding treatment, which can get about 20-50mm shredded sections, then use a single layer dryer for drying treatment, and after the moisture is reduced to less than 20, use a conventional hammermill for hammering powder to get 3-5mm granular material. for more information about making bagasse into pellets, you can contact us for free.
If peanut shells are pelletized, do they need to be crushed and how much output can a 400 economy pellet mill achieve when making peanut shells?
Need to be crushed, the 400type economic pellet mill machine can reach 400-500KG/H for making peanut shells as raw materials.