If you have a lot of waste such as grass, sawdust, wood chips, agro stalks, straws or any other biomass materials, it's a big waste of material if you don't dispose of it, but disposing of them still requires cost and spirit. So how about buying a wood pellet machine to make your own wood pellets used as fuel?

ABC Machinery has been engaged in the wood pellet equipment manufacturing field for nearly 20 years, offering both the single wood pellet making machine and the complete wood pellet production line. Welcome to contact us for more details to make your own wood pellets.
Homemade Wood Pellet Making Advantages
Wood pellets are nowadays more and more accepted as a renewable energy source. Most of the wood pellets on the market are mass-produced by industrial wood pellet production factories, and the final pellet selling price is still relatively high because the wood pellet producers need to add costs and profits into it. But you can save a lot of money if you have the suitable raw materials. (Related article: biomass pellet machine price>>)
Also, making your own pellets has the following advantages:
Making homemade wood pellets with waste is a

good solution to the problem of waste accumulation.

Making your own wood pellet can meet the daily demand for heating and cooking fuel for your family.
If you have adequate raw materials, you can make wood pellets for sale to get extra income in your local place.
In addition, it is not difficult at all to make your own wood pellets, you just need to buy a wood pellet mill to make them. For more information about making wood pellets, please contact us!

3 Quick Tips To Make Your Own Wood Pellets Homemade
Since different places have different conditions, our wood pellet mill is for sale globally. Therefore, the processes of making wood pellets are not exactly the same. You can choose the process and equipment that best suits your own situation. Here are some tips to help you to make wood pellets:
Enough Raw Materials for Making Your Own Wood Pellets
As the saying goes, "The cleverest housewife cannot cook without rice". Similarly, you can not make wood pellets without raw materials. (Related article: making pellets from leaves>>)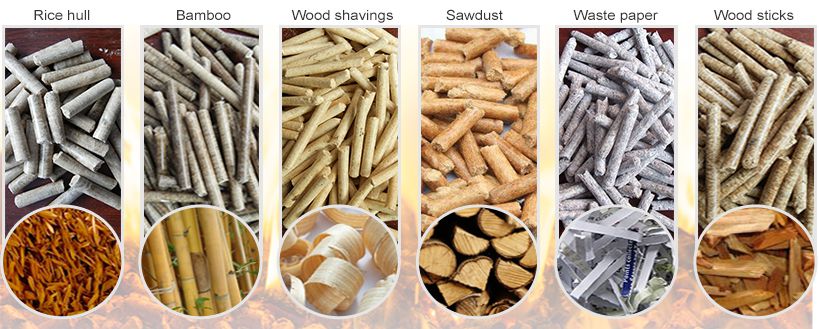 Suitable Raw Materials To Make Wood Pellets
There are many kinds of raw materials that can be used for making wood pellet fuel, including forestry residues, crop waste, living paper waste etc.
Reliable Wood Pellets Making Machine Manufactruer is The Key Part
Wood pellet making machines play an important role in the wood pellets production, but buying a reliable wood pellet machine for sale is not that easy. When you buy a good quality wood pellet mill, you need to pay attention to the equipment quality more than the price.


Fatory Price Small Wood Pellet Machine for Making Your Own Wood Pellets

Customized Wood Pellet Making Plant at Low Cost
ABC Machinery has its own manufacturing factory for wood pellet making machines, all of the wood pellet processing equipment are at factory price, you can contact us for the latest price list!
Reasonable and Cost-effective Wood Pellet Production Process
The general wood pellet production process is composed of crushing, drying, pelletizing, cooling and packing, and the matched equipment are crusher, dyer, wood pellet mill, cooler and packer. Based on your condition, you can choose one or two more processes and equipment to make your own wood pellets. (Related article: how to make wood pellets>>)
Making wood pellets for home use with wood pellets making projects in The Czech Republic, Guatemala, South Korea, Japan, Thailand, Indonesia, etc., at low cost by wood pellets making equipment manufacturer or supplier at factory price. Come and contact us for more infomation!