Referring to pellet machines or pellet mills, we will soon think of wood pellets, feed pellets, fertilizer pellets, drug pellets or plastic pellets. In this article, we want to introduce corn stalk/stover pellet line or pellet plant to you whose production capacity is 0.8-1 ton per hour.

Making Corn Stalk into Pellets for Fuel
We are one of the professional biomass pellet machinery manufacturer and supplier, suppling corn stalk machinery, wood pellet press, rice husk pellets machine and grass pellet extruder. If you have idea to start corn stalk pellet line, please contact us!
Main Features of 0.8-1TPH Corn Stalk Pellet Line
In this corn stalk pellet plant, we equip complete machinery to process high quality corn stalk pellets, including crusher, elevator, storage bin, broken arch, drying machine, ring die corn stalk pellet machine, counter-flow cooling machine and some other accessory equipment. (Related article: how much does a pellet mill cost)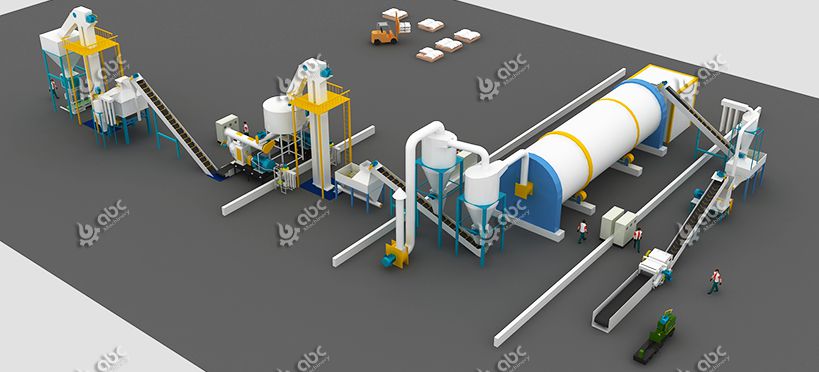 1 Ton Corn Stalk Pellet Production Line for Sale
With adopting the latest technology, Corn stalk pellet machines line can be used to process many different kinds of agricultural corn stalk wastes and other wood wastes into fuel pellets without binder. Corn stalk pellets are seen as clean and green fuel which has the advantages of easy storage and transportation, high density, high calorific value, low cost, easy to use and wide application. (Learn more: rice husk pellet machine)
| Raw materials range | Suitable raw materials |
| --- | --- |
| Crop wastes | crop stalks, straw, peanut shell, corn cob, wheat corn stalk, the chaff etc. |
| Wood residues | wood shavings, sawdust, tree branches, leaves and dry grass etc. |
Video of Corn Stalk Pellet Production Line
Here is the running video of corn stalk pellet making machinery plant manufactured by ABC Machinery. Contact us to get more information about corn stalk pellet production plant.

How to Build a Corn Stalk Pellet Making Line?
In order to set up a corn stalk pellet making plant, you have to do many preparation when you plan to start the corn stalk pellet business. (Related article: how to make straw pellets)
The first step in starting a corn stalk pellets plant is that you need to answer the following question: what is the purpose of your wood pellet production plant? For your own use? Or for sale? If it is for sale, you need to answer the following questions:
What is the local acceptance of wood pellets?
What is the target audience of your product?
What is your budget for building the plant?
How much production capacity is needed?
…
After you make sure the questions above, you can start your corn stalk pellet production plan now.
Raw material is the first important factor in building a corn stalk pellet making plant. As the saying goes, 'it is difficult for a clever woman to cook without rice.' You need to find the reliable and cost-effective supplier of raw materials at the right price or you can make a deal with some crop farmers to provide raw materials for your corn stalk pellet production factory. (Related article: making pellets from leaves)

Plant site selection. When you have confirmed the supply of raw materials, the second is to choose a site closer to the supply of raw materials to build a factory, so as to reduce the cost of corn stalk transportation.

Equipment selection. Equipment is very important, when you choose the equipment can not only look at the price, to see the quality of equipment, the manufacturer's qualifications and strength.


Reliable Corn Stalk Pellet Machinery for Sale

Here we recommend ABC Machinery, who has been in this industry for more than twenty years, has done for customers from around the world to meet their requirements of the pellets making projects, while getting each other has been praised. (Read more: sawdust pellet machine for sale)
When these things are done, the corn stalk pellet production plant is setup sucessfully, after which you can start working on the operational side of things. If you have any questions or ideas about building a factory, you can contact us and we will provide you with the most professional answers and solutions.

Why Make Corn Stalk Pellets with Corn Stalk Pellet Line/Plant?
Friendly to the Environment
Make the raw loose Corn stalk materials denser (about one ton per cubic meter). Require less area. They also can be packaged in bags, clean and easy to store.

Easy to burn;

High calorific value: by adding different coalification agent formulas, can make the calorific value reach 3700 to 6300 calories, effecting like coal.

Long burning time: the burning time of per kilogram Corn stalk pellets can reach 2-4 hours or more.

Environmental friendly: through testing, the sulfur content of biomass Corn stalk pellets is 0.16% ~ 0.26%, far below the 1% ~ 3% of coal.
Wide Applications of Corn Stalk/Stover Pellets


Corn Pellets in Pellet Stove
Corn stalk pellets can be applied to all kinds of pellet stoves. They can be used in rural, urban, factory, at home, for cooking or heating.

The pellet through the corn stalk pellet line have the same size and

uniform shapes, making them easy to transport, store and use. They are good fuel for firing potters, bricks and tile plants.

After burning the Corn stalk pellets, the ash residues are rich in calcium, magnesium, phosphorus, potassium, sodium and other elements, which is the best organic fertilizer.

Moreover, through ash processing technology, the nano silica and three iron oxide are very popular on the market can be extracted from the ashes of the burnt corn talk pellets.
Advantages of Corn Stalk Pellets Production Line/Plant

Building Corn Stalk Pellet Production Line
The key components, pellet die and press roller are all made of high quality alloy steel, which makes the service life of our machines 5-7 times longer than others.

The pellet die is designed with a reasonable compression ratio, making our machine suitable to process different kinds of biomass materials. No need for any binder!

The output of this corn stalk pellet line belongs to medium scale, has wide applications around the market, including Investing corn stalk pellet production, crop farm needing to dealing with crop stalks, biomass fuel production factory.
Feel free to send an inquiry if you are interested in starting a complete pellet plant. Tell us your raw materials and requirements and then we can offer you a tailor-made pelletizing plan.