Flow Chart of 1-4T/H Complete Wood Pellet Plant
Main Equipment Included in Complete Pellet Plant: electric cabinet, packing machine, dust collector, cooler, hoisting machine, wood pellet machinery, conveyor, dryer and wood crusher.
(wood chips, wood shavings and sawdust etc.).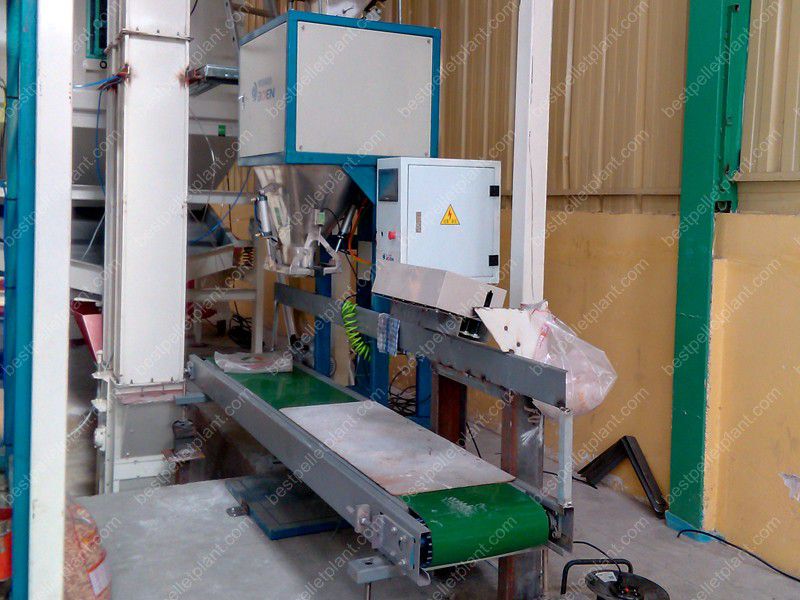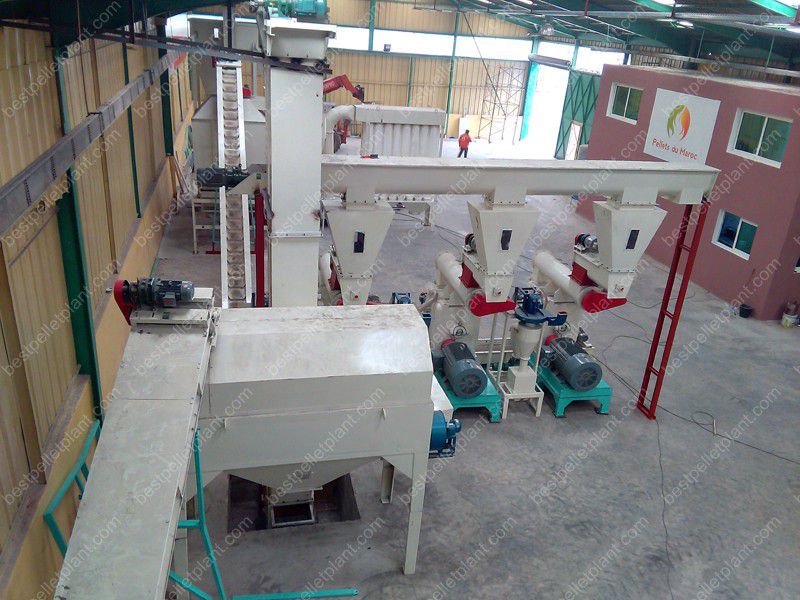 Packaging System & Panoramic View
Highlights of GEMCO Pellet Plant
Low energy consumption;
Low maintenance cost;
Reliable continuous operation;
Capable of processing different kinds of woo materials including sawdust, wood shavings, wood chips, twigs, etc.

Generally speaking, pellet plant process can be divided into crushing system, drying system, pelletizing system, cooling and sifting system, packaging system and electrical cabinet system. The details of each process are listed as follows:
Crushing System
Equipment needed: wood chipper, hammer mill.
Capacity

Feed

Diameter

Diameter

of output

Motor
Weight

Overall

Dimensions (mm)

700 kg/h
≤ø200 mm
Ø3 mm
11 kW
400 kg
1250*700*910
Crush your raw materials into appropriate small pieces with wood chipper and hammer mill. Crushing is quite necessary especially when the raw material is log. Generally, the final crushed size should be 3-6mm which is required by most pellet making machines.
Drying System
Equipment needed: dryer machine (Drum drier is the best choice)



Model
Diameter(mm)
Length(m)
Power(kw)
Speed of rotation (r/min)
HZG6
600
4,5,6,7,8
3-5.5
3-20 adjustment
HZG8
800
4,5,6,7,8,9,10
5.5-7.5
HZG10
1000
6,7,8,9,
10,11,12
5.5-7.5
HZG12
1200
6,8,10,12,
14,16
7.5-11
HZG15
1500
8,10,12,14,
16,18
11-15
HZG18
1800
8,10,12,14,
16,18,20
15-18.5
HZG22
2200
10,12,14,16,
18,20,22,25
18.5-22
HZG24
2400
12,14,16,18,
20,22,25
22-30
In this process, the crushed materials will be dried to appropriate moisture content. To make premium wood fuel pellets, drying is one of the most important parts you should pay attention to. 12-16% is suitable in most wood pellet production process. High moisture could result in easy split pellets and low moisture could cause pelletizing difficulty problem. If you plan to build a large integrated wood pellet line, drum dryer is the best choice. Due to its big drum and structure, the price might be relatively higher than normal dryer. If your budget is limited, air flow dryer is also a good choice.
Pelleting System
Equipment needed: Wood Pellet Machine (choose ring die type pellet making machine)
Model
Capacity
(t/h)

Main motor power
Feeding motor powe
Conditioner motor power
Diameter of final wood pellet
(mm)
BPM420
1.0-1.5
90kw
1.5kw
3kw
6, 8, 10, 12
BPM508
1.5-2.0
110kw
1.5kw
3.7kw
6, 8, 10, 12
Pelletizing is the key process of pellet production plant. The ring die of GEMCO pellet mill machine is designed with different compression ratio. Ring die with multiple compression ratios make our pellet mill capable of processing various kinds of biomass materials.
Cooling and Sifting System
Cooling system helps to cool down the final pellets. Sifting system is for removing the powder in the pellets.
Model
SKLN 14
SKLN 19
SKLN 22
Cooling Volume (m3)
2.5
5
8
Output (t/h)
1-2
3-5
6-8
Air-absorbed (m3/h)
10000
15000
27000
Power (kw)
3
3
2.5+1.5
Packing System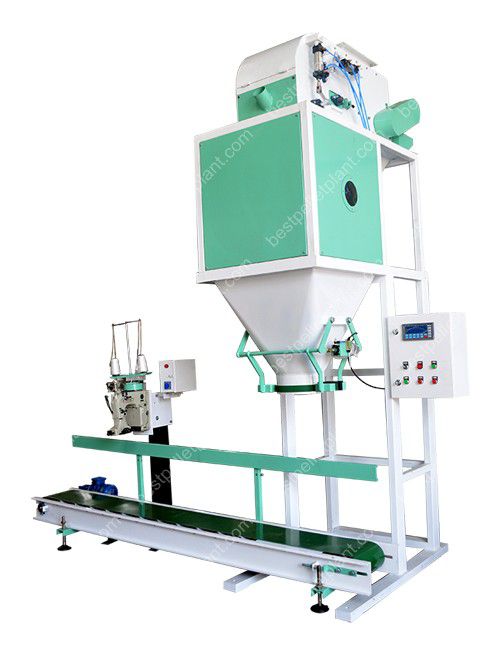 Click to enlarge
Packing
is the last one process of pellet production. You can choose to pack the pellets with bulk bag or small bag. Bulk bag is 1Ton/Bag. Small bag is about 15-30kg/Bag.
Electrical Cabinet System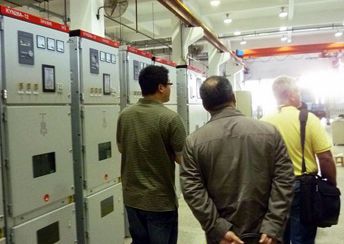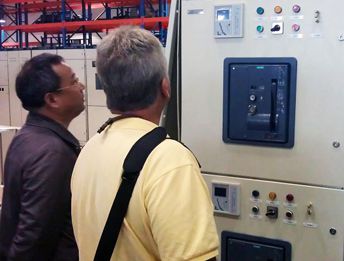 Complete wood pellet plant or pellet line is especially designed for those who want to run a large scale and automatic pellets production for commercial and industrial purposes. Feel free to send us an inquiry to get detailed information about GEMCO pellet plant.