These days, one set of our small wood pellet line is finished manufacturing and delivered to Chile.
Project name: small-scale wood pellet production line
Project output: 300kg/h
Project position: Chile
Raw materials: wood chips and sawdust.
Mainly customized process: crushing, mixing, pelleting, cooling and packing.
The client from Chile purchased this small wood pellet line for investment, at the same time, he has his own horse farm, making horse feed as well. According to his requirement and condition, we customized this 300kg/h wood pellet production line for his wood pellet business, and he indicated that he will enlarge the wood pellet production.
300kg/h Small Wood Pellet Line Display

Small Wood Pellet Line Is Getting Increasingly Popular
Not only the client from Chile, have we also got consolation from more and more customers from other countries. Based on our data, we summarized the following advantages of small wood pellet production lines. (Related article: how to make wood pellet fuel>>)
Small size and compact structure. with small size, the small wood pellet producion plant takes up less space, easy to maintain, check and repairing.

Low cost. The low cost not only means the price of the related equipment is low, but also means the production cost like suitable raw material cost, energy consumption cost, labor cost, building land cost, maintenance cost are low, suitable for the new startups to invest.

High return. Since the small wood pellet line cost is relatively low, the return of investing in the wood pellet machinery industry will be relatively high.

Moreover, the produce wood pellets are used as fuel to relieve the pressure of traditional fuels, and at the same time, the rising price of oil and gas is causing biomass pellet fuel to become the first choice of more and more people.(See more: sawdust pellet machine>>)
The development of the biomass pellet industry is also getting better and better, driving the boom development of the biomass wood pellet production equipment industry, which is a very rich industry and very suitable for investment to start a new business plan.

Learn To Invest Small Wood Pellet Line
In order to get a high return from investing in a small-scale wood pellet line, what you have to do first is do the research of the local fuel market. Before starting your business plan, you should know more information about the wood pellet fuel market, such as market location, potential consumers, current pellet production and potential pellet consumption, wholesale and retail prices, etc., to help you plan your wood pellet business plan.

Global Trends in Wood Pellet Growth
Various biomass raw materials can be used for small wood pellet lines, but the composition of the material, including the moisture content and size should meet the requirement, which directly affects production costs and future profits. You had better find the local long-term supplier like the forest owner, biomass resource owner, wood production plant, wood farm, furniture processing factory etc., to ensure your production is stable. (Read more: how to make straw pellets>>)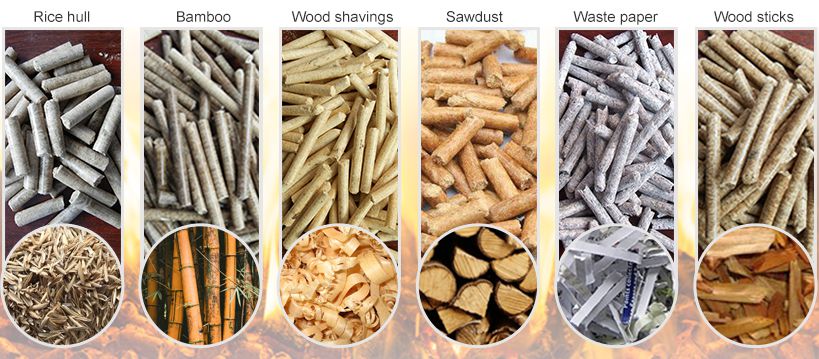 Particles Made from Various Raw Materials
Investment capital is the second factor you should pay attention to, which influences your choice of wood pellet machine. We have different types of small pellet mills on sale for building small wood pellet production lines, including D-type flat-die pellet mills with four kinds of driving powers and R-type flat-die pellet machines, and they are different in the cost.

Small Pellet Production Line Work Video
Buy factory price small wood pellet line from a small wood pellet machinery manufacturer or supplier, learn to process cost-effective pellets, get FREE guidance to setup small wood pellet process projects for business in Thailand, United Kingdom, Chile, Russia, New Zealand, Canada etc., at low cost. If you are planning to start new business, please coantact us ofr more inforamtion about small wood pellet production line investment.