If you are planning to setup chicken feed factory or start cattle feed manufacturing business in Uzbekistan, you are recommend to take this feed mill project report in UZ for reference! It is designed to make both mash feed and pellet feed. (Related Project: 20ton/h Industrial Complete Feed Mill Plant >> )
Small Poultry / Cattle Feed Plant Setup in Uzbekistan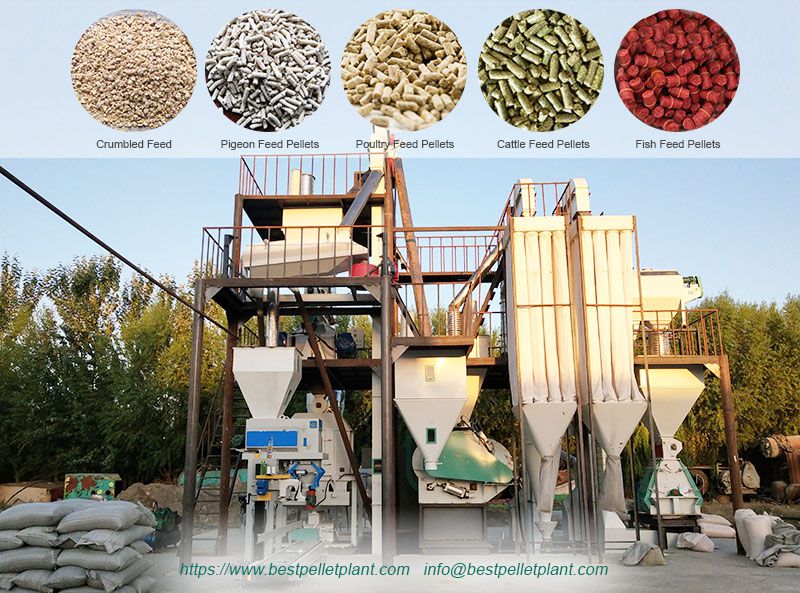 The basic info of this small poultry / cattle feed plant is listed below:
Project Name: Animal Mash Feed / Pellet Feed Plant
Production Output: Can produce 2ton/h - 4ton/h feed mash or feed pellets.
Application: Designed for make all kinds of feed products for different animals including poultry (chicken, duck), cattle, sheep, goat, horse, etc. It is possible to produce both mash feed and pellets feed of different size by this set of feed manufacturing unit.
Feed Mill Location: Uzbekistan (UZ)
Feed Mill Details and Layout Display
View the photos below to know more about the livestock feed pellet mill, process & layout design. You are also welcome to contact us, tell us your capacity needs and rough budget, then we can help you make the BEST customized feed processing business plan for FREE !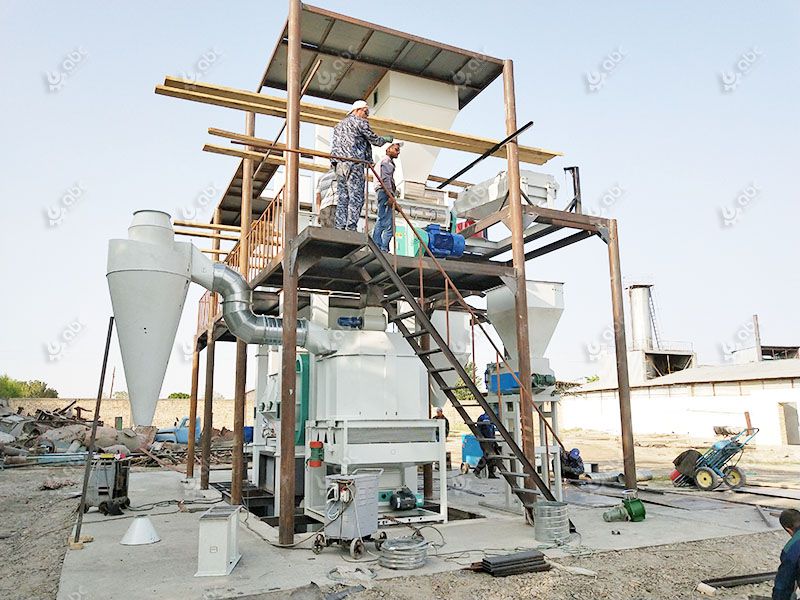 Poultry / Cattle Feed Pellet Machine Installation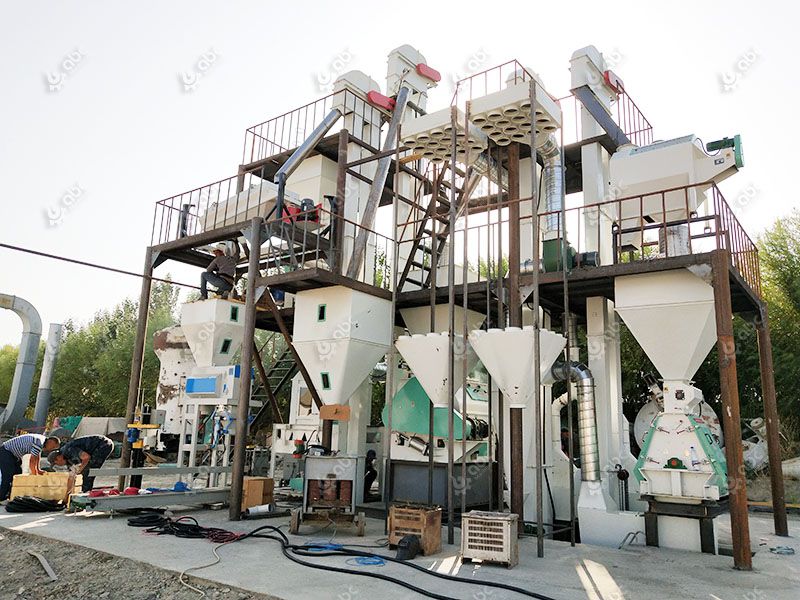 Cattle/Poutlry Feed Pellet Mill Nearly Complete

The price or cost to setup a 2-4ton/h feed mash and pellet feed plant is around $65,000~$85,000. Actually, it is closely related to the capacity, feed production process design and equipment selection. Just feel free to get in touch with us for cost details!
Details of Other Feed Processing Machines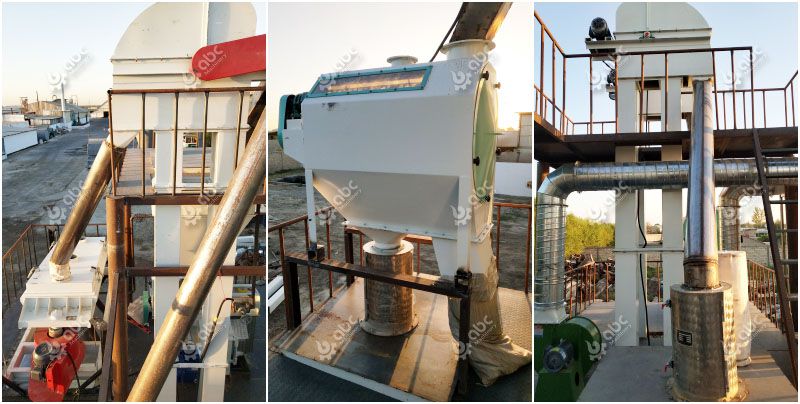 Pre-processing Equipment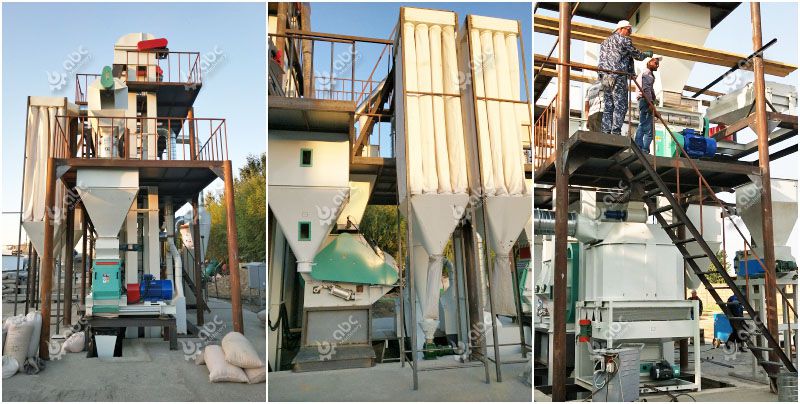 Feed Crushing, Mixing and Pellet Making Machine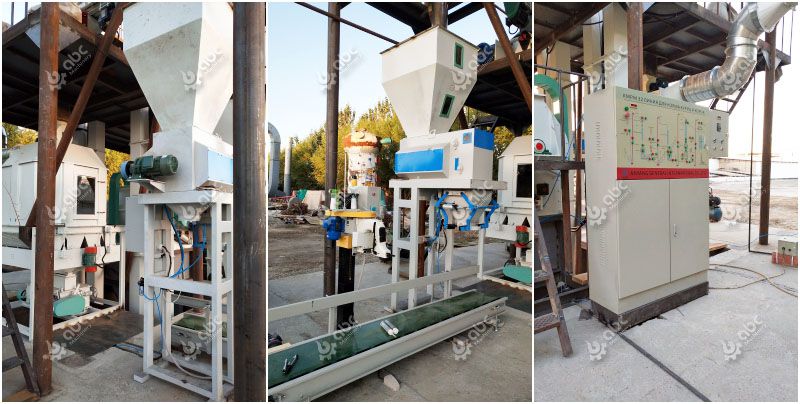 Feed Pellets Cooler & Breaker, Packager and Electric Control Cabinet
High quality animal feed material, scientific feed formulation and standard feed processing parameter, reasonable feed processing equipment and technology are the three basic elements to ensure the quality of poultry feed or cattle feed. When the poultry/cattle feed plant is built, its basic functions are to ensure efficient and reasonable animal feed manufacturing from the raw materials.
Poultry / Cattle Feed Plant Project Cost in Uzbekistan
Here in this part let's talk about the cattle feed plant cost. The cost of raw materials accounts for 70%-85% of the cost of feed processing, and with the integration of the global economy, the price of raw materials mainly depends on the relationship between supply and demand, so there is great uncertainty. With the attention and implementation of fine management in mash feed plant or feed pellet plant, the competition of cost control ability in feed production and processing gradually highlights its importance. So, how to reduce the feed production cost for farmers, investors, enterprises in Uzbekistan?
Animal Feed Making Factory Running Video
Reduce the Mash Feed / Feed Pellet Production Cost
Feed manufacturing cost refers to the various production cost incurred by feed processing plant for producing products or providing labor services, including direct material cost and feed production cost. In order to reduce the feed processing cost and achieve the purpose of gain profits, it is urgent for the feed manufacturing plant to control the production cost through scientific and reasonable cost control after eliminating the raw materials consumption. Here are some practical and useful tips that can help you reduce the feed production cost.
→ Recommond Post: 1-2ton/h Chicken Feed Processing Project Report
Electricity is accounted for the largest part of the power supply for a feed processing plant, the main ways to reduce the feed plant power consumption are:
Ensure fully prepared, cohesively arranged feed production process; Reduce the production preparation time and equipment idling; Avoid the waste of manpower, electricity, fuel, time cost
Minimize the variety and frequency of transshipment
Reduce equipment downtime and maintenance time
Adopts different performance of the equipment and process, the power consumption varies greatly.
Control Spare Parts Inventory
Poultry or cattle feed manufacturing factory should have good arrangement of the following work:
Formulate reasonable inventory of accessories to reduce capital overstock
Set up the records of accessories receiving and consuming
Determine the standard range of normal consumption.
Regularly evaluate and assess the quality of spare parts provided by suppliers, and strengthen the whole-process management of maintenance spare parts procurement.
The reasons for the high maintenance cost are as follows:
They don't pay attention to the reparative maintenance of equipment and tools and buy new ones at every turn;
The maintenance level is low, resulting in repeated maintenance of high costs, especially in the number of overhaul times;
Maintenance accessories wear, including poor quality procurement, shoddy, accessories lost, stolen, damaged, etc.;
The animal feed factory accessories procurement lack of monitoring, leading to high procurement costs;
The cost of maintenance auxiliary materials is high (steel, welding rod, oxygen, acetylene, grinding wheel, cutting saw blade, etc.);
The equipment preventive maintenance is insufficient, resulting in the equipment completely paralyzed after the high maintenance cost. Equipment failure should be in case of the main, to repair as a supplement. Through sound routine maintenance, the failure rate can be greatly reduced to ensure normal production.
Speed up the Upgrading of Feed Mill Equipment
Animal feed manufacturing company should actively adopt feed processing equipment and advanced feed manufacturing technology that can save energy and reduce consumption and lower operating costs, especially for those production lines and equipment that have been in operation and use for many years, with high energy consumption, low production efficiency and poor safety performance. Efforts should be made in technical transformation to reduce the comprehensive cost of the production process. (Read more about small feed mill equipment unit for farmers >>)
Control Raw Materials Loss
The feed raw material cost of feed production factory accounts for about 70-85% of the production cost. Whether the loss of raw material can be controlled at a reasonable level is an important indicator to measure the management level of a feed factory. Poultry / cattle feed plant need to strictly implement the weighing system and inventory system of raw materials and finished materials, so as to timely find and analyze the cause of abnormal loss every month (or every half a month). In addition, feed manufacturing plant should communicate with the feed formulation division constantly to know the processing performance of different raw material and processing cost. And when considering the formulation composition, the raw material cost and the raw materials' performance should be taken into consideration.
Strengthen the Employee Training
The quality of staff also determines the cost and quality of feed manufacturing process. To this end, on the one hand, we should strengthen the training of employees in key technical positions, encourage them to carry out professional skill appraisal, and encourage them to participate in various training and learning. At the same time, we need to strengthen safety awareness management to reduce the occurrence of safety accidents. On the other hand, the cultivation of employees' loyalty to the enterprise should be strengthened, the career planning of employees should be well done, the enthusiasm, initiative and creativity of employees should be stimulated, and the process incentive measures for reasonable assessment of production costs of employees should be formulated.
If the safety management consciousness of animal feed manufacturing business is not strong, the production site safety may have hidden trouble, which will lead to more safety accidents and high safety cost. Therefore, feed manufacturing companies must do a good job of fire safety, fire prevention, dust explosion prevention, equipment damage and prevent personal safety problems.