These days, we have sent one set of 8TPH wood pellet maker plant to Chile, and the details are followed:
Project Name: Wood Pellet Maker Plant
Production Capacity: 8 TPH
Raw Materials: Wood chips
Main Process: crushing, drying, crushing, pelleting, cooling, packing
This client has his own logging camp, suitable for buying wood pellet maker for sale to start wood pellet business. ABC Machinery is one of the professional wood pellet making machinery manufacturer and supplier, engaging in the wood pellet equipment industry for over 20 years, getting high praise from customers overseas.
Ring Die Wood Pellet Maker for Sale Is Delivering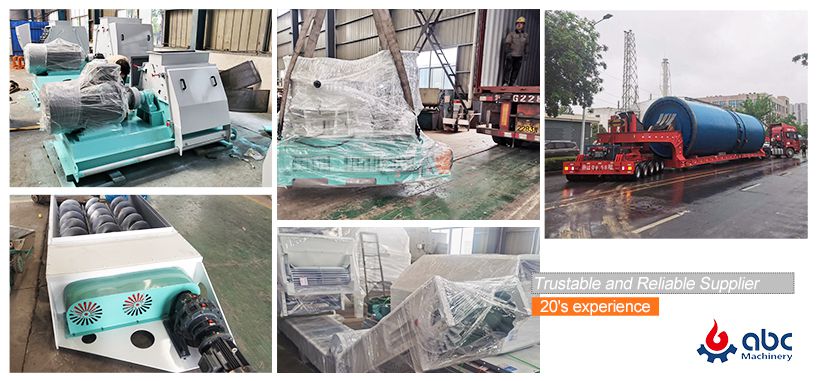 8TPH Wood Pellet Maker Machinery Is Delivering to Chile
In this large wood pellet production project for Chile, we equipped ring die wood pellet machines for sale to meet the requirement of our client. It is widely used in the large wood pellet production and energy production industry, suitable for producing various raw materials into useful pellet fuel, like agro wastes, wood residues, fiber, wood logs etc.

Bright Future of Large Wood Pellet Maker Project in Chile
In Chile, the forest covered an area of 160.2 thousand square kilometers, accounting for about 22% of the country's land area. Of which 131,800 km2 is natural forest and 29,000 km2 is planted forest. The main forest products are timber, pulp, paper, etc. so the number of wood residues is large. Whether you want to make pellets for self-use, or for sale, the raw material can be easily found. (Read more: making pellets from leaves>>)


Biomass Waste for Pellet Making
Interest in the use of pellets produced by wood pellet maker machines in Chile started around 2009, during which time imports of pellet stoves and boilers from Europe began. And in order to promote their use, the Ministry of Environment launched a stove and boiler conversion program for the residential and industrial sectors in 2012. At the same time, Chile has started to encourage the pellet production industry development.
High Environmental Awareness in Chile
In recent years, the increase in the level of education in Chile has accelerated a new awareness in the whole society, from the state to individuals, buying renewable fuel has become a hot topic. The wood pellets processed by wood pellet making machinery, as one of the renewable resources, will certainly have a place in the future fuel development in Chile.
Current Condition of Wood Pellet Maker in Chile
Most of the pellet mills are small, with an average annual production of about 9,000 tons. After the pellet shortage problem in 2013, only about 29,000 tons of pellets were produced that year. The industry grew exponentially in 2016 to 88,000 tons and is expected to reach at least 290,000 tons by 2021. With the larger and larger demand for wood pellet fuel, large scale wood pellet production lines are more suitable for meeting the requirement. (Related article: how to make straw pellets>>)

Setting Up a Large Wood Pellet Maker Plant in Chile
As it mentioned above, there is a bright prospect of making wood pellet fuel in the wood production industry of Chile. When you plan a large wood pellet maker line, you had better do market research beforehand. We can offer you the following cases during the whole produciton:
| | |
| --- | --- |
| Before-sale | Helping to do local market research, raw material condition analysis, process design, machinery construction etc. |
| On-sale | Machinery production, contract signing |
| After-sale | Equipment installation and debugging, operation training, problem solving. |
8TPH of Wood Pellet Production Line Video Show
As a professional manufacturer and supplier of wood pellet maker for sale, ABC Machinery has been engaged in this industry for over 20 years, possessing its own R&D team, professional technicians and superior salesmen, offering you the best services. If you have a business plan in the wood pellet maker for sale industry, please feel free to contact us!