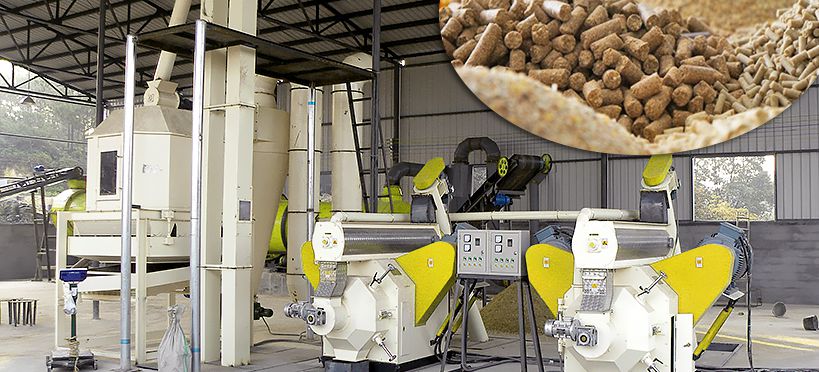 Poultry Feed Processing Plant in Uganda
Country: Uganda
Capacity: 1~2 tons per hour
Animals: Chicks and Adult Chickens
Size of Feed Pellets: 3mm and 4.5mm
Raw Materials: Soybean, Maize, Soybean Oil Cake, Sunflower Oil Cake, Fish Meal, etc.
Equipment: Crusher, Mixer, Conditioner, Animal Feed Pellet Mill, Cooler and Packaging Machine and etc.

Complete Poultry Feed Processing Plant Built in Uganda
As we all know, feeding poultry feed pellets can greatly improve the health and growth of animals. And, more and more farmers has noticed it and are seeking to buy high quality poultry feed pellets. It is also a great way to produce the animal feed pellets by setting up your own animal feed production line, which not only can meet your own feed pellet demands, but also allow you to sell the feed pellets to other farmers for more profits. It is definitely a business that is worth of investing. (Read more: Chicken Feed Making Machine Price >>)
This complete feed mill plant for poultry feed pellets was purchased by a customer in Uganda who has a large scale poultry farm. The feed pellets produced by the poultry feed mill is for his poultry farm and for sale. Check the feed processing equipment installed onsite. Welcome to contact us to get the project report and project cost!

Low Cost to Set up Commercial Feed Mill Plant for Chickens
Small poultry feed processing plant setup in Uganda – factory price poultry feed manufacturing machine for high quality feed making: Buy poultry feed processing plant from feed manufacturing equipment manufacturer or supplier at factory price, get free technical instruction of poultry feed production process and business plan to set up commercial poultry feed manufacturing project in Philippines, Uzbekistan, Lithuania, Nigeria, Tanzania, etc., at low cost.
Poultry Feed Pellet Production Process
Large animal feed pellet mill factory has different animal food processing machine that works towards their mutual goal of producing high-quality and durable feed pellets such as poultry feed pellets, livestocke feed pellets, etc. Large animal feed plants are resilient and ideal for industrial and commercial use. (Read more: Small Scale Cattle Feed Plant Cost >>)
A common poultry feed making process in a complete poultry feed processing plant consists of the following general steps.


Poultry Feed Pellet Production Process
Choosing the Raw Material
A variety of materials can be used for the production of poultry feed pellets. The most commonly used materials are oats, wheat, corn, barley, fish meal, crab meal, and oats, etc. The raw material is chosen based on the growth requirements of birds. During the harvest season, you can buy raw material at a cheaper price. Once the raw material is selected, it is cleaned and sieved to separate impurities from it.
Grinding the Raw Material
Next, the raw material is fed into the hammer mill which crushes grains into small-sized particles. Grinding is important to make sure that pellets are dense and have good quality.
Addition of More Components and Mixing
Through a conveyor, the raw material is loaded on a mixer. It is usually horizontal and is used to homogenize the raw material. During this step, additional components like adhesives, integrators, etc. are also added to it. The addition of components depends on your pellet recipe.
After mixing, the material is either stored in a storage silo or passed through the conditioner before loading it in a feed pellet mill. In a pellet mill, rollers and dies put a lot of pressure and compress the raw material. Pellets come out of holes and are cut with the help of knives into pellets of the desired size. (Read more: Customized Animal Feed Pellet Mill >>)
Pellets are hot when they come out of poultry feed pellet making machine, so they are cooled with the cool air. They are also passed through a sieving machine which separates dust and other materials from pellets.
Pellets are conveyed to the storage silo for storage. It can be directly loaded on trucks or you can pack them with the help of a packing machine.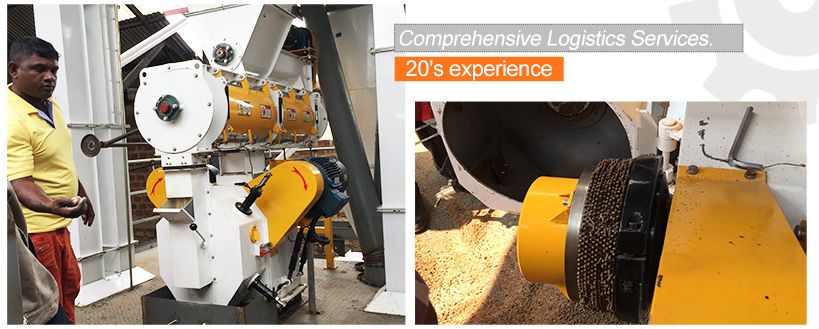 Poultry Feed Pellet Processing Machines
The animal feed production process decides the selection of poultry feed manufacturing equipment, especially for business. How to get a reasonable plan for the setup of the poultry feed processing plant is the key step. ABC Machinery is a professional feed pellet plant supplier, we boast strong capacity to undertake turnkey project for feed pellet production line. The customized plan provided by us can both improve the quality of feed and lower the investment cost. Welcome to contact us get more details!
Feed Formula

| | | | | |
| --- | --- | --- | --- | --- |
| Material | Grass meal | Straw | Beneficiated burden material | Calcium hydrophosphate |
| Unit | 35% | 44.5% | 20% | 0.5% |