People have been using beech/oak wood for many purposes for years. Some of the common uses of beech wood include furniture production, flooring, cabinetry, boat production, etc. It is usually found in the cream color but sometimes has a pinkish or brownish shade as well. In the world, this wood is more common in European regions. Its surface is coarse as compared to other woods and you may notice small pores on it as well. (Read more: Wood Pellet Mill for Sale Canada >>)
Why Make Biomass Pellets from Beech/Oak Wood?
As mentioned above, beech wood is used in the production of many useful products. The sawdust obtained during the processing of this beech/oak wood is used to make beech wood pellets which are a great renewable energy resource. Beech wood has 12% moisture content which is considered normal for wood pellets production so you will not have to spend your time drying it for a longer period. Drying the wood is also very easy as it is its nature to shrink rapidly. Choosing beech/oak as the raw material of wood pellet manufacturing business also saves investment cost. That is why using it in the production of wood pellets is a great choice one must consider. (Read more: FREE Guidance on Starting Wood Pellets Business >>)


Starting Beech Oak Pellet Business
| Biomass Material | Moisture (%) | Ash Content (%) | Volatiles (%) | Fixed Carbon (%) | Lower Calorific Value (KJ/kg) |
| --- | --- | --- | --- | --- | --- |
| Beech Wood | 5.9% | 0.6% | 79% | 14.55 | 18077 |
Hot Sale Wood Pellet Mill for Beech/Oak Pellet Processing
In order to make beech/oak pellets for biomass fuel, buying suitable wood pellet machine is necessary. But, which pellet mill machine you should choose? Actually, there are many factors you should take into consideration when buying beech wood pellet production machine. However, the most important factors for beech pelletizing are the production capacity and budget of the investment. (Read more: Wood Pellet Making Machine Price >>)


Oak Beech Pellet Mill Machine
The hot sale wood pellet mill by biomass pellet mill manufacturers for beech pellet processing is Flat Die Pellet Mill and Ring Die Pellet Mill. These two type of beech wood pelletizer is suitable for home use, farm use, and small to large scale biomass pellet manufacturing business.

If you are looking for a biomass pellet mill for beech pellets production and don't know how to choose a suitable one? Just massage us your requirements, we will help you to select one that fits your requirements mostly. In addition, we also provide customized plan for complete beech wood pellet production. Welcome to contact us directly to get the latest price list!
Customized Small Beech/Oak Pellet Mill Machine


Small Beech Pellet Mill for Sales
Above is the custom-made beech pellet mill ordered by our customers from Taiwan, China. Its output capacity is about 250~350kg/h. If you are also interested in buying small pellet mill to process beech wood, just get in touch with us to get detailed technical paramaters and price list!

Cost-effective Wood Pellet Mill for Beech/Oak Pellets Production
How to make biomass pellets from beech/oak wood? Factory price pellet production machine for beech wood: buy beech wood pellet production machine for biomass pellet mill machinery manufacturer or supplier at factory price, get FREE technical instruction of beech wood pellet production process and business plan to set up beech wood pellet mill project in the Czech Republic, Guatemala, South Korea, Japan, Thailand, Indonesia, etc., at low cost.
How to Produce Beech Wood Pellets for Sale?
Setting up a complete wood pellet plant would be a great choice for people who is considering to make beech wood pellets for business purposes since it has the complete wood pellet production process and the production output is relatively large and the quality of final pellets are good. (Related project: 3TPH Pine Wood Pellet Plant Project Setup in Israel >>)
Below is the basic wood pellet production process and main equipment for beech/oak wood pellet processing.
Cleaning the Raw Material
You can either buy the crushed beech wood (in the sawdust form) from the market or get the whole wood to crush it in your beech wood pellet mill factory. Before processing the wood, it is highly important to clean it properly so that there is no impurity to cause hindrance in the pellet production process.
After cleaning the raw material, it is crushed with the help of a hammer mill. Hammer mill puts force on the material, crushes it, and converts it into particles of small size. To make sure that the raw material passes easily through the holes of the beech pellet making machine, it is important to grind it completely.
If you want to add more ingredients such as binders etc. then add them and mix the whole mixture thoroughly. Beech wood naturally has binders in it so, generally, there is no need to add artificial binder
Beech Wood Pellet Production
Wood pellet making machine is used in this step. Processed beech wood that is in the crushed form will be fed into the machine. Dies and rollers will put excessive pressure on the raw material and will press it until it starts coming out of the holes of the die in the form of cylindrical log pellets. These pellets will be cut with the blades into a suitable size.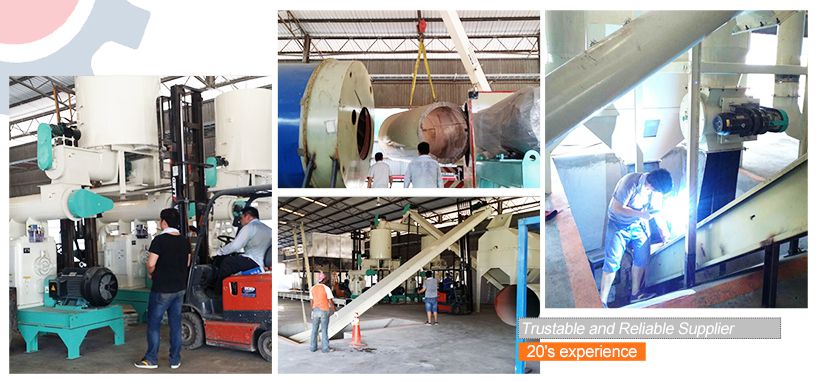 Setup Beech Pellet Plant Project
Pellets are not packed directly after coming out of the machine. The force of friction in the pellet production machine increases the temperature. So, pellets are first cooled and sieved as well. Sieving is done to remove dust and raw material particles from the pellets. Some pellets may also break while coming out. They are also sieved, collected, and sent back in the machine to be processed again.
Once, the beech wood pellets get cooled, they are stored in bags and sent in the market to be sold.