Sawdust Pellet Mill Market Outlook
Global warming and environment pollution is threatening our health. To save energy and reduce emissions, the world is crying out for developing renewable non-pollution energy to replace conventional fuel such as natural gas, oil and coal. Sawdust pellet production is a key project which can solve the above energy problem. Sawdust pellets are green, economic, renewable biomass fuel. Sawdust pellet production makes the most of waste disposal and produces the best energy alternative with few pollution and high production.
| | |
| --- | --- |
| | |
| Sawdust Raw Material | Sawdust Pellets |
Why Make Sawdust Pellets?
Sufficient and cheap sawdust material source: Sawdust is the residue of wood processing factory. The amount of sawdust material is large and the price is cheap. Sawdust pellet mill can also be used to deal with life wastes such as leaves, straw and crops waste. It is a way to make waste profitable. And by making these biomass materials into fuel pellets, we no longer have worry how to dispose of these wastes.
Great demands for sawdust pellets: As the price of coal rise, finding coal fuel replacement is urgent. More and more people turn to biomass pellets. The market demand is large. Sawdust pellets not only be used at home in our daily life, but also can be applied to industrial production such as power plant.
In recent years, greenhouse effect is becoming more and more serious. The environment problem is now a social topic. Making the best of discarded biomass materials becomes a very promising project. Based on the market prospect, GEMCO develop sawdust pellet production line. Welcome to investigate our sawdust pellet plant and ring die pellet mill for sawdust.
Wood Logs Vs Wood Chips and Sawdust
| | | |
| --- | --- | --- |
| 1. Wood Logs | 2. Debarker | 3. Wood Chipper |
| 4. Wood Chips | 5. Pretreatment | 6. Dryer |
| 7. Hammer Mill | 9. Sawdust | 9. Regrinding Process |
| 10. Cyclone Separator | 11. Up Draught Fan | |
Build Your Own Sawdust Pellet Production Line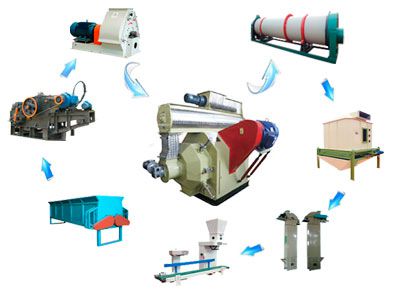 Basic Wood Pelletizing Process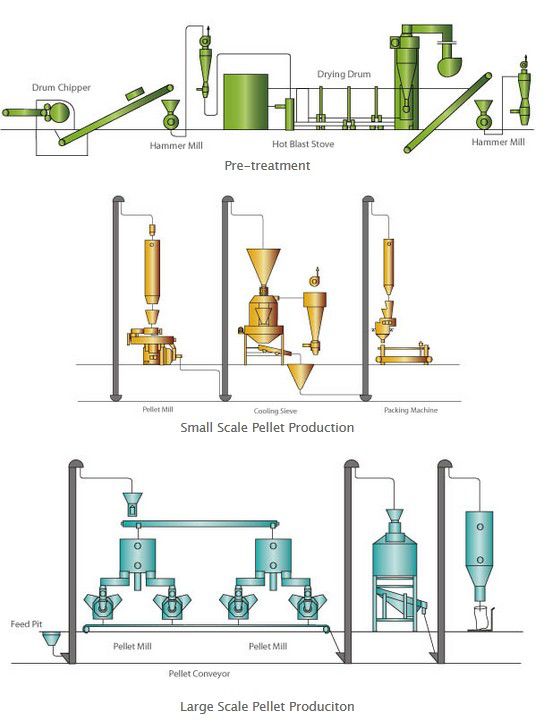 GEMCO Sawdust Pellet Mill Plant Project