Make Floating Fish Feed Pellets
Recently our Agent in American ordered a set of floating fish feed pellet machine for 1 ton per hour aquatic feed production. This set of equipment was made for the client of our agency lived in Ecuador.

The small complete plant includes all necessary machinery for a complete feed pellet plant, including crushing machine, mixing machine, drying machine, feed pellet machine, cooling machine, flavor roller and other auxiliary equipment. (Recoment Pots: How to Start a Complete Fish Feed Production Line?)

Photos of the Floating Fish Feed Pellet Machine Set
View the photos of goods inspection and shipment below to see what the complete set of fish feed pellet machine looks like. Contact us now for the latest promotion price!
The floating fish feed pellet machine is often called feed extruder or expander. Sometimes, it is used as a pressure conditioner before the pellet mill for improving the pellet properties and nutritive effects. Sometimes, it is also be used as a standalone machine for producing a fish feed product which is fed to the animals directly. The field of application is not limited to the hydrothermal pressure treatment for improving the nutritive value, but the expansion also helps to reduce pathogen germs, inactivate anti-nutritive factors, modify starch, and increase the content of rumen undegraded protein.
Extrusion Process of Feed Pellet Machine
The extrusion cooking process, because it causes a high level of gelatinization of starches, results in feeds with good water stability. It can produce "expanded" floating fish feed pellets as well as sinking fish feed pellets. The process also improves the digestibility of the product. (Project: 40 ton/h Sinking Fish Feed Plant )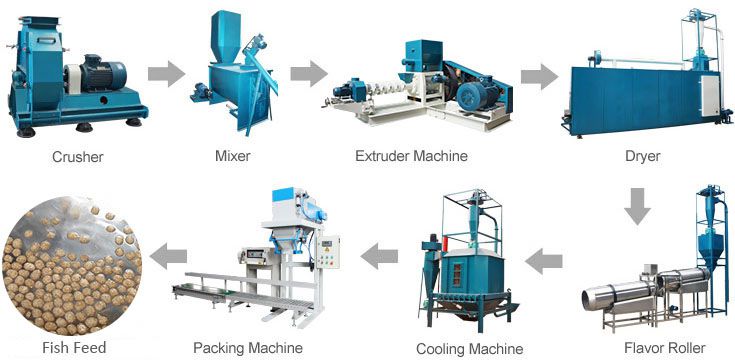 Fish feeds which have ingredients such as soybean meal and cereal grains can be made more digestible, and the nutrients are therefore more available. Floating feeds are made using extruders along with highly water-stable, sinking feeds which can be made with feed pellet extruder machine as well. In some cases, extruders are used just to prepare feed materials, such as dry extrusion of soybeans. If you are planning to set up a feed pellet plant for manufacturing livestock and poultry feed pellets, ring die type feed pellet mill is what you need.

History of Pellet Machine for Making Expanded Feed
The first expander machine, produced in the sixties by Anderson International, were used mainly in the oil milling industry. The outlet of this expander was equipped with a firmly mounted die, a separate conditioner before the expander for water, and steam addition, which had not yet been provided. Water and steam were added in the expander. Experimentation with the interrupted expander showed that, unlike the screw press, the expander operated well without any preconditioning of the feed material other than grinding. The interrupted flight design mixes and thoroughly blends injected water and steam into the feed material. This allows the expander to accept a dry, free flowing material, therefore simplifying the preparation equipment.


Floating Aquatic Feed Pellet Manufacturing Process
Through the years, interrupted flight expander type pellet machines have manufactured human foods, animal feeds and adhesives made from cereal grains. Interrupted flight expanders impart cooks that destroy undesired enzymes, such as urease, lipase and myroxinase. These expander machine transform oilseeds, such as cottonseed and soybean and screw pressed oilseeds, into porous collets that dissolve extract very efficiently. Interrupted flight expanders also dry synthetic rubber by mechanical friction.