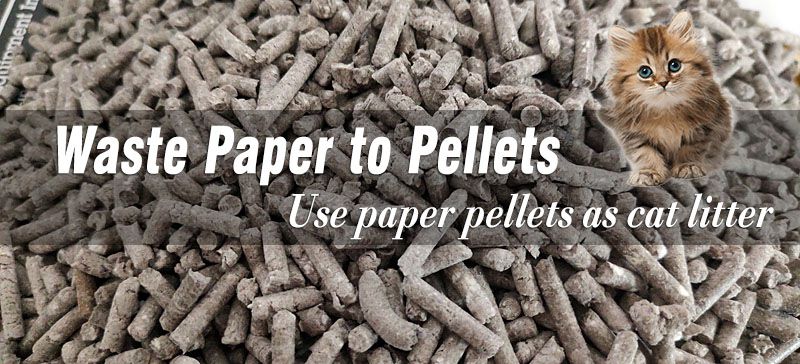 Recently, we did a trial run of making cotton paper pellets by using flat die pellet machine. Here is the brief report of the pelletizing test. For detailed information about this test or any queations about producing paper pellets as environment and animal friendly cat litters or animal bedding, don't hesitate to contact us!
Pellet Machine for Making Paper Pellets in this Test
ZLSP 420R Pellet Machine is used in this paper pelletizing test.
Raw Material for the Pelletizing Test: Cotton Paper (cotton pulp) and adhesive
Pellet Machine for the Trial: ZLSP 420R
Pelleting Die: D0310P0502DY17 (Diameter 3mm, thickness 10.5mm)
Pellet Size: 5mm in diameter paper pellets
Test No.
Moisture Content
Granulating Efficiency
01

20%

The pellet length is adjusted to maximum.

→ Good molding effect;
→ The pellets are long and strong in toughnes;
→ Water absorption is relatively poor, easy to leakage of liquid.
02

23%-24%

The pellet length is adjusted to minimum.

→ The moisture content is too high;
→ Molding effect is not good.
03

18%

The pellet length is adjusted to minimum.

→ Good molding effect;
→ Good water-absorbing quality;
Make Cat Litter from Waste Paper
The following photos are about the raw materials and produced pellets in this test. Any questions on making pellets from paper feel free to get in touch with us!
Common Raw Materials for Making Cat Litter Pellets
Office papers, waste newspaper, cardboard, cartons and other recyclable papers
With a small pellet machine, waste paper scraps can be produced into high quality kitty / cat litter pellets. Cat litter is a necessity for the ones who own a cat. Due to good water absorption, no chemical composition, paper pellets have become one of the most popular and safe animal bedding products which help keep the room clean and eliminate the odd smell of excrement.
Video: How Paper Pellets are Made by Flat Die Pellet Machine?
Video: Water-absorbing Quality Test of Paper Pellets
How to Start a Waste Paper Pellet Manufacturing Line?
A single biomass pellet machine is enough if you plan to make mini or small scale pellets from garbage such as waste paper, leaves in garden, grass… for household use. But if you operate a paper processing or paper shredding business, and plan to turn the paper processing residues or shredded paper into bio mass fuels or cat litters, a set of cat litter pellet production line is what you need. Below is a small complete set of paper pellets making equipment. It is suitable for small production below 1000kg/h.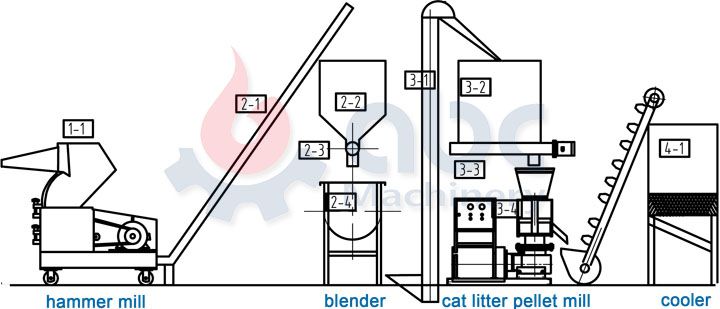 Paper mixing machine is included in the small pellet plant to prevent the lumpy problem of paper fiber, or the lumps will jam the pellet machine.

If have a large supply of shredded paper and need a large industrial scale paper pellet production line, the project design is very different from the above one. Please contact us for specific guidance!

Referring to the equipment cost, it depends on many factors including type of raw materials, moisture content, capacity requirement, degree of automation and other customized demands. So if you want to know the exact cost of start a waste paper pellet mill plant, just feel free to send us an email (info@bestpelletplant.com) and we will help you customize the best project plan and check the equipment cost for you!
Note:
Impurities such as staples, paper clip, bent needle, pin, or else must be removed before starting the pelletizing process. These scrap iron will damage the paper pellet machine. For medium scale or large scale production line, automatic magnet separator is generally included in the plant.
Highlights of Our ZLSP Series Pellet Machine
High production output, low energy consumption;
The yield of our paper pellet machine can reach up to 15-20 kg per kW, while the yield of pellet making machines from other manufactures are generally around 10 kg per kW. The energy consumption of our ZLSP series pellet machine, per unit of production is 0.06-0.05 kwh/kg while other machines with the same model are generally 0.1 kwh/kg.
Designed with non-stop refueling system;
Make it possible to refuel without stopping the machine, which is more efficient and ensures the stability of the pelletizing process.
Advanced processing craft;
The key parts of our pellet machine including press roller, press roller shaft, and spindle all adopt vacuum heat treatment, which is featured of high hardness, good wear resistance and long lifespan.
---
As a member of China Rural Energy Industry Association, ABC Machinery has participated in drawing up a number of industry standards of biomass processing equipment and technology in China, including pellet machine and briquette machine. If you are interested in our equipment and need a detailed quotation, feel free to send us an inquiry and you will get a fast reply in one business day!