| | |
| --- | --- |
| | |
| Fresh Reed Canary Grass in Spring | Dead Reed Canary Grass in Winter |
Reed canary grass is an abundant but weedy species with aggressive growth. It is sometimes called RCG for short. However, it is also a promising biomass crop. Reed canary grass begins growth early in the spring, much earlier than switchgrass. It is baled after being harvested for more convenient transport. The production of dry canary grass (moisture: 10%-15%) is 5-12 tons per hectare. Canary grass is well adapted to a wide range of conditions. It can grow in the same location for many years without the need for rotation, and does so without the need of extensive amounts of water and fertilizer.

RCG Bales → Chopped RCG Materials → Reed Canary Grass Pellets
Through in-depth study on reed canary grass, we found that it is ideal materials for making pellet fuel. Biomass pellet fuel is environmentally friendly and making reed canary grass into pellet fuel really has great economic value.
Complete Reed Canary Grass Pellet Production Line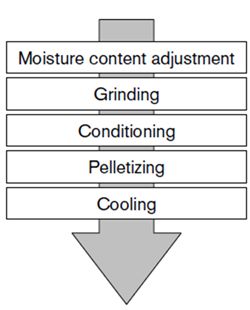 RCG Pelletizing Process
Biomass pellet line consists of a series of biomass processing equipments including wood chipper, hammer mill, dryer, pellet mill, pellet cooler, pellet packing machine conveyor and so on. Pellet production line is featured by highly automatic, continuous working, easy operation and high pellets productivity. A premium pellet production line has wide application range and can process many different kinds of biomass materials, such as sawdust, wood shavings, reed canary grass, EFB, baggase, rice husk…

We divide biomass pellet plant into 3 types based on the pellets output: 200-700kg/h small pellet line, 250-350kg/h mobile pellet plant and 1-6ton/h large pellet line. Generally, complete pelletizing process can be bread down into three parts: raw material handling process, pelletizing process and packaging process.
Material handling process (equipments: wood chipper, hammer mill, dryer)
Granulating process (equipments: Vertical ring die pellet press is considered to be the best choice for large pellet production.)
Packaging system (equipments: cooler and packager)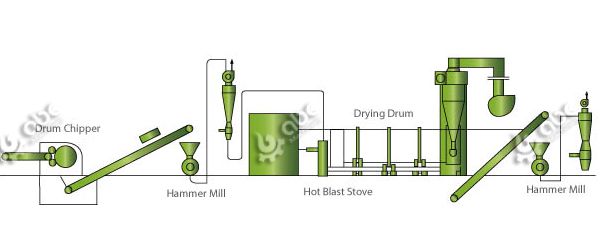 Pre-treatment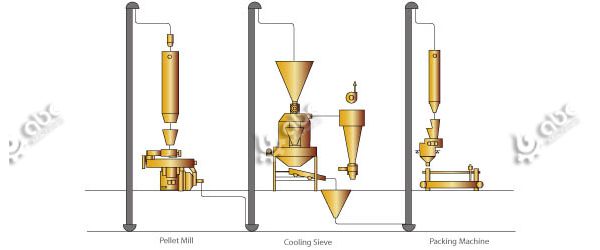 Small Scale Pellet Plant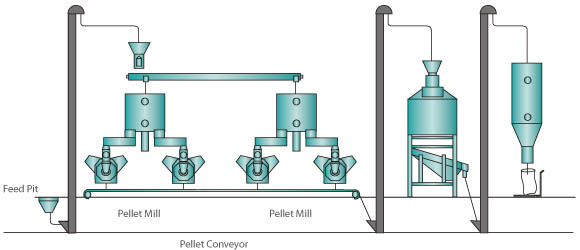 Large Scale Pellet Plant
There is also pellet production line which can process ground maple leaves and pine needles. Send us an inquiry if you are interested.
Which Additives or Binder Should I Choose?
Adding the appropriate additive can help improve the grass pellets characteristics and make low cost grass pellets more similar to expensive wood pellets. ABC Machinery tried many different recipes to test which additive is suitable for reed canary grass pellet production. A PTO pellet press and a tractor are used in our experiments. We choose to harvest the grasses in winter when they are dead, so that energy for drying can be saved. Harvest and collect sufficient grass, then grind the grass into small particles with a hammer mill. Then, mix the grass with appropriate additives and feed the mixture into the pellet press machine.
After trying various amounts of binders and moisture, we came upon the two successful recipes listed below.
★ 5 gallon bucket of uncompressed ground reed canary grass (about 2.3 kg), 1.5 L of ground corrugated cardboard, 200 mL of used frier oil, 400 mL of water
★ 5 gallon bucket of uncompressed, ground reed canary grass (about 2.3 kg), 800 mL of wet, spent brewer's grain (used grain from the beer-making process).

Reed Canary Grass (RCG) Pellets
Pellet Quality Control
Raw materials moisture is an important factor that can affect the final grass pellets. With too little water, pellets do not stick together, with too much water, the materials will clogs up the pellet press.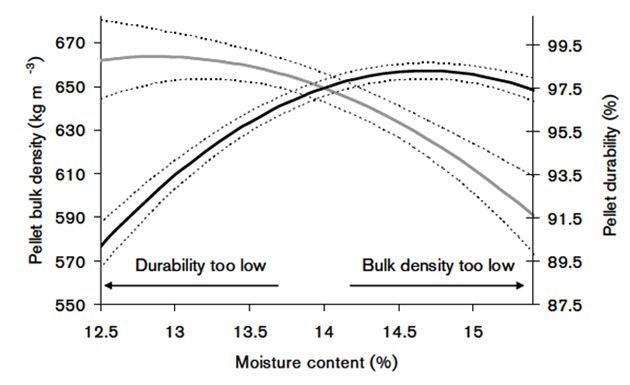 From the above chart we also can see that raw material moisture content was the most influential factor for the pellet quality responses: pellet bulk density and pellet durability. Pellet bulk density and moisture content are inversely related to RCG pellets quality.
Feel free to contact us if you have any questions about RCG pellet production please! We are glad to hear from you!