When starting cattle feed manufacturing business or setting up a cattle feed processing plant, you have to make a complete business plan, make customized feed mill layout design. You should also study your customers - the animal varieties they keep and the market trend.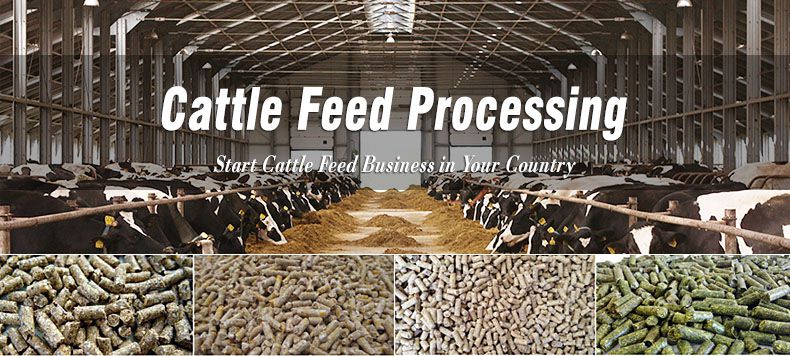 How much dose it cost to start cattle feed pellet manufacturing business?
Statistics show that the market of feed additives is expanding at a 7% rate. This is due to the rise in demand for safe and high quality meat. Consumers want their meat and milk to be free from antibiotics and bacteria. Farmers therefore are striving to keep their animals properly fed and healthy.
Setup a Cattle Feed Processing Plant [Business Plan]
Setting up a livestock feed production mill can take advantages of this trend to make money easily. It doesn't require a huge budget. There are two most important things should take into consideration when setting up a livestock feed production mill, one is the ingredients, you best have the unique formula, the other is the advanced feed processing technology and equipment. (Project Report: 1 ton/h Cheap Cattle Feed Making Machine Set )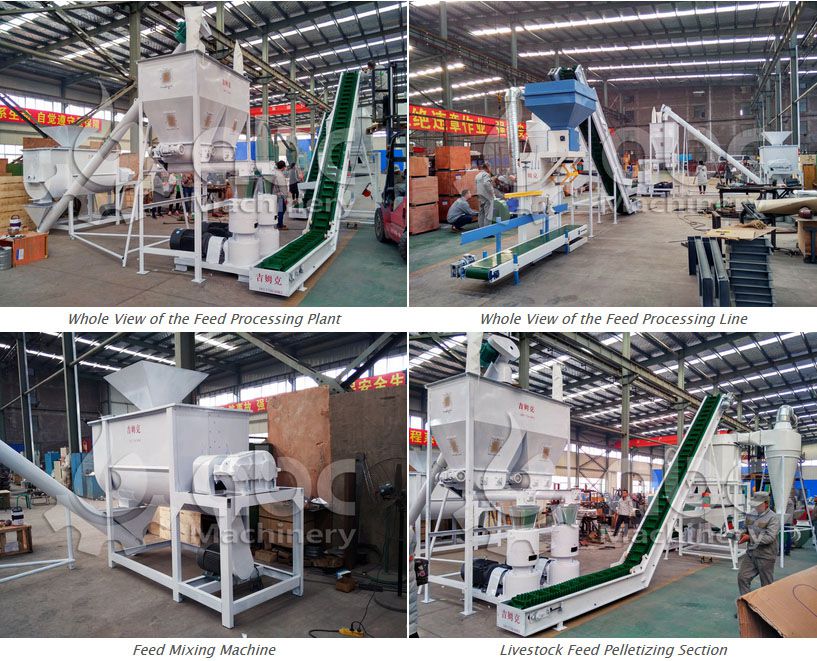 If you are interested in opening a cattle feed processing factory but don't know where to start, welcome send us an inquiry to get customized feed processing project plan with detailed cost analysis for FREE!
Get the Good Cattle Feed Formula for Your Feed Mill
It is very important to come up with a good feed formula to mix ingredients by doing market research. Obviously, cattle feed formula is different from the poultry and fish feed. Determine what nutrients a specific animal the farmers keep needs so as to grow, gain weight and stay healthy. Come up with a breakdown of livestock feed formulation based on livestock variety and additives, such as vitamins, amino acids, enzymes, minerals, then decide what to produce, for instance, if it is cattle feed, will it be beef cattle feed or dairy feed?
Purchase the Ingredients for Feed Processing
Based on the feed formula you have decided to use, go ahead and get the ingredients. Here is the breakdown, most of which are readily available in Africa, Asia, America and more.
Maize, cassava grits and corn are popular for energy
Get wheat or noodle wastes for proteins and some carbohydrates
Bone meals, fish, oyster shells, dagaa, palm kernel for oils, salts and minerals
Buy Cattle Feed Processing Equipment for Your Business
The machinery you need are determined by the feed you want to produce. Grinder, mixer, pelleting machine, freezer, sifter, weight scale, packaging bags and more are some of the necessary feed processing equipment for a starting a complete cattle feed production factory. Here you can see 3-5 ton/h cattle feed manufacturing process flow chart. This process and layout designed for one of our client in Mali, West Africa. Just feel free to contact us to get more information about this feed milling factory in Africa.
If you just want to make small scale cattle feed pellets for own use, a set of small cattle feed pellet machine is enough. If you want to start smal feed making business around your village, our Movable Cattle Feed Plant for Small Business should be your best choice.
Marketing of Your Cattle Feed Pellets
This is the challenging part, especially for beginners. How do you get your pelleted feed product out there? There are many ways you can adopt
Supply stores: introduce your feed to livestock supply stores and let them act as middleman
Direct sales representatives: search for the sale representatives for your feed product
Establish your own distribution outlet
Sell Online
Establish a cattle feed processing plant and start your own feed making business can be huge potential to get profits. For example, in many African families, animals are the most valuable property, from which they get dairy products, plough power among others. This traditional way of life offers big opportunity for livestock feed processing mill since there are increasing demands for the high quality feeds for farmers and farms.