Business Scope: Offer project plan and equipment for complete animal feed processing plant for poultry, cattle, fish and pet, from designing, equipment manufacturing, factory constructing, comissioning, debugging and onsite operation training.
Production Output Range: 1~1000,000 tons/year
ABC Machinery supplied poultry and cattle feed plant adopts module design which can realize customized feed processing plant. Meanwhile, as an experienced feed pellet machine factory, we can also help you make the best business plan for setting up your own chicken feed or poultry feed factory. Just feel free to send an inquiry to get poultry feed manufacturing plant cost details.
Main Equipment of Poultry Feed Plant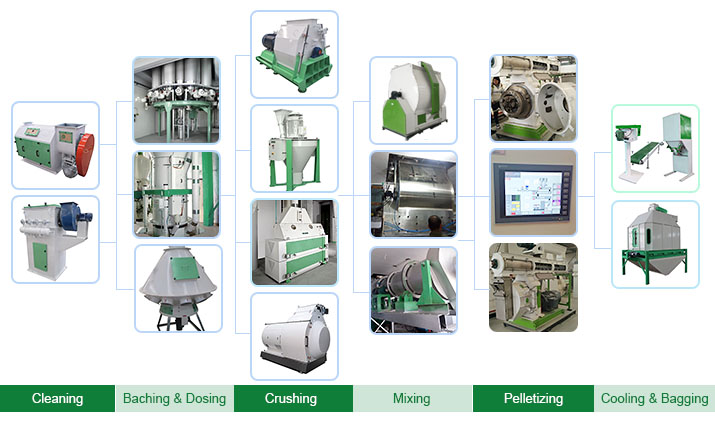 We are expert of pellet production equipment and plant. With rich experience of manufacturing and installing complete poultry feed plant project, ABC Machinery should always be your best and reliable supplier of animal feed plant machinery. All our machines are offered at the most competitive price. (Click here is your want to build a mini poultry feed mill )
The advanced animal feed manufacturing technology and professional engineering design ability ensure the best quality and safe feed, avoid pollution and cross contamination, andn also reduce the production cost. If you are interested to know more details and latest price of our poultry feed pellet plant or the related feed processing equipment, you are welcome to contact us (info@bestpelletplant.com)!
Build a Poultry Feed Pellet Plant Project


One of Our Poultry Feed Pellet Plant Project (Steel Frame)


Chicken Feed Mill Factory Desgin
Raw Material Receiving System
The poultry feed plant has a raw material receiving state that deals with the processes such as removal of impurities, conveying of raw materials and categorizing them on the basis of shape and size etc. This process is very important in the pelletizing effect of the feed hence it is given utmost importance and is done with great expertise. Pulse Dust collector that collects the dust, Screw conveyor that moves the raw materials and the distributor which distributes raw materials to the respective chambers are the three basic parts of a raw material receiving system.
Read More: Project Report: 1-2 ton/h Poultry Feed Plant set up in Uganda
Crushing System


Feed Crushing System
The raw materials are then sent to the crushing system of feed mill. This system reduces the size of the particles as per the consumption size of animals. The raw material is at first uneven in size and is mostly big that makes it unfindable to small animals such as goats and lambs. This is why the raw materials are first subjected to the crushing system that crushes the raw material into small bits which can then be turned into proper feed pellets. This helps animals achieve greater nutrition hence making them more capable and healthy.
Batching System


Feed Batching System
After crushing the feedstocks in crushing equipment, they will be sent to the batching system. This system as the name suggests batches or segregates raw fodder materials as per the requirement of the consumption size of the animal. This process often comes after grinding and just before mixing of the raw materials with the feed. This system consists of 3 basic parts such as Vertical Spout magnet that remove metallic ingredients from the pellets, bucket elevator that removes heavy particles and the mixer which is the most important of them all mix the pellets properly together.
Pelletizing System

Poultry Feed Mill Equipment Details
After Batching the soft feed is then sent for the final process which is called Pelletizing or pellets making process. In poultry feed pellet mill, the soft feed is turned into compact pellets that are easy to store and transport. These feed pellets are formed by forcing the soft pellets through metal holes and cutting them into small pieces as per the consumption of animals. This process is very important as it's responsible for the proper nutrition of animals that eat them. This regulates a number of calories they get through the pellets. This is also helpful when there's a need to increase or decrease the diet. (Related Machinery: Newly developed mini poultry feed mill for sale )
Bagging System

The final process of complete poultry feed plant is called the bagging or packing system and is self-explanatory. This process ensures that the feed pellets are properly stored for long term use.


PLC Control System
---
ABC Machinery specialized in designing and manufacturing small poultry feed mill machinery, movable low cost feed plant unit and turnkey poultry feed production plant and related animal feed processing machinery. Our highly experienced team of engineers designs feed mill machines according to the CE requirement. Our equipments are designed to achieve best pelletizing effect and mazimum output. We design animal feed pellet plant of different capacities for almost all kinds of poultry and livestock, such as chicken, pigs, goats, horse, rabbite and so on.
Recently, a small Poultry Feed Plant Machinery of 5 ton/h is ordered and shipped to our client in Mali, click the link to see more details. If you prefer to know more establishing a chicken feed factory or poultry feed milling plant, please don't hesitate to get in contact with us, we are always on your service! Take this turnkey feed factory for reference: 100 ton/h Poultry Feed Making Machine

Hello! I represent a company from Croatia. This year I am planing to build a new plant for polutry feed. It's capacity should be 10 t/h. What i want is a turnkey project, All equipment including bins, machinery, automatization and assembly. I need 4 steel bins(hot galvanized), 50 tons capacity and 6 plastic bins, 10 tons capacity. These bins are for raw materials. I also need 4 bins, 10 tons capacity for finished product. Please send me quotation for such plant. Best regards.
Please check email attachment. Anything unclear pls don't hesitate to write to us.
Related Equipments