Our BPM Series animal feed pellet mills are designed for complete industrial poultry feed pellet production line. The parts of the pellet mill contacting pelletizing materials are mostly stainless steel. You can also customize the feed pellet mill with stainless steel on the whole body. BPM 35 and the above types of feed pellet mill use double motor driving, high strength, SPB narrow type, V-belt driving, stable and reliable running, low noise. What's more! This series of ring die feed pellet machine is equipped with the Danfoss frequency converter, the feeding is accurate and reliable.


BPM Series Animal Feed Pellet Mill

Main Spare Parts - Ring Die and Press Roller
| Model | BPM25 | BPM32 | BPM35 | BPM42 | BPM45 |
| --- | --- | --- | --- | --- | --- |
| Power of Main Motor | 22kw | 22kw×2 | 30kw×2 | 45kw×2 | 55kw×2 |
| Capacity(t/h) | 1~2 | 2~5 | 3~7 | 4~10 | 6~15 |
| Inner Diameter of Ring Die(mm) | 250 | 320 | 350 | 400 | 450 |
| Power of Feeder(kw) | 0.75 | 0.75 | 0.75 | 1.5 | 1.5 |
| Power of Conditioner(kw) | 1.1 | 2.2 | 2.2 | 4 | 4 |
| Size(mm) | 1750×650×1750 | 1900×1800×1650 | 2100×2000×1850 | 2200×2000×2150 | 2300×2350×2150 |
| Weight(kg) | 800 | 2000 | 2400 | 2900 | 3500 |
Advantages of BPM Series Feed Pellet Mill for Sale
There is a plate in the feeder of feed pellet mill, by controlling the pull rod, it can discharge the wrong matched material out of the pelletizing system directly not passing through the rind die chamber.
Pellet diameter is usually 1.5-12mm. The suitable size for each kind of animal: livestock feed 3-5mm; cattle and sheep feed 6-10mm; fish feed 0.4-2mm.

Feeder (left) and Pelletizing Assembly (right)
There are three drainage scrapers, which can make the materials distribute evenly preventing the block.
One-piece main shaft can realize adding oil without stopping the machine, which greatly improves the production efficiency.

Main Shaft
Quick-release hoop ring die shortens the changing time and improves the production efficiency.
The roller assembly has eccentric shaft. It can prolong the roller service life time by adjusting the clearance and taking full use of roller skin.
Press Rollers
Ring die hole diameter, compression ratio can be customized.
The pelletizing chamber has cutter, it can adjust the pellet length easily.
There is a preformed opening to add water/steam, you can choose to use. The conditioner number can be added or reduced according to the need.
There are three lubricating parts, the operation is convenient and concise.

Lubricating Parts
The belt cover has a lot of small holes, and the electrical machine has heat dissipation device to produce the pelletizing room chamber which guarantees the normal running of the inside machine.
It has good production effect, and the pellet density is uniform.
The product has CE and ISO9000 certificates.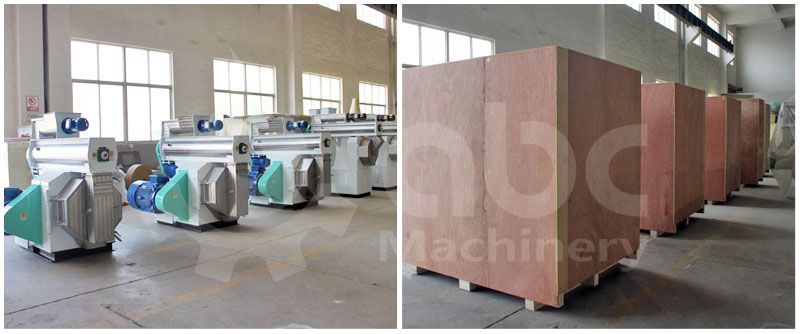 Packaged Pellet Mills in Factory
I'm Indonesia, I'm looking for ring die pellet machine for shrimp feed production, pellet diameter 2 mm and lenght 2 mm.
Its capacity at least 400 kg/h for feed.

Thanks for interesting in our equipment.
Regarding the pelelt press with ring die for shrimp, I want to know do you have the existed pellet plant already to match the pellet press with ring die?

Also, you make this pellet with floating or not?
Dear
Thanks for your answer. It is really good copy of CPM Pellet Mill.
I need to manufacturing sinking pellets.
We want to know what kind of raw materials you plan to process? If there is no extra requests on the ring die, we will use the ring die that it was speical for shrimp.
Our budget is limited for now. Our target price is no more than USD 3500 CIF surabaya. Our raw material is corn, fish meal (almost 50%) , fish oil,
soybean, and wheat flour. All of them are crushed by disk mill to be powder before mixing and pelletziing.
Email attachment is our proposal of the shrimp feed pellets production line for your reference.
Need information on poultry feed mill (small and medium scale) please.
Thank you.
Our company can offer animal feed manufacturing solutions for both small and large production, capacity from 60KG/H to 16 ton /h, so would you tell us what is your capacity requirement for the material, so that we give you cataloge soon. By the way, what is your raw material? and 4mm pellet needed by you?