ABC Machinery is a pioneer company in the field of designing and manufacturing wood pelletizing and briquetting machines. We are also professinal provider of turnkey biomass pelletizing and briquetting solution. With decades of experience in biomass fuel processing, we have help numerous clients establish their pelletizing factories and briquetting factories. Our small wood pellet machines can process various biomass materials including sawdust, cotton stalk, coffee husks, corn stalk, wheat straw, rice straw, bagasse wastes and so on.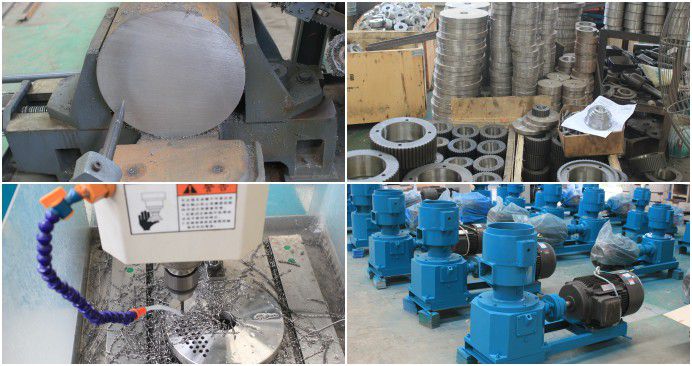 Our Small Pellet Machine Factory
For complete wood pellet mill, we customize the pelletizing solution depending on each client's situation and requirements, considering the local conditions, capacity, raw materials and diameter of final wood pellets. We also offer small wood pellet mill for small scale wood pellet producing business. Welcome to inquiry for the details of solutions for small or full scale pellet production plant.
Why Invest In Wood Pellet Machine?
The energy crisis is one of the alarming problems the world is facing right now. Depletion of over 90% of natural resources has led us to shift our energy sources to renewable energy and biomass fuel. Unfortunately, there are very few sources of them and Wood pellet proved to be of greater use of biomass. Wooden logs are achieved from large trees that are slowly growing while pellets can be made from any biomass raw material like wheat, straws, energy crops, grasses etc. One of the best features that made the wooden pellets more demanding is portability and household usage. These pellet machines are readily accessible on the market and are easy to use.

Wood Pellets World Market
Global economy highly depends on the energy crisis and the introduction of wood pellets made a profound impact on it. In 2014, various companies invested in wood pellet mill mostly on small wood pellet machine and hyped 13% of the production to 23.6 million tons compared to the previous years. In 2014, the production raised by 8% i.e 25.5 million tons as estimated. Naturally, the global market of wood pellet press is rising steeply.
Small Wood Pellet Machine for Sale

Small type pellet machines are generally flat die design. Flat die wood pellet machine is a very user-friendly machinery that consists of the following components :
Screw center regulates structure so that rollers in the pellet mill can be adjusted freely.
High accuracy gear transmission box for efficient and firm pellet machine.
Precision quality alloy rollers to increase the quality of the pellets.
International graded electric control system.
Small, lightweight design made it easy for portability and household uses.
Small Wood Pelletizing Business plan


Small Wood Pelletizing Assembly Units for Mini Pellet Plant
Just send us your requirements to info@bestpelletplant.com, then we will offer you the most suitable pellet machine according to your biomass material and pelletizing capacity.
Small pellet machine is a good and practical choice of starting your business on wood pelletizing. Handling of this machine is user-friendly cheap and provides a greater efficiency and low maintenance cost. This is the primary reasons that most of the client using it on a small farm or for a household purpose, prefer to choose this particular variant. Choosing the correct variant according to your usage should be on the greater priority list.
Small Wood Pellet Machine Cost
The small scale wood pellet machine varies from a power consumption of 2.2 KW to 32 KW into a diversity of intake capacity and diameter of the pellets. The 110-140 kglh variant costs around $1500 while a higher variant of 4000-5500 kglh will cost you around $6000. There are similar variants available on the market depending on the power consumption and intake capacity.
You maybe also interested to know about large scale pellet plant as the followings.


Turnkey Wood Pelletizing Business Plan
Some FAQs of Small Pellet Mill
What is the function of the die in the pellet machine?
The flat die is the main component of a flat die wood pellet machine. The circulated disc on which the roller is pressed is termed as flat die in here. The die consists of holes of chosen diameter for the pellets to squeeze out of them. (Read more: straw pelletizing machine)
How to maintain a small wood pellet machinery?
These machines are prepared such that the clients don't have to face a huge maintenance factor. Regular greasing and proper handling can make the machine run for a longer time.
Small wood pellet machine is cent percent user-friendly. The clients can disassemble any component from the machine for the purpose of greeting or cleaning. With a careful handling, one can make a regular check of minute parts in the wooden pellet press.