Making Feed Pellets for Your Chicken or Poultry Animals
We are a professional manufacturer and suuplier of chicken feed pellet mill machines, offering factory price chicken feed pellet making equipment and best service of complete chicken feed making solution. If you want to learn how to make chicken feed pellets with high efficiency and low cost, you can contact us now.
Making Chicken Feed Pellet Is Getting Popular
In order to make your chickens produce nutrient-rich eggs and meat, it's important to feed them a nutrient-rich and balanced chicken feed rich in protein and calcium to keep them in top condition.The idea of making chicken feed on your own is growing in popularity among many backyard chicken farmers. (Related article:mini poultry feed machine price>>)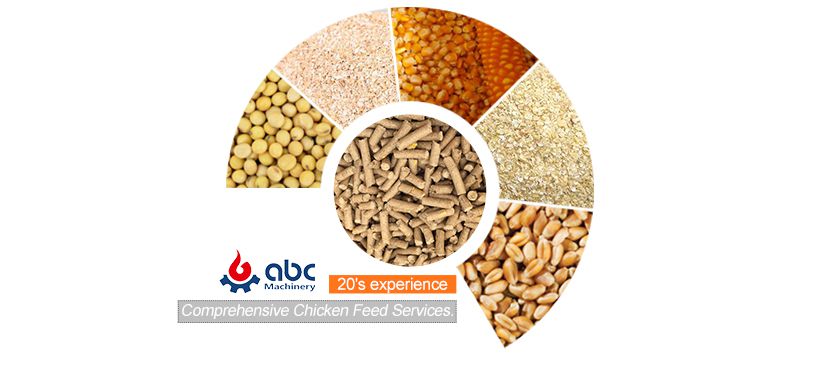 Raw Materials to Make Chicken Feed Pellet
By making chicken feed on your own, you know exactly what is in your chicken feed, so it can be easily changed to meet the dietary requirements of your chickens, and it is also cost effective for those with larger flocks. And because real food comes out of your chickens, only real food gets into them!

How to Make Chicken Feed?
The complete steps of feed pellet processing are as follows. Meanwhile, we offer the customization service of chicken feed pellet production or other poultry animals feed production. (Related article: cattle feed manufacturing process>>)


Customized Poulty Feed Pellet Processing Line
Raw material collection: select the raw materials and suitable additives capable of providing the different nutrients required by the chicken. In addition, the content of each raw material should be strictly controlled as it directly affects the durability of the chicken feed pellets at the later step.
Crushing: Crush the prepared raw materials into powdered material with an animal feed hammer mill.
Mixing: The powdered raw materials are mixed. The mixer can do a good job of complete and uniform mixing for the raw materials.
Pelletization: In this step, raw material modulation and physical condition control are crucial to the quality of the pressed chicken feed pellets. Heat, time and amount of water addition, and steam are very important factors in the pelletizing process. The diameter of the feed pellet mill machine and the thickness of the pelleting die also affect the produced chicken feed pellet hardness and the output of the pellet mill.
Cooling: A cooling machine is good for the chicken feed pellet production, but not for everyone. If you are making feed pellets at home or your backyards, there is no need to add a cooler because chicken feed pellets produced with small scales can be cooled quickly and naturally. While, for the relatively high productivity like a large scale chicken feed factory or large animal farms, chicken feed pellet coolers are very useful and can save pellet makers a lot of time and cost.
Packaging: A complete chicken feed pellet production line includes a packing process, especially for chicken feed producers who produce chicken feed for sale. However, for users who make chicken feed pellets at home ro backyards, there is no need for equipping the packaging machine.
Sucessfully Poultry Feed Pellet Processing Plant Setup
Making chicken feed for layer and broiler with chicken feed pellet making plant projects in Ghana , Zambia , Kenya , Uganda , Mali , etc., at low cost by chicken feed pellet making equipment manufacturer or supplier at factory price. Welcome to contact us for more information about how to make chicken feed.