Wood pellet production technology belongs to the category of renewable energy. In recent years wood fuel pelletizing is becoming a hot promising investment project. Referring to the cost of wood pellet production projects, it is affected by a number of factors.

Buying Biomass Pellet Making Machinery For Business
ABC Machinery is one of the best biomass wood pellets manufacturing equipment manufacturers and suppliers with its own equipment processing factory, all the wood pellet machines and complete wood pellet production line are on sale at factory price. There are different prices for different machines, if you want to know more about the price, please contact us.
What Will Cost During the Complete Biomass Pellet Production Plant?
In order to understand the cost of biomass wood pelletization, you should know about where it should cost much during the biomass wood pelletization process. Let's have a look at the layout of a typical biomass pelleting plant.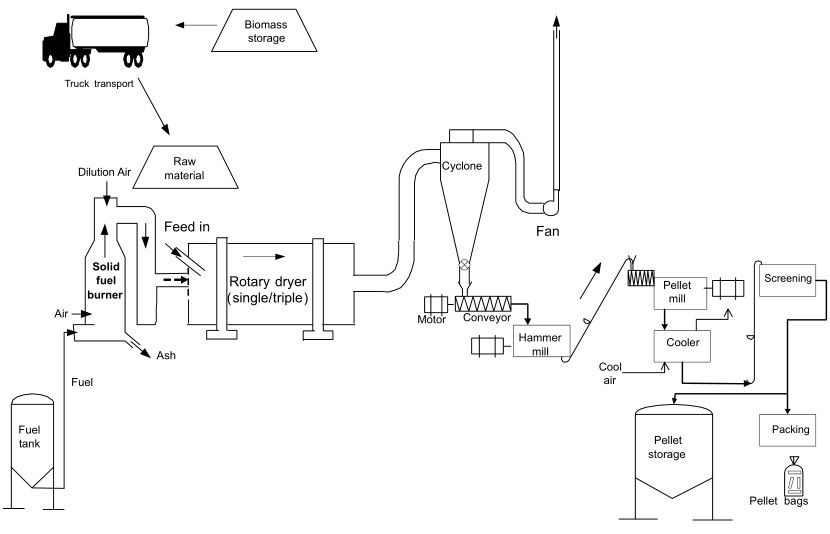 Schematic layout of a typical biomass pelleting plant
From the layout flow chart above, we can see that building a complete wood pellet plant needs a series of machines, instead of needing a wood pellet mill only. And in this process, the cost of biomass pelletizing is affected by many factories. (Learn more: sawdust pellet machine for sale>>)
Factors of Affecting the Cost Of Biomass Pelletizing
The local raw material costs (including transportation costs)
Production energy costs
Machine wear and maintenance costs;
Other fixed assets depreciation cost;
Labor costs
Business management costs (including tax, sales, transportation, etc.)
These costs vary from place to place. What we can offer is energy consumption cost. Generally, the energy consumption cost is 110-190kWh/t. It might be slightly different depending on different raw materials and productivity. Expanding the production scale can further reduce the cost. (Read more: wood pellet making machine>>)

Small Scale Wood Pellet Making Plant With Low Price


Fctory Price Wood Pelleting Line Project
Next, we would like to show a series of data for your reference.
Pelletizing Industry Data in the UK
| | |
| --- | --- |
| Local raw material costs (including transportation costs) | $24.5~34/t (32.81%~35.50%) |
| Production energy costs | $5.44~17/t (7.88%~16.40%) |
| Machine wear and maintenance costs | $8.16~15.64/t (11.8%~15.09%) |
| Other fixed assets depreciation cost | $1~2/t (1.45%~1.93%) |
| Labor costs | $10.88/t (10.50%~15.76%) |
| Business management costs (including tax, sales, transportation, etc.) | $19.04~23.12/t (22.31%~27.59%) |
| Total cost | $69.02 ~ 103.64 / t. |
Buy a factory price mini flour mill plant from biomass wood pelletization equipment, learn to process grain flour, get FREE guidance to setup mini flour mill plant projects for business in Russia, USA, Chile, Japan, Malaysia, England etc.. Welcome to send messages to us!
What About The Profit Of Processing Biomass Wood Pellets?
When we talk about the cost of making biomass wood pellets, we have to talk about the profits of starting biomass wood pellets production. Here , we analyzed the wood pellets price and profit in the US market. (Related article: biomass pellets price >>)

In the US market, the retail price of small package wood pellets is about $170 / t. The retail price of a large package is about $135/t. In Sweden the delivery price is around $150 / t. For loose-packed wood pellets, the FOB in Amsterdam is about $80 / t. The production cost of biomass pelletization is about $48.78 / t. So there is no doubt that biomass pelletization has great international market competitiveness. Investing in this green energy market is very promising. (Read more: wood pellet business plan>>)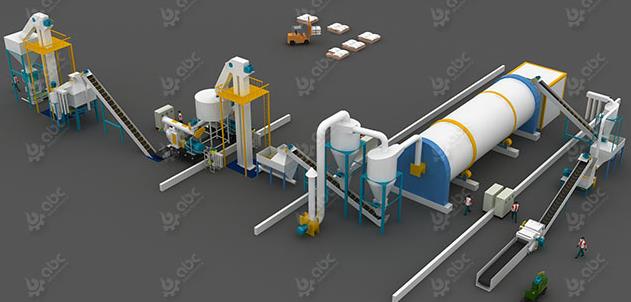 A complete wood pellet line includes equipment of slicing, drying, crushing, pelleting, dedusting, cooling, screening, storage and packaging. The output can be 200 ~ 500 kg/h. Our pellet line can process all kinds of wooden materials, such as forest felling, fuel wood, wood processing residues, furniture production wastes, etc. It can also deal with crops straw, such as corn stalk, rapeseed, cotton stalk, etc. More information about biomass pellets price in your country? Contact us now!

Start to Investing In Biomass Wood Pellet Production Business
Driven by the vigorous development of new energy, biomass energy utilization has gained widespread attention, and the biomass power generation industry is flourishing, showing the bright future prospect. a dn with the obvious progress of products and industries, biomass pellet making equipment has been being used in many aspects of our life. (Read more: wood pellet machine canada >>)
Civil boilers, fireplaces, industrial boilers: Along with the policy transformation of boilers and other equipment in many provinces and regions, coal burning is prohibited.
Wood pellets are a good choice. So there is a market where boilers are used, such as chemical, paper, bathing centers, heating units and so on.
Power generation plant. Biomass power generation has been developing rapidly in recent years, wood pellets are also a clock option, so you can go to the local power plant to see the market.
Other uses, such as hardware baking paint, grain drying, baking tobacco, smelting financial aluminum, very wide.
The use of wood pellets is very wide, the most common is the boiler, now a relatively large piece of the market. The market has a broad prospect, waiting for your development. When you have plans to start investing in a biomass wood pellet production business, please contact us for more information, we are always for you!