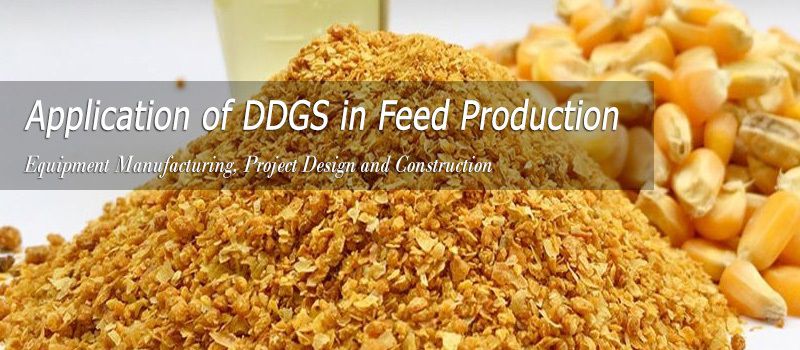 Fish Feed Production Technology - DDGS Application
DDGS is a kind of high-protein raw material for animal feed production (poultry / livestock / aquatic feed), widely used as an efficient alternative to corn and soybean-based feed. It is a by-product in ethanol production plants which extract starch from corn to produce ethanol.
100kg corn can produce about 34.4kg ethanol and 31.6kg DDGS. Corn DDGS not only has the characteristics of high protein and high available phosphorus content, but also contains the yeast nutrients and active molecules in the fermentation process. It is a kind of nutrient-rich protein feed.
Dosage of DDGS in Animal Feed Production Plant

The optimum addition of DDGS in fish feed processing plant is 10%~20%. The highest DDGS dosage was 30% in catfish, 15% in rainbow trout, 35% in tilapia and 20% in crucian carp. (Aquatic Feed Mill Project Report: 40ton/h Fish Feed Production Plant)


Complete set of Floating Fish Feed Machine for SALE
DDGS can be used up to 40% in freshwater shrimp food processing and can partially or completely replace fish meal in feed manufacturing. In prawns feed production, the highest dosage can be 10%.
Other kinds of Animal Feed Production
The recommended Dosage of DDGS in other kinds of Animal Feed Production is shown as the table below:
Recommended Dosage of DDGS (%)
Calf and Lamb: 0
Porkling: 0~2.5%
Chick: 0
Cows, Beef cattle: 0~25%
Pig: 0~15%
Broiler Chicken: 0~7.5%
Aquatic animals (omnivorous): 0~20%
Sow: 0~20%
Egg Chicken: 0~7.5%
If you need more details of fish feed pellet machine and want to get a customized fish feed processing business plan, don't hesitate to contact us! Our service team will help you on process design, equipment selection (how to choose fish feed making machine), factory layout, and project cost details.
What should be pay Attention to When Use DDGS in Aquatic / Fish Feed Production?

Corn DDGS feed has the advantages of low starch, high protein, high digestible fiber and high available phosphorus, which has been widely used in livestock and aquaculture feed production. The following attentions should be paid to the use of DDGS in fish feed processing.
The nutrition content of DDGS produced by different fermentation materials is quite different, and the different production process adopted by different distillers will also result in a great difference.
When compared with the raw corn materials, the content of other nutrients, such as protein, fat and vitamins is significantly increased due to the removal of starch and sugar. However, the content of mycotoxin is also usually three times that of corn.
Although DDGS is high in protein, methionine and cystine, but lysine is obviously insufficient
Due to the influence of amino acid balance and crude fiber, DDGS can only partially replace soybean meal in animal feed production, but not completely. In the process of use, it is necessary to supplement lysine and other restricted amino acids.
The content of available phosphorus in DDGS is relatively high, which should be fully utilized. After fermentation, phytic acid will hydrolyze and release phytic acid phosphorus, the phosphorus utilization rate up to 80%.
The Lutein content is 3 times of corn, with good coloring effect.
Besides, DDGS is also widely used in poultry and livestock feed production. It is an excellent source of protein and energy for livestock animals, with good palatability.