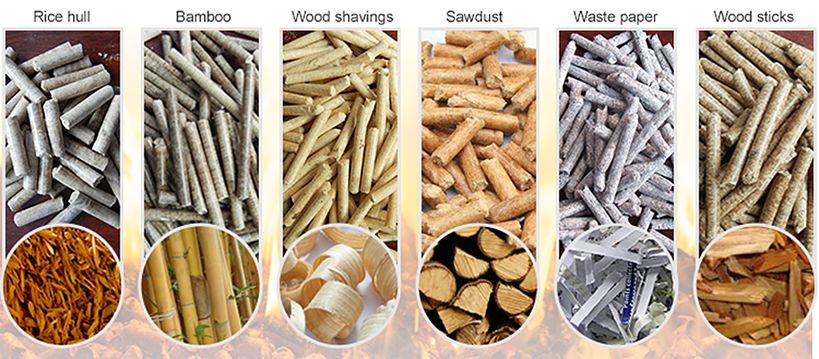 Biomass Wood Pellets
Wood Pellet Machine is used to convert several waste materials (wood in different forms) into useful and valuable products called biomass wood pellets. You can buy wood in different forms, such as wood shavings, dried branches, or even wood logs. Regardless of the raw material you choose, machines will process it to make it suitable to be used in a biomass pellet making machine. During processing, the raw material will be crushed to convert it into particles of smaller size. Moisture will also be reduced to make sure the pellets produced have a high density and efficiency. (Read more: How Much does a Pellet Mill Cost? )
China Wood Pellet Mill for Sales
The biomass wood pellet machines provided by Chinese suppliers or manufacturers mainly come in two forms. One is called a ring die pellet machine, while the other is called a flat die pellet machine. (Latest order: Small Pellet Production Line Exported To Bulgaria >>)


China Wood Pellet Mill for Sale


Small Wood Pellet Mill Plant
Flat die pellet machine is designed with flat die and press roller to process the raw materials. It is more suitable small scale wood pellet production. Altough its output is relatively small compared to ring die pellet machine, it is flexible in application since it can be equipped with PTO, diesel engine, electric engine, gasoline. We have many different types and models to meet different wood pellet manufacturing needs, Welcome to contact us to get the full catalogue and PRICE list!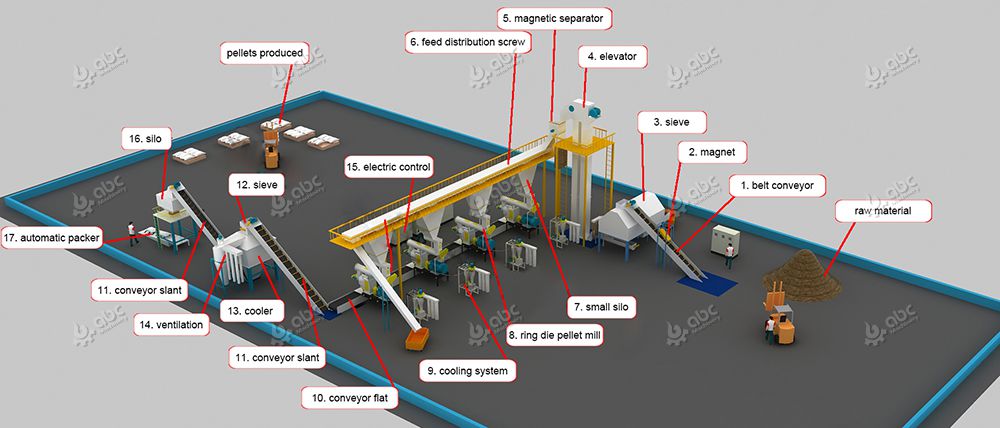 Biomass Wood Pellet Plant Design
Ring die pellet mill machine is used to make pellets at the industrial level as they have a high production capacity and process a large bulk of raw material, so it is more suitable for large biomass pellet plant. As the name suggests, these machines have a ring die instead of a flat die. They have a circular ring having holes. Rollers put pressure on the inner perimeter of the ring die to compress the raw material.

Factory Price China Wood Pellet Mill for Sale
| Type | Capacity |
| --- | --- |
| Flat Die Wood Pellet Mill | 50~800 kg/h |
| Ring Die Wood Pellet Mill | 500~3000 kg/h |
Commercial Wood Pellet Mill for Sale - China Supplier
High efficient china wood pellet mill for sales – factory price biomass wood pellet machine for biofuel pellets making: buy biomass wood pellet mill from China wood pellet machine manufacturer or supplier at factory price, get FREE technical instruction of wood pellet making process and business plan to set up wood pellet mill project in The Czech Republic, Guatemala, South Korea, Japan, Thailand, Indonesia, etc., at low cost.
Benefits of Using Biomass Wood Pellet Machine
The demand for wood pellets is increasing globally. Buying a ring die wood pellet machine can bring your business numerous benefits such as:
Convert waste material into useful wood pellets
One of the worth-mentioning benefits of biomass wood pellet machine is you can use it to convert raw material which is actually a waste product (such as sawdust obtained from other industries) into very beneficial and useful wood pellets. These pellets are a great source of heat that one can burn at home to heat up the stone or in the industries or batteries to run ovens or produce electricity. (Read more: Sawdust Pellet Machine for Sale >>)
Produce eco-friendly pellets
By using this machine, you can produce wood pellets that do not produce harmful gases like other traditional fuels when they are burned. As the environment is getting polluted with time, the demand for pollution-free energy sources is increasing. This machine can help you produce such valuable and in-demand pellets.
Produce pellets of different sizes
You can use a biomass wood pellet machine to produce pellets of different sizes and diameters. It all depends on your needs and requirements. You do not have to buy different machines to produce pellets of different sizes. A single machine is enough to perform this task.
Easy to clean and operate machine
Biomass wood pellet machines do not have a complex or complicated system. Their machinery does not require much mastery. You can operate it if you have only a little knowledge related to this field. It can also be cleaned and maintained quite easily. So, you will not have to spend much on its maintenance.