It is reported that the global biomass pellet fuel market has witnessed significant growth in the last decade, which driving the development of pellet machinery industry. From 2012 to 2018, the global wood pellet market grew at an average rate of 11.6% per year, from approximately 19.5 million tons in 2012 to approximately 35.4 million tons in 2018. From 2017 to 2018 alone, wood pellet production grew by 13.3%.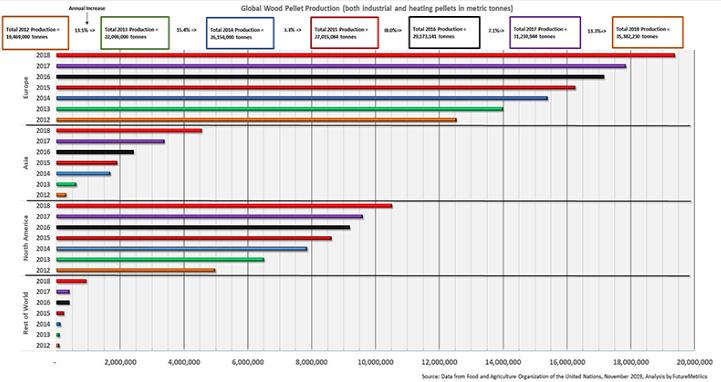 global wood pellet production
Buy factory price pellet machinery from pellet machinery manufacturers or suppliers, learn to process cost-effective biofuel, get FREE guidance to setup pellet machinery projects for business in Thailand, United Kingdom, Chile, Russia, New Zealand, Canada etc., at low cost. Welcome to contact us for more information!
Future Prospect Analysis of Global Pellet Machinery Industry
At present, both of the biomass pellet fuel industry and pellet machinery industry experienced an unprecedented year in 2020, influenced by COVID-19. The following information on the development of the global biomass pellet fuel industry in 2020 has been compiled by ABC Machinery for your reference only.
Canada: New Record Wood Pellet Industry
Despite COVID-19, Canada's biomass economy is set to grow at an unprecedented rate, with the wood pellet industry setting new records. Also in September, the Canadian government announced a $13 million investment in six indigenous biomass projects in northern Ontario and a $5.4 million investment in clean energy projects, including biomass heating systems.
Russia: Wood Pellet Exports Hit New Record High in Q3 2020
Russia is a country that values biomass pellet fuel, and we have many customers from Russia who buy our pellet machinery. In recent years, the production capacity of wood pellets in Russia has increased steadily, ranking 8th in the world, accounting for 3% of the total of wood pellets production of the world. Especially in the July-September period of 2020, due to increased exports to the United Kingdom, Belgium, South Korea and Denmark, the production of wood pellets in the quarter hit a new high.
In the Q3 2020, the number of wood pellet exporting reached to 696,000 tons, increasing by 37%, comparing to the 508,000 tons of wood pellet in Q3 2019. What's more, in September, the exporting number of wood pellets increased to 222,000 tons. So it seems that the production of wood pellets in Russia will only increase and not decrease, and then the demand for pellet machinery will increase.
UK: Port of Tyne Invests 1 Million in Wood Pellet Production
The wood pellets of UK rely partly on imports and partly on their own production. And the Port Tyne, one of the leading deep-sea ports, recently announced that it would invest US$1 million in the production of wood pellets in the UK, including the entire production investment including buying the latest biomass wood pellet machinery and raw materials entering UK, to maximize the port's role in the development of the renewable energy industry.

U.S.: Wood Pellet Industry Develops Well
The wood pellet production industry has its own advantages comparing with other industries in US, so does the pellet machinery industry. Due to the local autonomy of the U.S., the risk of an immediate shock to demand as a producer of wood pellets fuel is low. Also, in Alabama, the second wood pellet machine plant for industrial purpose is building. The development of the U.S. pellet mill industry is still bright, if you are interested, please contact us!
Latin America: Growing Demand for Wood Pellets as Fuel
The production capacity of wood pellets in Chile is growing rapidly due to lower manufacturing costs. Brazil and Argentina are the two largest producers of wood pellets made from industrial round wood and sawdust. Throughout Latin America, the rapid production rate of wood pellets is one of the major drivers of the global wood pellet market, where large quantities of wood pellets are used to generate electricity.
Japan: Importing 2.1 Million Tons of Wood Pellet In 2020
Japan's wood pellets also need to be imported from other countries like Vietnam, Canada etc., and part of it is produced by themselves. As early as the end of 2019, the Ministry of Economy, Trade and Industry of Japan has approved the setup of 372 pellet machinery factories for power generation. And Japan's biomass energy target is to meet 4.66% of its electricity demand by 2030, which will drive the development of building wood pellet production equipment factories.
Vietnam: Wood Pellets Exports Hit New Record High In 2020
Despite the impact of Covid-19 and the risks posed by the export market, as well as Vietnam's policy changes in controlling the legality of imported wood materials, the wood industry's export turnover exceeded $11 billion in the first 11 months of 2020, up 15.6% year-on-year, and Vietnam's wood export turnover is expected to reach a record high of nearly $12.5 billion this year.
ABC Machinery believes that the demand for biomass pellet fuel in the global market continues to grow, as experts have predicted for years. According to the latest foreign report estimates, the global wood pellet market size is expected to reach USD 18.22 billion by 2027, growing at a CAGR of 9.4% on the basis of revenue during the forecast period. Growing demand from the power generation industry is to drive the market development of the pellet machinery during the forecast period. If you have plan to invest in biomass wood pellet production industry or pellet machinery, you can contact us for more information.