Organic fertilizers are a great way to keep your soil fertilized and healthy, and with the soil with rich nutrition, you can get great results whether you are growing vegetables, flowers, and crops. Here is how to make organic fertilizer.

ABC Machinery is one organic fertilizer pellet making equipment manufacturer and supplier, possessing professional R&D team and good salespeople, offering you the complete organic fertilizer making machinery for your soils. Welcome to contact us for more information about making organic fertilizer.
How to Make Organic Fertilizer?
To make organic fertilizer, you need to collect enough raw materials, buy the organic fertilizer pellet making equipment and know more about the process of making organic fertilizer.
Making Organic Fertilizer by Your Living Waste
In our daily life, there are various raw materials that can be used for making organic fertilizer. We have summarized the following raw materials which are easy to get and cost less money though you start to buy them for your business plan.
Low Cost Raw Materials for Making Organic Fertilizer
| | |
| --- | --- |
| Paper Product | Office paper, newspaper, cardboard and toilet paper rolls etc. |
| Animal Waste | Cow dung, chicken manure, horse manure, rabbit droppings etc. |
| Kitchen Waste | coffee grounds, tea bags (staples removed), fruit and vegetable peels, nut shells, crushed eggshells etc. |
If you have plenty of the raw materials mentioned above and you don't know how to deal with them, you can contact us for dealing with them better by starting an organic fertilizer pellet making plant. We are always here to help you to set up the organic fertilizer production equipment.

Main Equipment to Make Organic Fertilizer Pellets
The necessary equipment in a project of how to make organic fertilizer pellets are all designed and developed by international advanced technology and raw materials, we are not only offering you the factory price machinery, but also providing you with the professional service.


Customized Oragnic Fertilizer Pellet Production Line
Making organic fertilizer pellets for flowers, gardens, and farms with organic fertilizer pellet making projects in Ghana , Zambia , Kenya , Uganda , Mali , etc., at low cost by organic fertilizer pellet making machine manufacturer or supplier at factory price. Welcome to contact us to buy the high quality organic fertilizer production machine at factory price.
Making Organic Fertilizer in An Organic Fertilizer Pellet Plant
Organic fertilizer pellet making plant is specially designed for making waste into useful fertilizer pellets through a series of processes and equipment. It is generally composed of the following process procedures.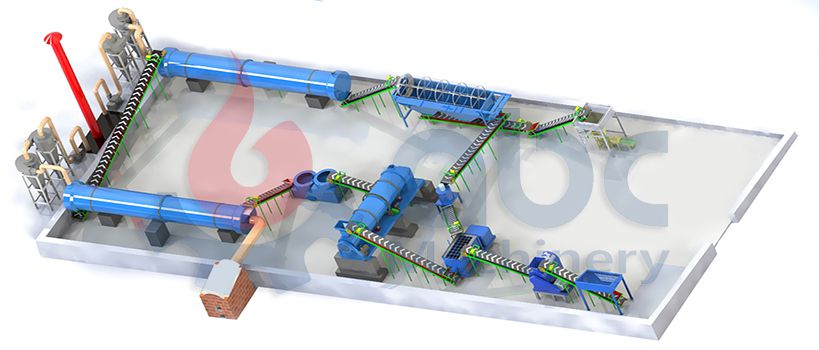 Complete Organic Fertilizer Production Line Flow Chart
Removing the water inside the raw materials is the first process in an organic fertilizer making line. Because the pellet making machine in the pelletizing process has strict requirements for the raw materials, the moisture content should be around 15%. The Dewatering machine is equipped to reduce the moisture with limited time cost.
Fermentation is a very important step during the organic fertilizer pellet production line, using the fermentation tank to make the raw materials fermentate, to be ready to be pelletized in the later process.
In order to prolong the lifetime, the fermented fertilizer will enter the pellet making machine to be formed into small cylinders with the same size and length. Also, the pelletized fertilizer is easier to transport, manage and use.
When you are building organic fertilizer pellets as a business for sale, a cooling machine and packing machine is necessary to equip.
These processes are generally designed for the complete organic fertilizer pellets production line, and can be customized based on your actual condition and requirements. If you have any questions about how to make organic fertilizer pellets, you can contact us for free!