ZLSP420 Wood Pelletizer has been developed successfully! It is a kind of flat die pellets machine with large capacity. The output can reach up to 600kg per hour. The exact output is decided based on your raw materials for pelletizing. This 420 type of pellet machine can be driven by electric motor, diesel engine or tractor (PTO, Power Take Off). You can choose the most suitable one depending on your specific situation and needs.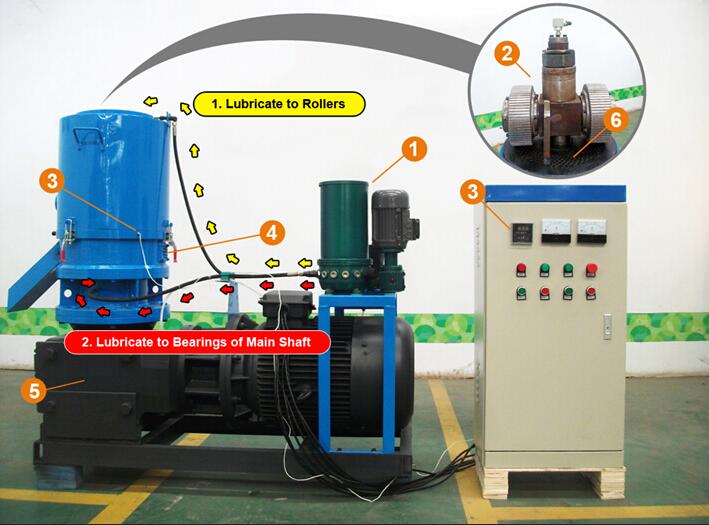 Features of ZLSP420 Wood Pelleting Machine
1. Real auto lubrication on Roller & bearings of main shaft, furthermore, the bearings works in closing room which isolate pollution on bearings &grease. All this not only save you time on maintain machine, also extend life of bearings.
2. It's the R-type model. The material can be fed to working room vertically & smoothly under blending of roller.
3. A temperature detector is equipped on flat die, thus operator can know the working situation easily to adjust the feeding capacity.
4. Adding two groups of holes on body to decrease the temperature in working room.
5. Adopt heavy reducer and spiral tooth gears in gear box, so this transmission system can conveying more torque and running stable.
6. Modifications on The Dies
★
We change to use the new material (42CrMo) and forging processing, vacuum hot treatment. So the life time is prolonged about 50%.
★
Die is made by digital drilling machine, so the surface of die becomes smoother, it increase the efficiency of pelletizing.
Small Flat Die Wood Pelletizer with Larger Output for Sale

Parameters
Model
Power
Diameter of Final Pellets (mm)
Output (kg/h)
Weight(kg)
Dimension (mm)
ZLMG420A
46kW
(62hp)
6、8、10
400-600
1200
2590*660*1400
ZLMG420B
37kW
6、8、10
400-600
1100
1630*620*1400
ZLMG420P
37-48kW
6、8、10
400-600
700
1500*850*1400
It can be driven by electric motor, diesel engine or tractor (PTO, Power Take Off);
This flat die R-Type (Roller rotating) pelletizer machine is designed after years of research and development by our technical team, based on the usage of thousands of customers. This machine is suitable for processing pine, eucalyptus wood, birch, birch, poplar, fruit tree, cedar wood, beech, paulownia wood, bamboo shavings, crops straw and other agricultural and forestry wastes. This pellet machine offers an ideal solution to the difficulty of pelletizing biomass crud fiber materials.