Making Pellet Feed for Animals is Getting Popular


Processed Feed Pellets For Multiple Animals
Speaking of feeding animals, nothing is annoying than choosing animal feed. A good choice of feed makes the animals less sick, better growth and high returns. With the development of feeding technology, pellet feed has come to our view and is getting increasingly popular with its advantages:
High density, uniform size, occupying less space, reducing transportation cost.
Wide applications, can be used for livestock, poultry and pet animals.
Complete nutrition, avoiding animals being picky.
Until now, more and more people choose to process feed pellets for the animals by themselves. As one feed pellet equipment manufacturer and supplier, ABC Machinery offers multiple types of feed pellet machine, while providing the customization of complete animal feed processing line.(Related article: poultry feed plant project report)

Processing Fodder Better with Animal Feed Processing Plant
With the animal feed processing equipment, you can produce the animal feed pellets easily, first you should know the steps of poultry feed processing, then choose a reliable feed processing equipment manufacturer or supplier.
Typical Animal Feed Making Process

Typical Animal Feed Pellet Processing Line Flow
Raw Material Preparation--- Hammer Mill, Mixer
To produce feed pellets better, the first step is to do the raw materials preparation job. In this process, it consists of crushing and mixing to make the raw materials into suitable size and required feed ingredients.
Pelleting Process--- Animal Feed Pellet Machine
For this process, the mainly needed machine is an animal feed processing machine, which is called feed pellet machine. It is the key equipment during the whole poultry feed plant. The ring die feed pellet machine is divided into two types: horizontal type and vertical types, both of them have their own highlights. If you want to know more information, you can contact us for free!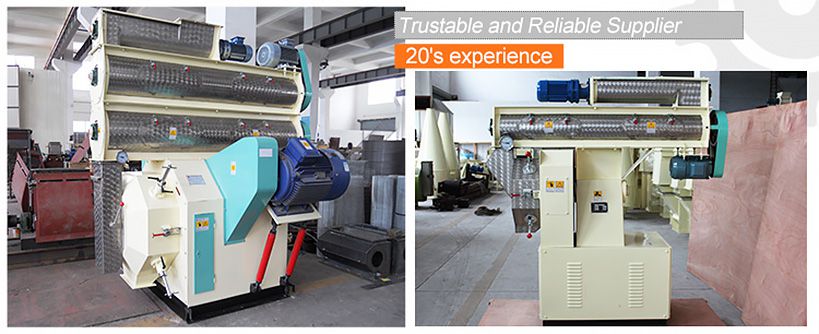 Hot Sale Animal Feed Processing Machinery
Cooling Process--- cooler
When the pellet is discharged from the pellet machine, it is with high temperature which need to be cooled into the outdoor temperature to keep the long storage time. Through the cooling machine, the temperature can be reduced easily with not wasting much time.
Packing Process--- Packer
Packing the cooled animal feed pellets into bags is to make sure the better transportation, storage. Generally, we equip this packer based on the requirement and budget of our clients.
Choosing Reliable Feed Pellet Machinery Manufacturer
When you looking a manufacturer for your starting poultry feed factory, you should make sure that what a good company will offer you, such as:
Before-sale
Animal Feed Formula Suggestion
Preliminary Process Design
On-sale
Contract Signing
Engineering technical insurance
Equipment Manufacturing
After-sale
Machinery Installation and commissioning
Technical Operation Training
ABC Machinery is one of the best animal feed pellet processing equipment manufacturer and supplier, processing professional technicians and salesmen, not only offering you the high quality equipment with factory price, but also providing you with the whole service from feed processing plant design to installation and debugging etc. If you are willing to
setting up an animal feed manufacturing company
, we are always here for you!